White Sands National Monument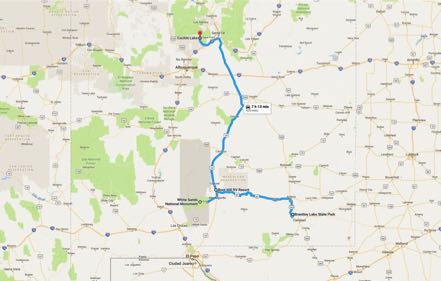 From Brantley Lake State Park we took 285 North to Artesia, and then went west on Highway 82. At Mayhill we entered the Sacramento Mountains and traveled several 6 percent grades and reached over 9,500 feet at Cloudcroft. Really pretty. Entering Almogordo, we headed north a few miles on Highway 54 to our campground.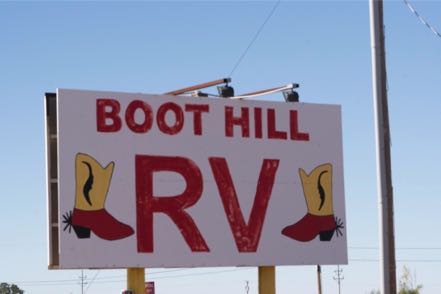 Boot Hill RV Park, Alamagordo, NM
We have stayed at this park before. A good place for a night or two, sites are level and long and the place is quite clean.
White Sands National Monument
At 6:30 the next morning we took the 35-minute drive to White Sands National Monument. Jack had been pestering me all spring as to when we would go back there, and I was glad to get him off my case. We were the second car entering the monument at 7:03, and we drove about two-thirds through the park until we found the spot we wanted. I took Jack and Mitzy off their leashes and the fun began. Jack bolted through the white gypsum sand running at full speed in big circles like an asteroid going hot. I spent about an hour shooting this black blast blur with the wide grin up and down the dunes.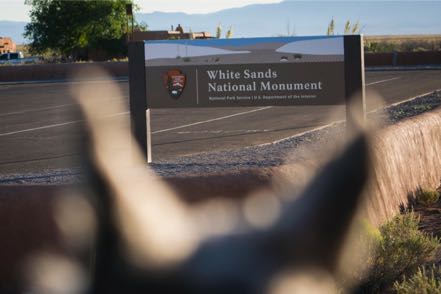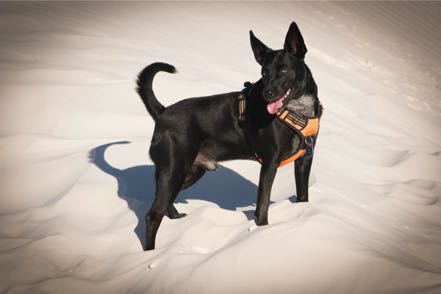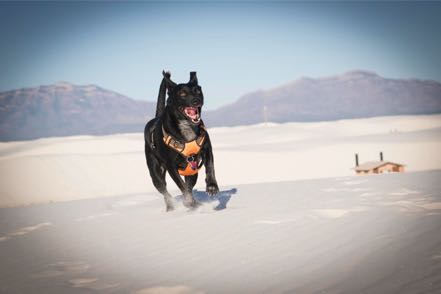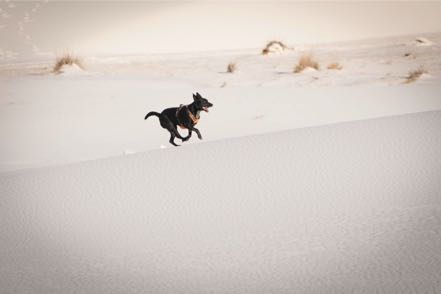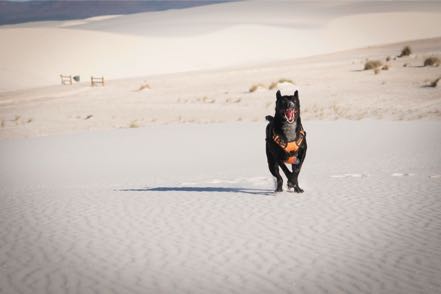 Mitzy, though, tired of the excitement and wandered back to the car. She had had enough fun.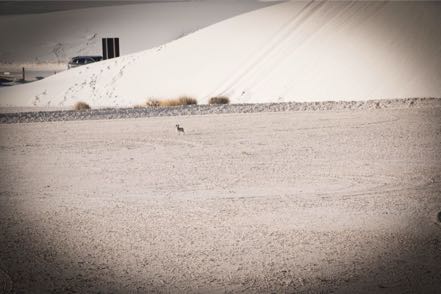 We then took our time driving back slowly, stopping several times to shoot the yucca. Also, I found a fun photo opportunity of some guys having breakfast.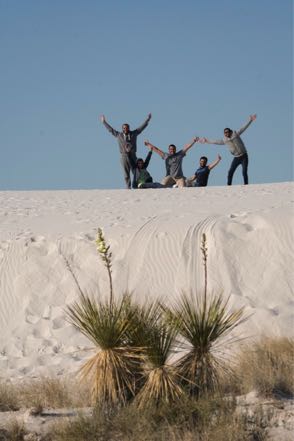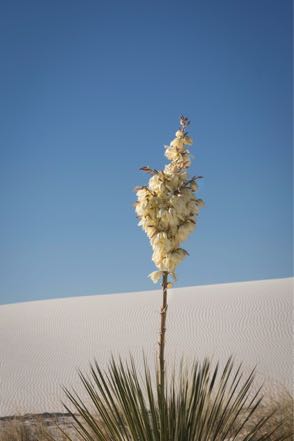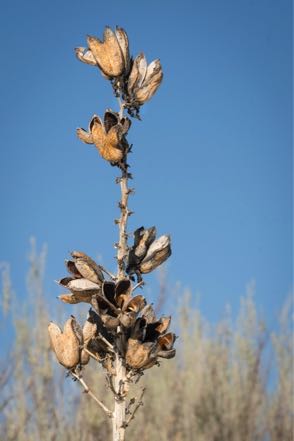 Here is a yucca that Janny shot.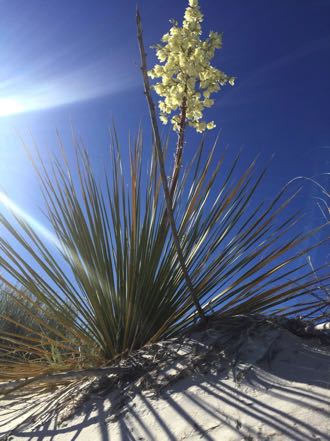 After stopping by the visitor center for Jan to get her passport stamped, we bought a tee shirt and a burrito to share on the drive back to Boot Hill.
We hooked up the car and took 54 north then west on NM 3. We then took 285 north to I-25 south where we hung a right. At exit 264 we took NM 16 and followed the signs past the Cochiti Lake Dam.
Cochiti Lake COE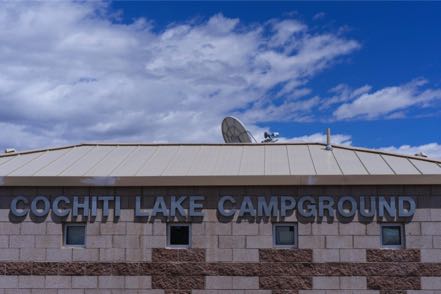 Cochiti Lake Campground is another Corps of Engineers project. This secluded area west of Santa Fe featured very big sites with private areas. We were up on top of a hill with a view of the lake and the mountains.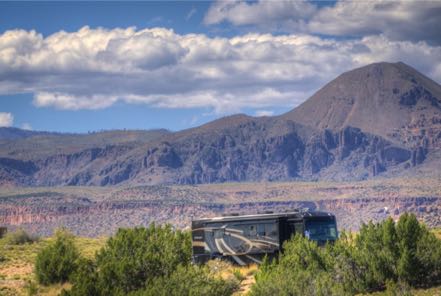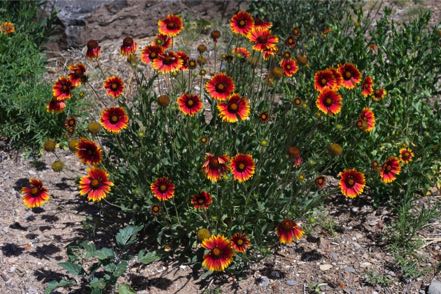 Cochiti is within the boundaries of the Cochiti Reservation, which borders other reservations on all sides. Each has their own Pueblo, a Governor, and a ruling council.
Day Trip to Bandelier National Monument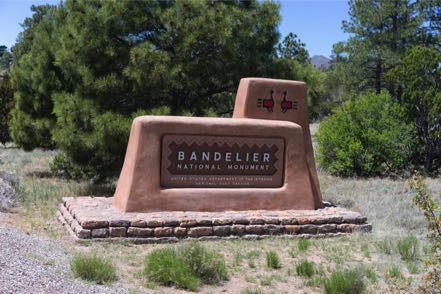 We decided to take a side trip to Bandelier National Monument. As the crow flies, it is only 12 miles from Cochiti Lake to Bandelier. However, as Google Maps points out, the best route is a 75-mile jaunt, south, east, north, and then west. Yet, when I studied my New Mexico Road and Recreation Atlas, the trip would be only 32 miles if one was willing to take 14 miles of non-paved road. Confident in our off-road ability, we set out on National Forest Road 268 planning on taking Bland Canyon through the Jemez Mountains, connecting with Highway 4 east to the monument.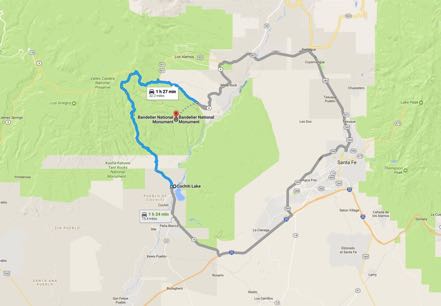 We quickly learned that road 268 was basically a riverbed covered with rocks and rutted tire tracks with a stream running through the middle. The rough going was really slow for about three miles and continued to get more challenging. As things continued to worsen Jack and I got out of the Jeep to scout ahead by foot. Turning a corner, our "road" was blocked off by a farmer's fence, making further progress nonnegotiable. Sadly, we backtracked, but started developing a plan B.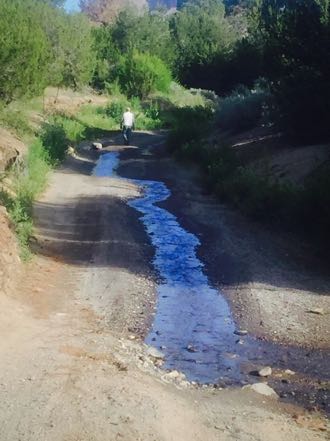 Plan B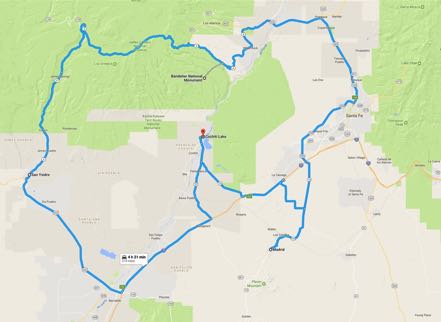 We drove south on 22, went south on I-25 for a few miles exiting at San Felipe Pueblo onto historic Route 66. At Bernalillo we turned northwest on 550 all the way to San Ysidro where we headed north then east. Here we found three nice old trucks (see below).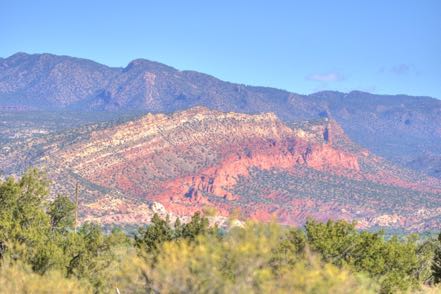 Each mile the scenery became more beautiful as we slowly went upward climbing the Jemez Mountains through the Santa Fe National Forest peaking at over 9,000 feet. Jemez Springs is gorgeous, and as we continued we had the Valles Caldera National Reserve on our left, a huge region of ancient volcanic activity--some of the prettiest scenery we have seen. After a short stop at Bandelier, we continued on the White Rock, then took 502 east, and then 285 south.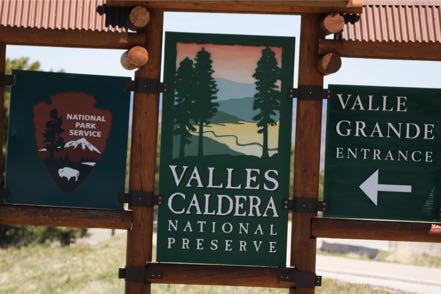 Green Chili Cheeseburgers
By then it was early afternoon and we were quite hungry, but decided it was worth a few more miles and a few more minutes to drive to one of our favorite towns in New Mexico, Madrid. So instead of getting back on I-25 south to return to our campground, we took NM 14 (the Turquoise Trail) south to this old hippy, artsy town. We parked and took the steps up to the deck of the dog-friendly Mineshaft Cantina. They specialize in craft draft beers and homemade margaritas, and green chili cheeseburgers.
Jan and I are green chili cheeseburger fanciers, having tasted several versions all over New Mexico, including those from the much-touted Buckhorn Tavern and the Owl Bar and Grill in San Antonio. However, we both agreed that our favorite is the version served at the Mineshaft Cantina—a huge burger of beef cooked exactly how you order it with cheese, salsa, deep-fried hatch chilies on the bun, and a mound of French fries on the side. Enough spice to add a little zing to the already mouth-drooling taste. Here is Jan's pic of her plate. Great place to hang…then back to camp. All in all, a 214-mile road trip—a little longer than intended, but much better than expected. Wow!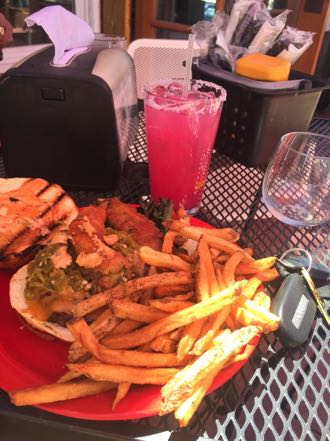 Old Trucks
Here are three old trucks from San Ysidro.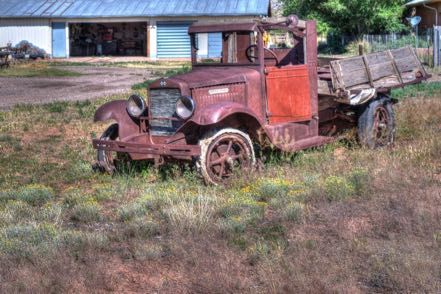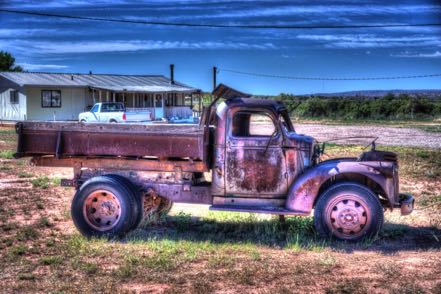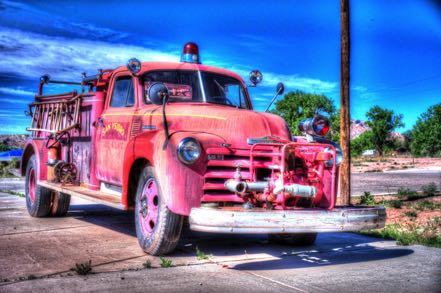 See you next time.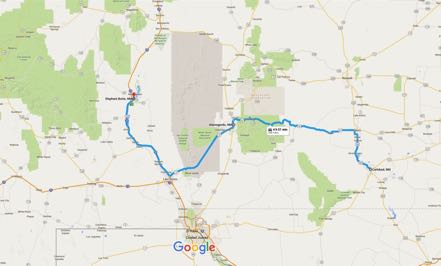 We left the Carlsbad KOA and headed out on 285 North to Artesia, took US 82 West through Mayville and Cloudcroft, and then headed on to Boot Hill RV Resort in Alamogordo. The last 26 miles of the 129-mile journey was traveling up, over, and down on a 6% slope through the Lincoln National Forest--beautiful drive. The temperature went from hot to mild to warm all in a three-hour span. We set up camp at Boot Hill RV Resort on the outskirts of Alamogordo.
White Sands National Monument
We timed our 25-minute drive from Boot Hill to arrive precisely at 7:00 a.m. when the gate to the park drive opened. We drove about two-thirds of the way into the dunes finding just the right spot. We all got out of the car, walked around a series of dunes, then let dogs do what they love to do—run like maniacs in the sand.
Mitzy enjoyed it but Jackson totally loved it, sprinting like a possessed thoroughbred, he leapt, raced, cornered, turned up, and ran down the white dunes for at least 15 minutes full out. Eyes bugging, tongue dragging, his legs pumped like the pistons of a drag racer in high gear…just a pleasure to watch.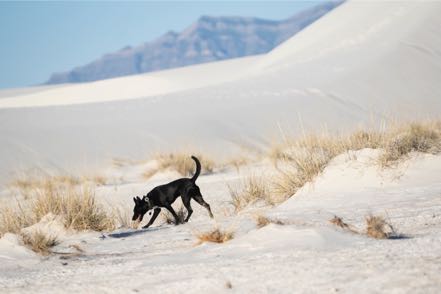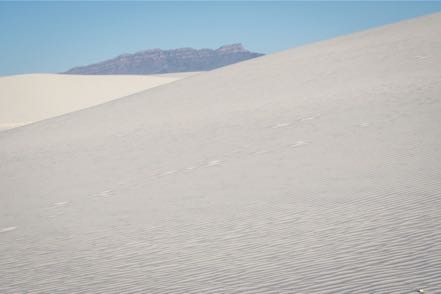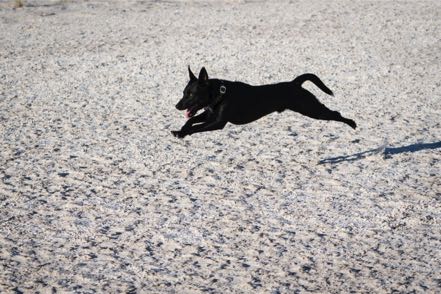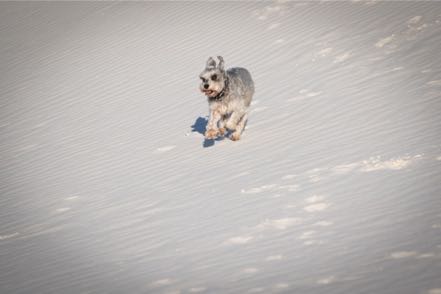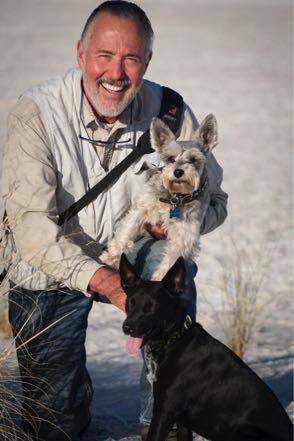 It was interesting, though, at this early hour we heard loud voices and laughter not far away--we assumed it was a large family gathering or a big group get together. However, we were wrong…atop some large dunes was a video set-up complete with satellite uplinks, big camera crews, and thirty or more people standing around. Al Roker, Matt Lauer, and their support team had just completed another video shoot on the National Parks! Maybe we will see them again soon.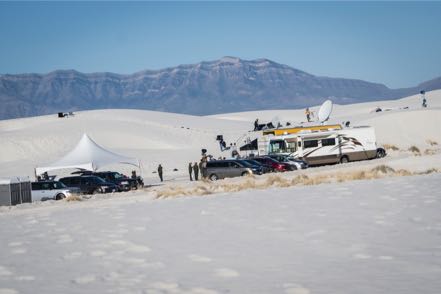 Elephant Butte
We took 70 West to I-25 North to camp at Elephant Butte Lakes State Park. Elephant Butte boasts the largest lake in New Mexico and they have beautiful campgrounds that overlook the water.
Critters
The campground supports lots of critters with many rabbits (including the big, long-eared jackrabbits), a few squirrels, lots of doves, wrens, Bullock orioles and numerous coveys of Gambel's quail--a beautiful bird. I was fortunate to capture one calling a few minutes after dawn.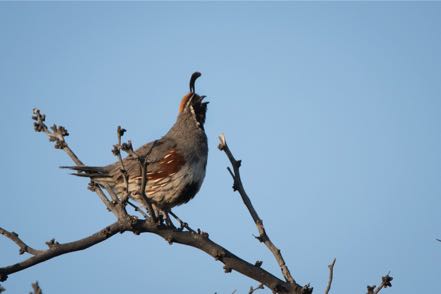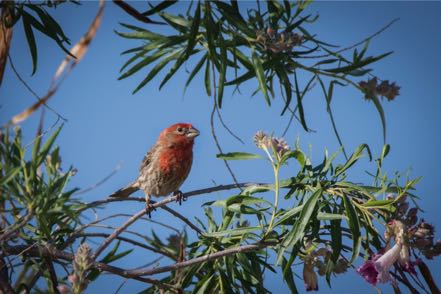 The Beach
However, everyone's favorite campground activity was our morning walk on the beach. Every day we arrived before dawn and walked along the water. The brown sand between Jack's toes acted like a volt of electricity, turning the mild-mannered pup into a wild-eyed canine. Here is a shot of Black Jack in full action.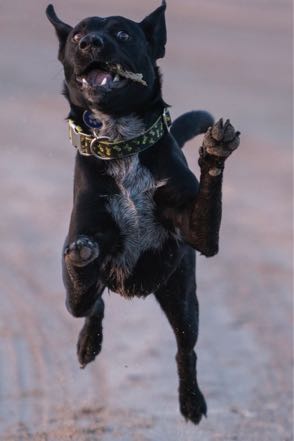 Great stay…we will come back here again.