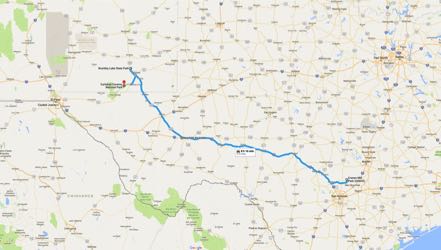 Heading north and east for 30 miles, we then hooked up again with I-10 West on our journey into West Texas. I-10 is like a friend that you enjoy for a couple-day visit, but then you start to yearn to move on—we were reaching the yearning point.
When you hear the words "West Texas" what thoughts come to mind? What feelings? What images? For me it is simple: "hot and windy, dry and dusty." We traveled for 317 miles in mid- to high-90s temperature before stopping in Fort Stockton for the evening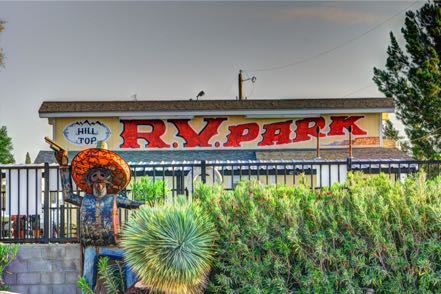 Hilltop RV Park, Fort Stockton
For one night, this was a good choice (I can't imagine spending more than one night in Ft. Stockton, though). The place was well run and adorned with metal art throughout the park.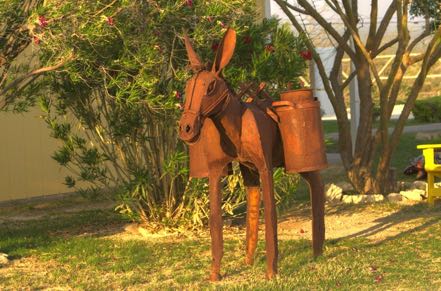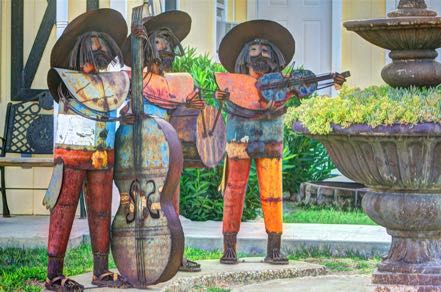 There was also a cool sign on a hill across from the campground.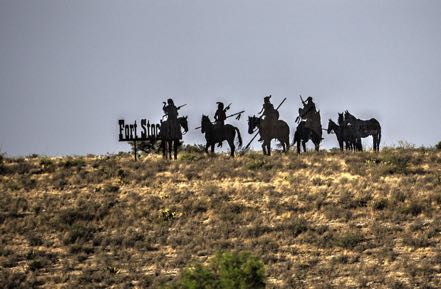 Brantley Lake State Park, Carlsbad, NM
From Stockton, we headed west on 285 all the way to the New Mexico border. The entire way through Texas the west wind whirled, sending streams of orange-ish red dust across a highway worn out by thousands of trucks, mostly hauling oil pipeline equipment and supplies. It seemed like every fifth truck was adorned with an "oversized load" sign on its grill with hunks of machines or metals or materials hanging over the side and out the rear. The trash on the side of the road reminded one of the littered streets in bad Detroit neighborhoods. Not pleasant. However, once we hit the state line, the road improved, the traffic lightened, and the roadside looked as New Mexico had a little more pride in appearances. We continued on 285 North through Carlsbad and up to our campsite in Brantley Lake State Park north of town.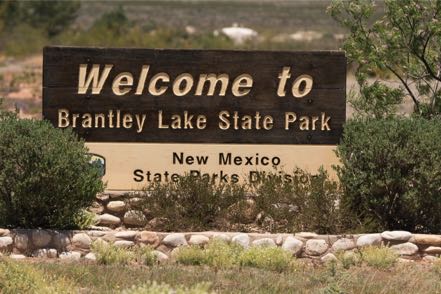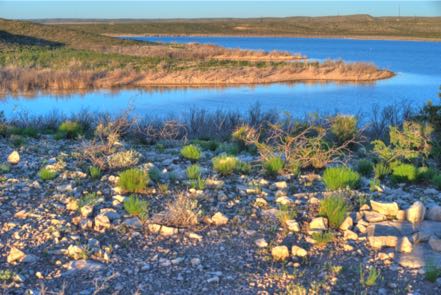 We thoroughly enjoyed this isolated area out in the desert of New Mexico. There were lots of bunnies and hundreds of those long-eared, long-legged Texas jack rabbits. Of course, Jack and Mitzy loved them.
Along with other critters there were lots of scaled quail, mockingbirds, grackles, roadrunners, and lizards.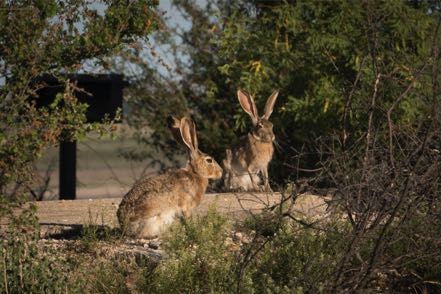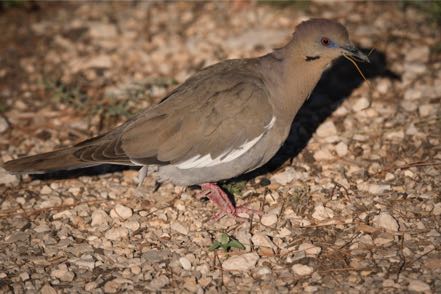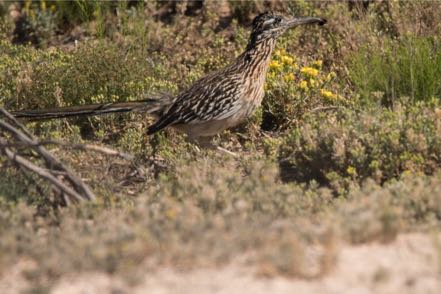 Carlsbad Caverns
Of course the most famous attraction in the Carlsbad area is the Carlsbad Caverns. Several years ago we wanted to tour them but arrived too late in the day. Last year I had put a plan together for Jan to drop me off for two hours while she and the Pups took the drive through the park (Jan is not crazy about caves). When I went to get my ticket, I was informed the elevators were broken. Yes, I could walk, but that would extend my visit to five hours. Hence, we put it off another year.
There was one upside though, Al Roker and an NBC camera crew was at the visitor center when we arrived. They were shooting sessions for their 100 Years of National Park series. Jan greeted Al, and he responded with a big smile, and I spent some time talking to the crew.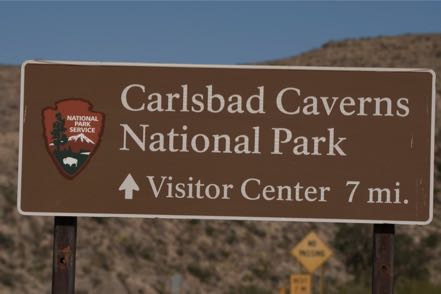 This year, however, I learned from my past mistake—like a senior checking out final exam results, I monitored the NPS Carlsbad Caverns website daily to make sure that all was a go. I learned that elevator maintenance was planned for the days prior to my trip, so no worries. However, the night before, I found that the maintenance had been extended one day! Oh, brother—I thought I was jinxed.
Luckily, we had a little flexibility in our schedule so I set back my trip one day.
I arrive 8:26 a.m., got my ticket, and at 8:29 I was in line for the first elevator (8:30) to take me to the Big Room, 850 feet below. A cool thing for me was, unlike most caves, they did not require being chaperoned in a tour group, and you could not only take pictures but also use a tripod. I spent two hours walking and photographing this immense cave, only seeing a few people along the way. Crazy impressive. Here a few shots.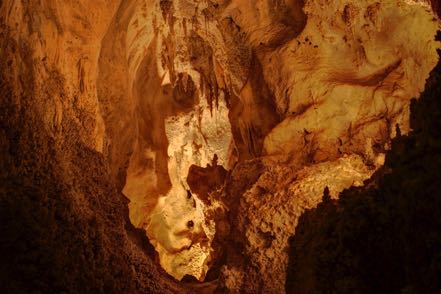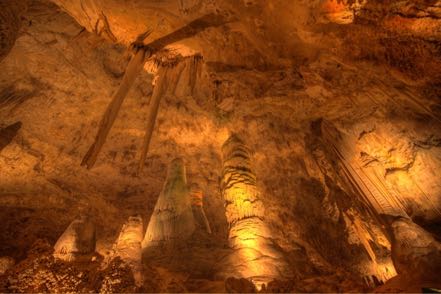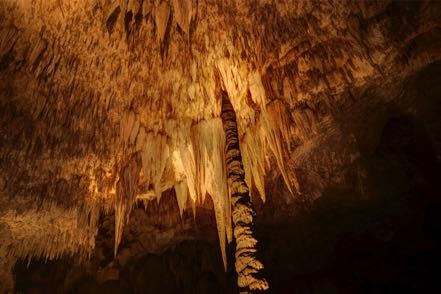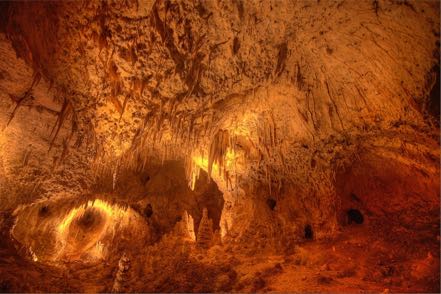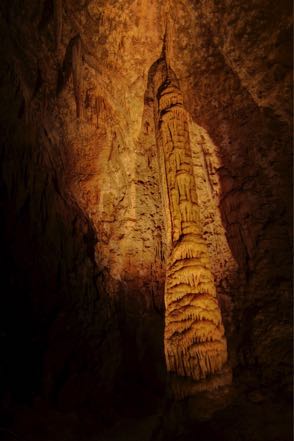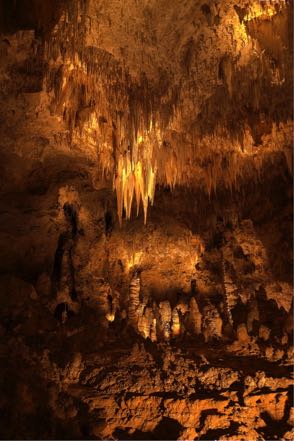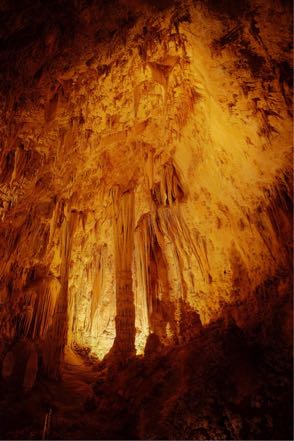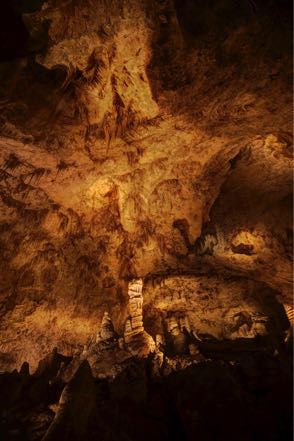 Note to future visitors of the caverns: Go early. When I exited the caves, people where in long lines to get in. There were six buses parked with hundreds of school kids streaming, screaming, and scampering to take the tours.
Can't Pass a Food Truck
Jan and I love food truck cuisine, especially Southwest food truck cuisine. We stop as much as we can. On my return to camp, I stopped at the La Patrona food truck to bring home their special burrito and a torta for our lunch. We sat outside, alert pups at our feet, desert before us, and tasting some of the best food in the world. It just doesn't get any better.
Old Trucks
Here are two old trucks from the Old Truck Reserve.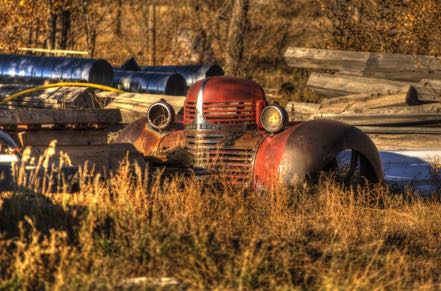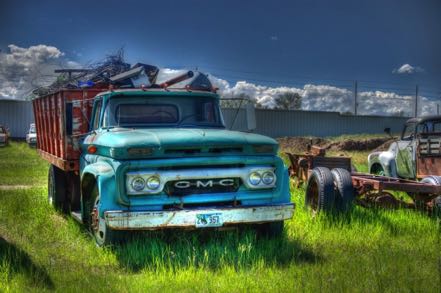 See you soon.
Since my last blog, I had a week-long client engagement that took me from Orlando to San Jose and Chicago, and then back to Orlando. Early morning before my departure flight, we loaded up and did the Apopka Loop one last time. As always, lots of beautiful birds. Here is the first least bittern we have seen while exploring the loop.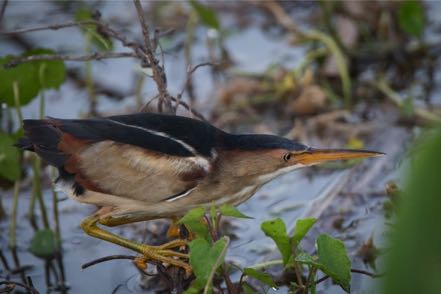 The day after my return back to Apopka, we loaded the bus and started our trek west: I-429, Florida Turnpike North, I-75 North, and then the long slog across I-10. The weather was clear, and with just a few exceptions, the roads were in good condition and the traffic light to moderate. In the Florida panhandle we stayed by Holt at the Eagles Landing RV Park. In Louisiana we spent a night at Sulphur at the A+ Motel and RV Park. All across Louisiana underwater trees and overflowing banks showed the results of weeks of continuous rain and the flooding that ensued. After circling around the north part of Houston we picked up 290 West heading to Austin.
Leander Meander
We spent a couple of nights in the northwest corner of the Austin metro area at the Leander KOA in Leander, one of the fastest growing towns in Texas. Here we took a day trip with old friends, driving by the LBJ ranch, a marvelous wildflower farm, and then on to the destination town of Fredricksburg, home of Admiral Nimitz. Although the bluebonnets were in retreat, the roadside wildflowers were at their height in one of the best years on record. I took multiple photos, but none did justice. For over two hundred miles we visually feasted upon vibrant reds and yellows, speckled with blues, and a background of various greens…enough to make retina overload.
Ft. Stockton
After lots of miles, we camped at the Ft. Stockton RV Park just off of I-10…easy on and easy off. Here is a shot of the Mexican paradise plant right by our campsite.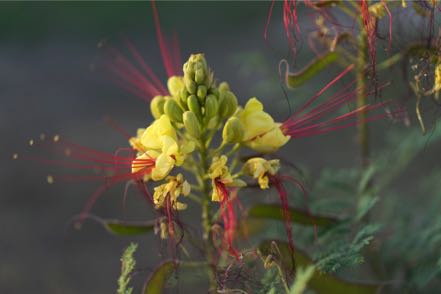 Carlsbad
At Fort Stockton we took 285 North into Carlsbad, and just a few miles north we set up camp at the Carlsbad KOA for three days. Each morning was chilly and calm, but by afternoon it was hot and windy. At this campground, Jack was introduced to a bunny plantation, and soon he suffered from a severe rabbit habit, spending hours on the coach dash, staring at the hundreds of rabbits. The birds were plentiful and loud with boattail starlings everywhere, lots of doves, and scaled quails. We also saw a scarlet tananger, a Bullock's oriole, and a few hummers. Jan also took a great pic of a flowering cactus.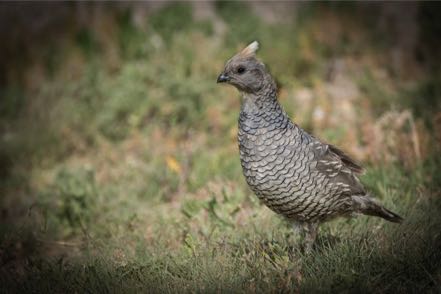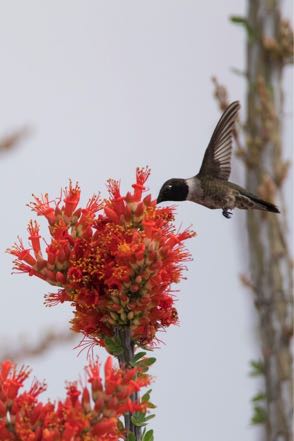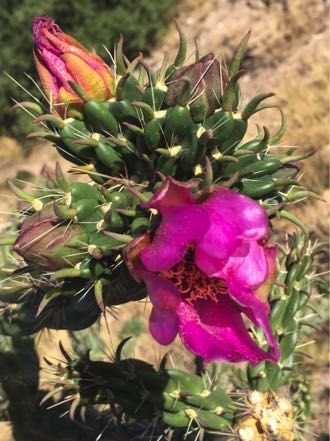 Roswell Side Trip
A short hour north of our campground is the famous Roswell, home of alien landings, mystic happenings, and conspiracy theories.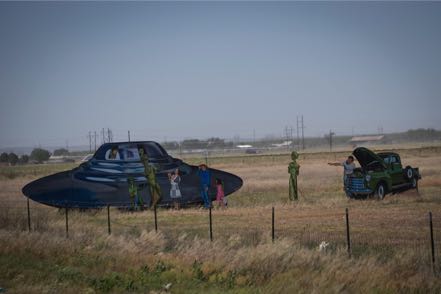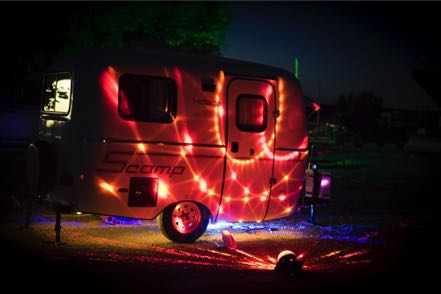 Just north of Roswell, we toured the loop of the Bitter Lake National Wildlife Preserve. We saw some stilts, gallinule, and a variety of ducks--not bad for a hot, windy, midday in the off-season.
Carlsbad Caverns NP
We had another early morning plan: We would all load up and be at the Carlsbad Caverns at 8 a.m. opening, and I would take the elevator down to the main caves and spend an hour shooting photos, and then return to our car and resume our day trip (Jan doesn't like caves).
Surprise #1: The 7-mile entrance road to the caverns brought a nice surprise, as I was focused on the caverns, not wildlife…right in front of us 14 momma and baby bighorn sheep crossed the road, went up a short hill, and then turned and stared at us--great photo opp! A short time later we saw another herd, and later a couple rams. Great way to start the day.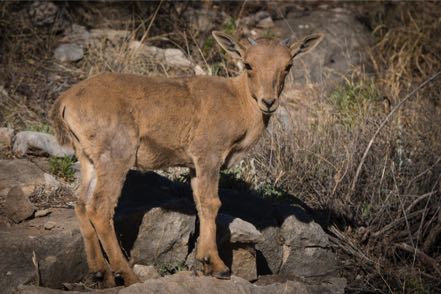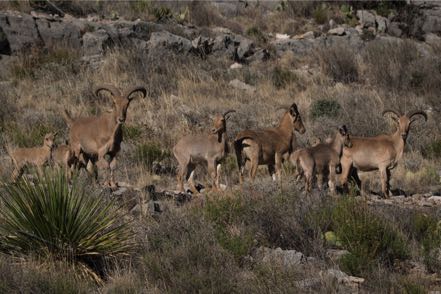 Surprise #2: As we pulled into the Visitor Center, there was Al Roker and a camera crew preparing to do a shoot for the Today Show's celebration of the 100th anniversary of the National Park system. Jan hollered a greeting to Al and he smiled and waved back. I had a nice conversation with the lead cameraman.
Surprise #3: While showing my park pass to a ranger, he informed me that the elevators were broken and that it was a very steep and strenuous mile down just to reach the bottom and a very steep and more strenuous mile back up…my planned one-hour trip would take 3.5 to 4.5 hours…yikes! So I went to plan B, and we drove the 45-minute Walnut Canyon Desert Drive, and then we drove to another section of the park (Rattlesnake Springs) were we saw a flycatcher and a roadrunner resting in a tree.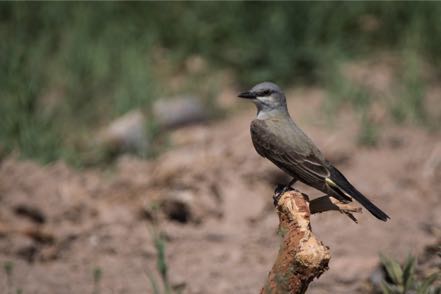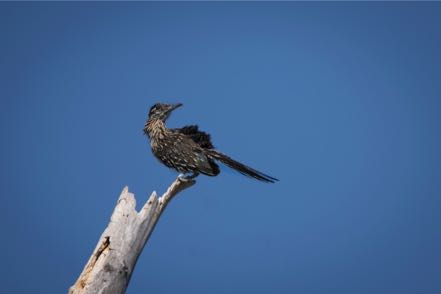 Guadalupe NP
Since we were no less than a half hour away, we drove into Texas, stopped at Guadalupe NP, and then returned back to Carlsbad to the patio of a wonderful restaurant where all four of us feasted on green chili cheeseburgers, carne tacos, and frijole charros. Great way to celebrate Mother's Day!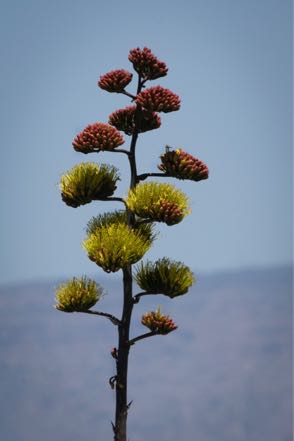 Finally, a public service announcement.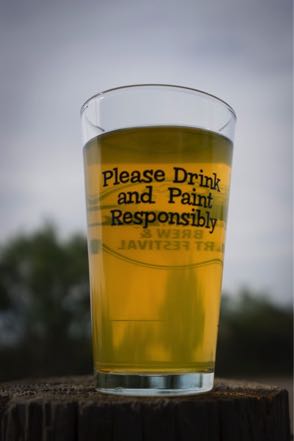 See ya'll soon.