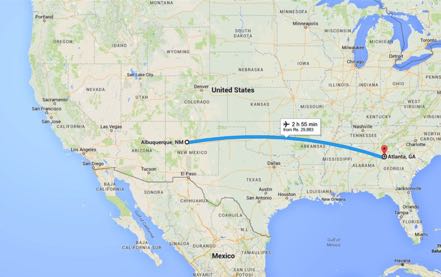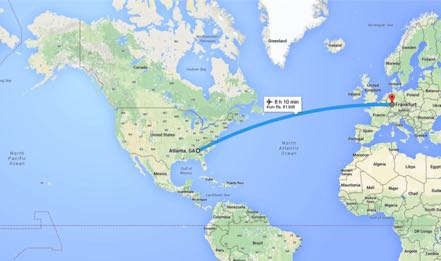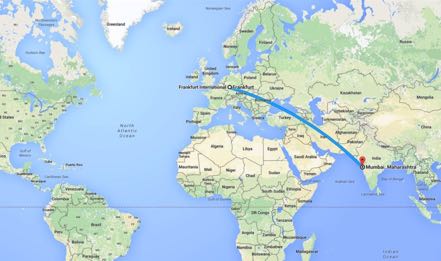 At 4:00 a.m. I received a text alert from my friends at Delta saying that my 8:05 a.m. flight from Albuquerque to Atlanta was delayed a couple hours or so--not good news, as it made me making my Atlanta to Paris connection very improbable. So I called Delta to explore options and found that there were not many choices and most were not desirable. However, the good news is that the agent found that if I re-routed to Frankfurt I could get to Mumbai just an hour later than originally scheduled. The bad news was that instead of the choice seating I had on the Paris flight, there was only one seat left on the Frankfurt plane…oh, well.
The three-hour Albuquerque to Atlanta flight went fine, and after a three-hour layover, the eight-hour Atlanta to Frankfurt leg also went well--I got a good five hours sleep, arriving feeling well rested.
Another three-hour layover started quietly…and then the excitement began. About an hour before flight time at the first sighting of a gate agent, almost all of the 300-plus people at the waiting area stood up, gathered their belongings, and moved toward the boarding area like politicians at a fundraiser: Mothers and fathers trying to corral their screaming children, with 100 loud conversations going on in scores of languages.
The area was a sea of colors in the mostly Indian crowd--women wore traditional, brightly colored saris and scarves, while the men wore sherwanis and kufis, accented by the grays of the occasional flowing beard that spotted the landscape of people. The noise level rose at least 30 decibels as passengers bombarded the Lufthansa staff with thousands of questions (some related to the flights) while others tried to convince them that they needed to bring on all the bags (and sacks and boxes) that they carried, or hauled, or pushed along.
When the agent announced, "We will now board those in wheelchairs and all those needing extra time," the crowd surged ahead like kids jostling for position at the ice cream truck. I later asked an agent if it was always like this, and she replied, "Only on flights to India." Just amazing.
About 40 minutes after the boarding process of our Boeing 747-400 was completed, an announcement sounded stating that the delay was caused because they had to escort a drunken passenger off the plane, and regulations required that the drunk's checked luggage had to be found, taken off the plane, and then inspected. All in all, the flight was delayed an hour and a half.
My seat, 57J, was not designed for comfort, so I decided to catch up on action movies. I watched "Mad Max Fury Road," and then my video system froze up. Luckily I had a good back-up of audible books and listened my way to landing.
After de-boarding the full plane, going through passport control and immigration, exchanging some money, and taking a taxi to my hotel, it was 2:30 in the morning. At the perimeter of the hotel my taxi was stopped at a large iron gate where men in uniforms carrying automatic weapons came out and searched the cab before opening up the gate. Stepping out, both my luggage and I went through security. I felt like I was visiting Uncle Joe at the Big House. By then, all I wanted was a hot bath and to go to bed.
The six people at the reception desk (yes, six young men just for me, the only person in the lobby) very politely found my reservation. When the young person behind the computer looked up at me then over at his colleague, the "oh, boy!" alarm went off in my head. Soon the night manager came over and started to apologize…my room was "broken" but being "fixed" and was not quite ready. The dialogue went like this:
Night Manager: I am very sorry, Sir, there was a problem with your room…it is being fixed and will be ready for you soon.
Alex: You are kidding me, right?
Night Manager (looking at the floor): No, Sir.
Alex: You have no other rooms?
Night Manager (hesitating): No, all other rooms are occupied.
Alex: (No words…I just gave him "the look.")
Night Manager (starting to blush and perspire): I am very, very sorry. Please come with me to the dining area and have something to eat…anything you want…on me, of course. Whatever you want. Here is the Internet passcode so you can go online while you wait for your food. I am inviting you to our lounge as my personal guest later today. I will personally come and let you know when the room is ready. I am sure it will not be long.
Taking advantage of his chance to get away, he then sprinted over to the closed kitchen where they were preparing the breakfast buffet and told the guy in charge to give me a menu.
The good news is that I was hungry, the chicken-something was filling, and what the heck…no one was hurt. I was in my room by 4:00 a.m. and slept until 2:00 p.m. the next afternoon.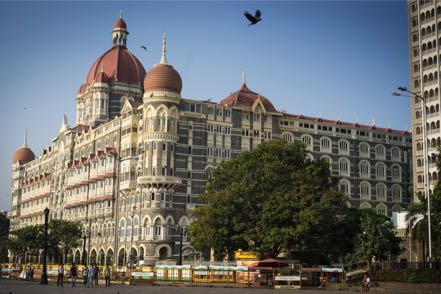 Down to Business
I had two, very full days of business with a longtime client. Very smart group, very interested in the topics, but very, very talkative--they liked to challenge concepts, explore other options, give opinions, share life stories, expound on theories. They loved the session. It was a lot of fun, but a lot of energy was invested in the effort.
Exploring Mumbai
I had one day to explore Mumbai, a task that would take at least a month to give it justice. So I targeted a personal tour with a few things that I felt would help give me a feel for this city of 19 million.
Washing Men
Steven, my driver, picked me up at my hotel at 6:00 a.m. and drove the 45 minutes in the dark to the south part of Mumbai. My tour guide, Neelima, met me at the first stop, Dhobi Ghat, near the Hahalaxmi railway station. An intelligent, gentle soul, she was a delight to talk to.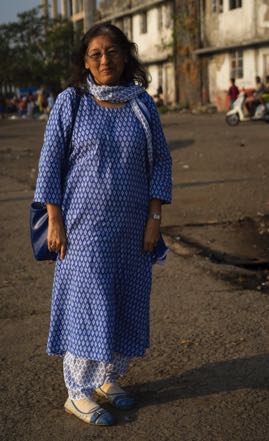 Here I watched as hundreds of men called dhobis (only men) soaked, scrubbed, flogged, rubbed, twisted, and hung up clothes from Mumbai's hotels and hospitals in this huge, open-air laundry. Twelve hours a day, six or seven days a week, they toiled…wow.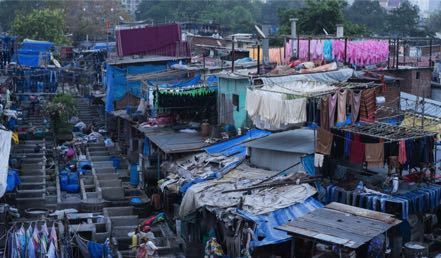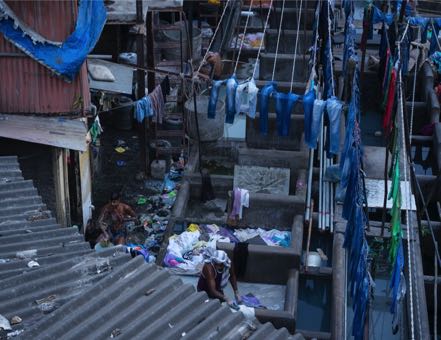 A Sea of Flowers
The next stop was the Dadar wholesale flower market. Indians love fresh flowers to wear, to decorate their homes, and to use in offerings to their gods. The Festival of Lights was coming soon so the normal hustle and bustle was ramped up another notch as the buying and selling came to full bloom. The bright colors and sweet fragrance of the flowers, compounded by the sounds and smells of the moving mass of people made for quite the experience--just walking through the market required dexterity, fortitude, and lots of apologies as one had to be "aggressive" to make one's way.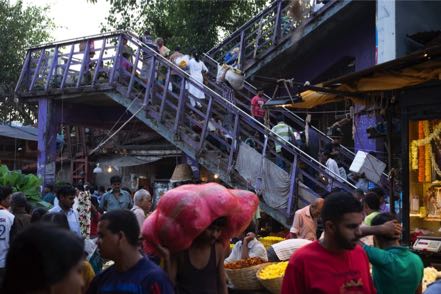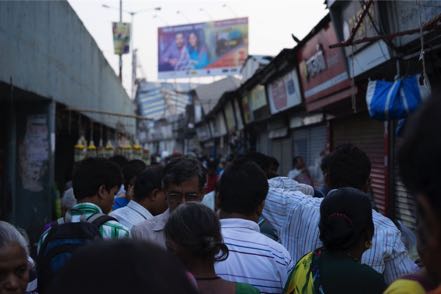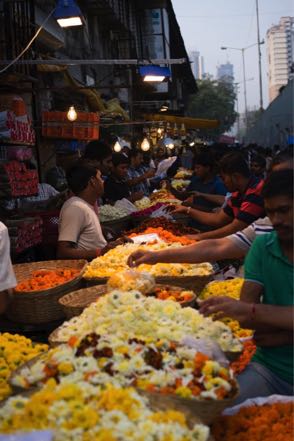 Fishing Folks
Next came the fish market at Sassoon Docks where men brought in their catch at dawn, and women sorted, graded, and then left to sell the fish and other seafood to restaurants throughout the city. Also, hundreds of trucks were in the nearby parking areas, most of them painted in bright colors.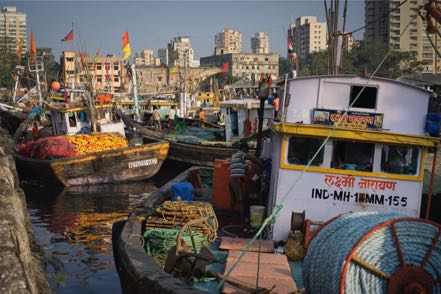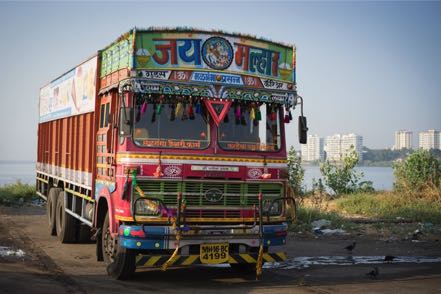 Gateway of India
The most visited location in all Mumbai was our next stop. The Gateway to India overlooks the Arabian Sea and was erected to commemorate the landing of King George V and Queen Mary at Apollo Bunder when they visited India in 1911. Nearby are the yacht club, the navy yards, and the Taj Mahal Palace.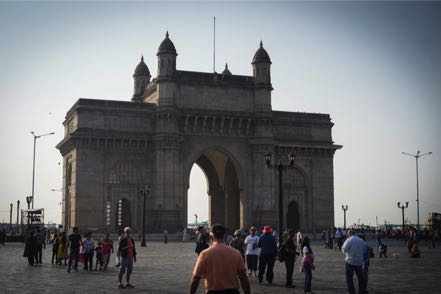 Gandhi
My last visit before Steven took me back to my hotel was Mani Bhavan, the house where Gandhi initiated his civil disobedience that eventually led to India (and Pakistan) gaining independence in 1947. The museum was filled with photographs and detailed with items from his life, including the sparse room where he lived. The original letters that he wrote to both Roosevelt, to ask for support of India's independence, and to Hitler, asking him stop aggression, are two of the powerful documents on display.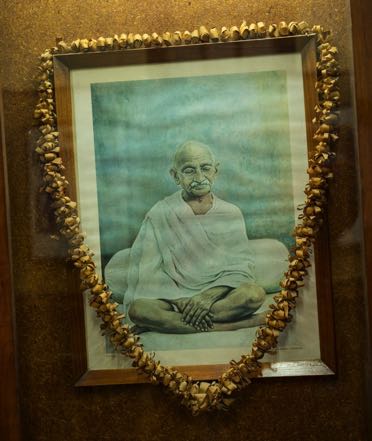 Side Note: In order to get his parents' approval for the young Gandhi to go to England for college, he vowed to give up wine, women, and meat. No wonder most of the people I know were not educated in England!
How to Drive in India
Based upon my observation of driving behaviors, the marked lanes and street signs appear not to be rules to be followed, but suggestions left up to drivers to interpret and obey, or not, depending upon their mood. Three lanes often turned into six, the distance between vehicles often shrank from yards to inches, and the reaction time needed to avoid contact with other cars appeared to require NASCAR capabilities. The constant beeps of horns warned other vehicles of upcoming actions, showed irritation of slow drivers, but mostly demonstrated the joy of being able to make noise. My guesstimate is that the beeps per vehicle per unit of time surpassed that of Mexico City, Bogata, and New York City.
Neelima shared with me the three things you must have to drive in India:
1. Good horn
2. Good brakes
3. Good luck
I am sure that she is correct.
My tiny experience with India was extremely positive. Long trip, a few hassles, but definitely worth exploring more.
On to Riyadh
Next, I flew to Riyadh to continue working with my client at their Middle East office. I had thought that central Nevada was bleak, but miles and miles of sand with no vegetation made Nevada look like a plush oasis.
My sessions went great with my participants from Saudi, Jordan, Algeria, India, Pakistan, Lebanon, Eqypt, and the United Arab Emirates. It was quite interesting talking during breaks and lunch with people with very different backgrounds from mine as we politely discussed the weather, our families, and a little bit about politics. I was told the weather in the low 80s was extremely mild during my trip (it gets up to 130 degrees in summer)…I was also advised to watch out for the sandstorms that roll through the area without warning.
I can sum up my activities this way: airport to hotel, hotel to client, client to hotel, REPEAT. I had no desire to explore or take pictures--Saudi Arabia does not make my list of 10 best places to vacation.
I had no drive to explore--just do my job and no more.
I am glad for the learning, yet no desire for returning.
Glad to have completed this chore.

A long journey home, but I am very happy to be back.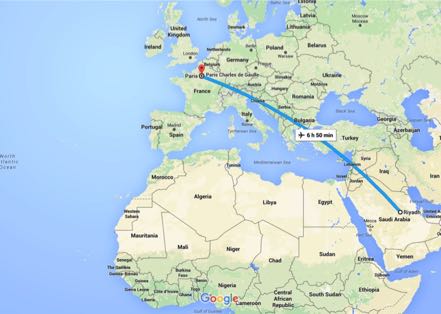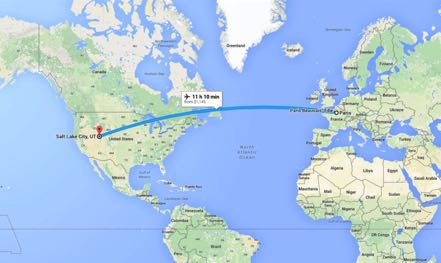 Note: I was fortunate to get out of Paris before the terrorist attacks.
Pups
Here are a couple of pup pics from the Pup Reserve.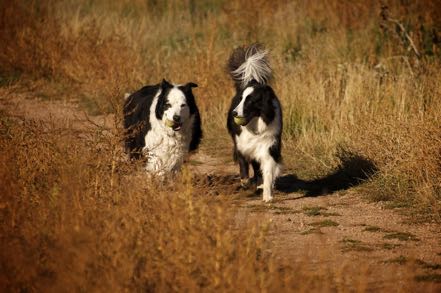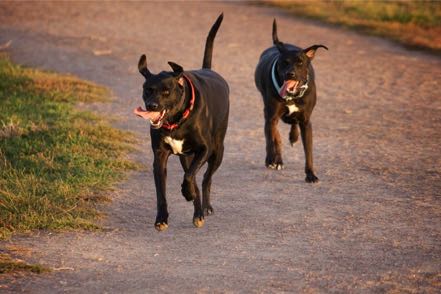 Old Signs
Here is an old sign for the Old Sign Reserve.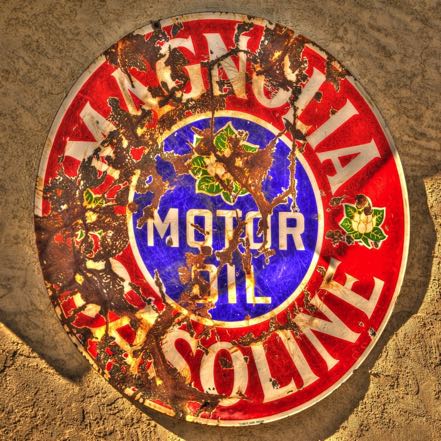 Old Trucks
Here are three old trucks from the Old Truck Reserve.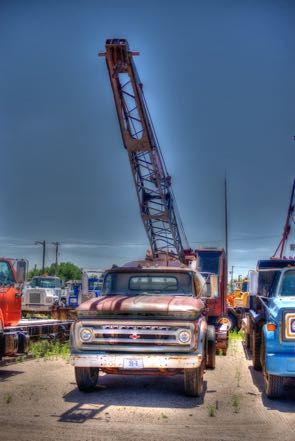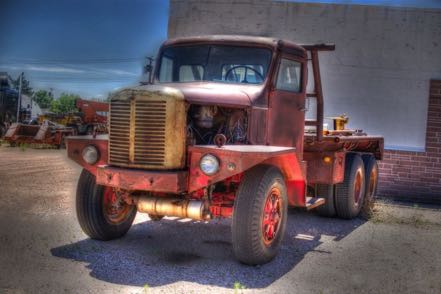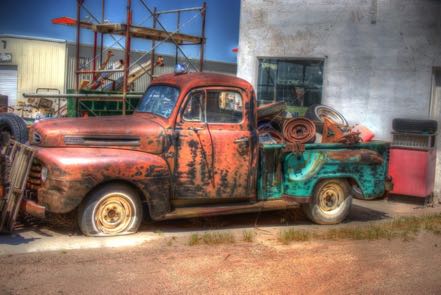 See you soon, after I rest up.