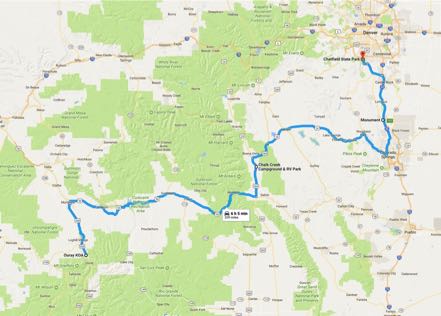 From the Ouray KOA we went north on 550 past Ridgway to Montrose, where we fueled up and headed east on 50 through the Curecanti National Recreation Area, past Gunnison and turning north on 285 just a few miles west of Salida. We then went up north a few miles to spend one night at our Chalk Creek Campground in Nathrop. The next morning, we took 285 north until turning east on 24 through Hartsel, Florissant, Woodland Park, and over to Colorado Springs. It had been a few years since we took 24, and I had forgotten what a wonderful trip it was. We headed north on I-25, then took 85 north, Titan Road, and finally, Roxborough Road.
Mt. Evans Day Trip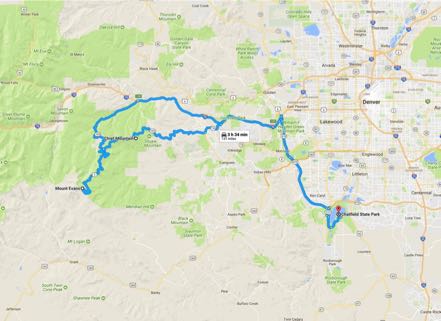 This is a Colorado Scenic Byway that we had never been on before. My buddy, Mers, and I took the back roads that were, well—scenic! It is the highest paved highway in the US, is the home of the highest observatory in the US, and bighorn sheep and mountain goats may have the highest level of people comfort of any herds in the US. Just another gorgeous Colorado destination.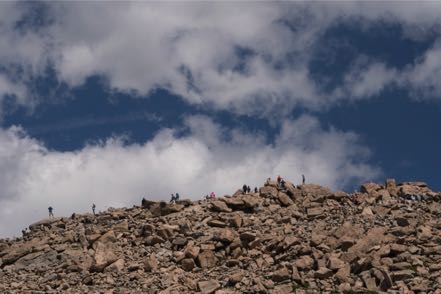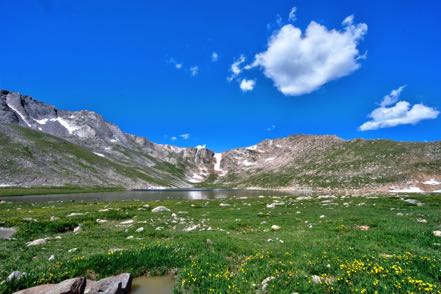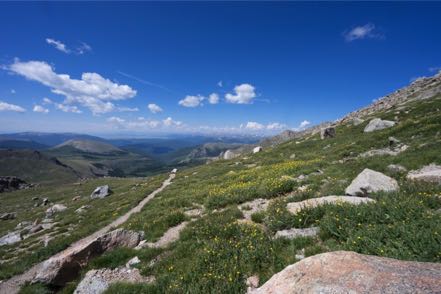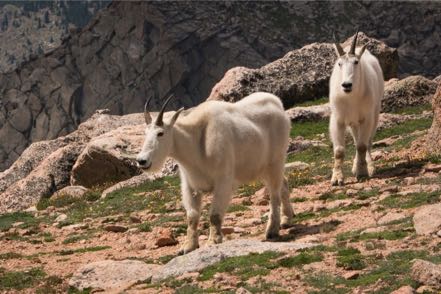 RMNP Double-Dip
One day, Mers accompanied us on the road less traveled—up the west side of Rocky Mountain National Park. We were especially hunting moose, and we were not disappointed.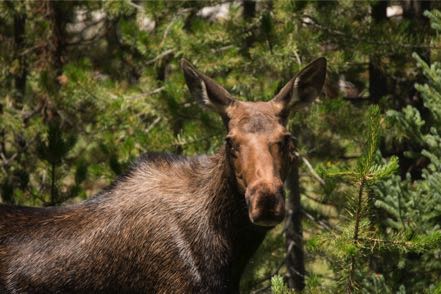 On another day, Mers, John, and I took a trip up the east side of RMNP through Estes Park. We did a big circle taking the Old Fall River Road, a one-way dirt road up to the Alpine Visitor Center and came back on the paved, but spectacular, Trail Ridge Road. I never get tired of this place. Here is a shot of a mountain view, the almost-always present elk, and a yellow-bellied marmot.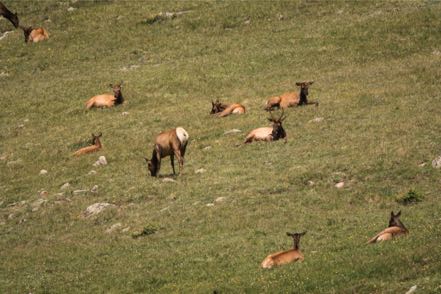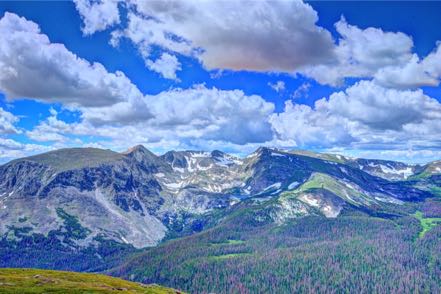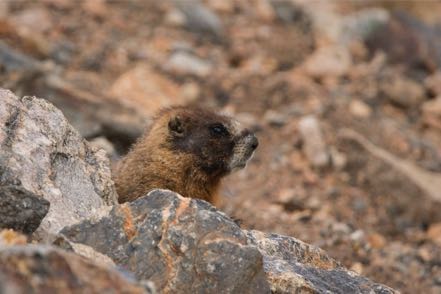 G-Kid Sports
Camping close to the G-kids, we had a chance to see Nattie's soccer and Austie's football.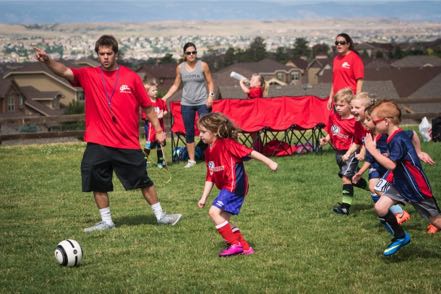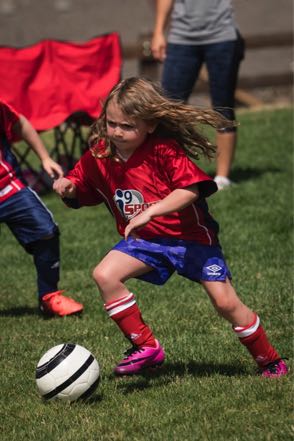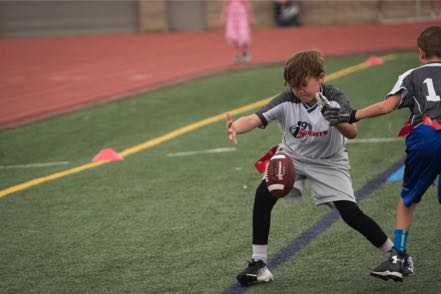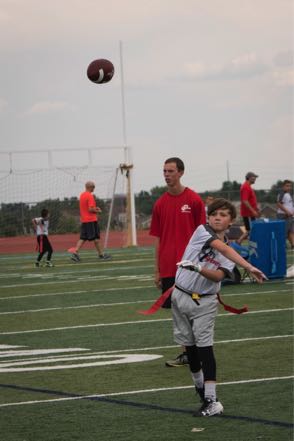 Chatfield Dog Park
Of course, we visited this amazing dog park.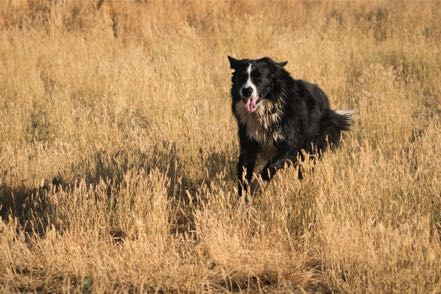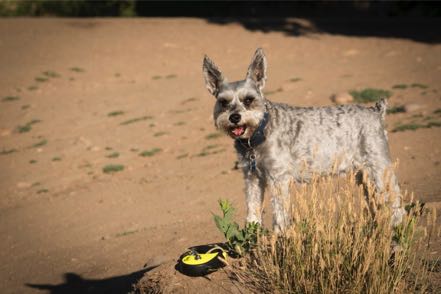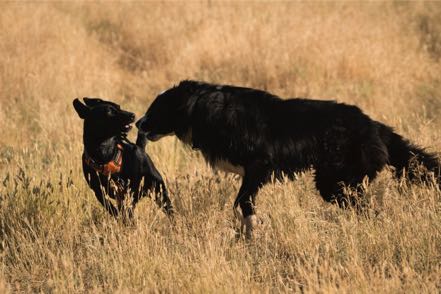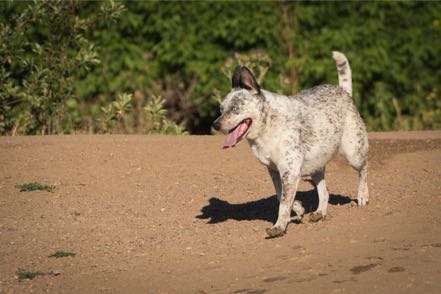 Old Trucks
Here are a couple of trucks from the trips to RMNP.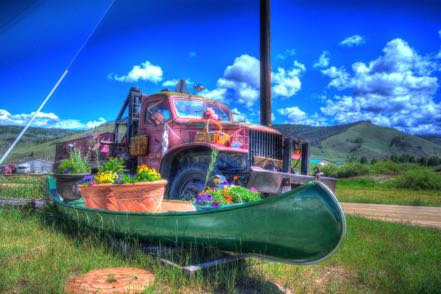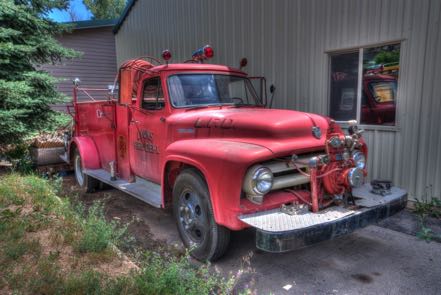 See you soon.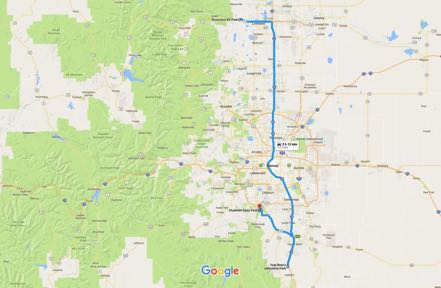 Larkspur
From our campground west of Loveland, we took 34 east, and then I-25 south down to our campground near Larkspur.
Jellystone Park
This campground and "resort" is the perfect place for kids. Since we volunteered to take our grandkids plus one friend, we wanted a place with lots of activities. We found the right place. Here are just a few of the activities: morning flag raising with Yogi and Boo Boo, goat grazing, bounce pillow, pancake breakfast (with sausage), swimming pool, afternoon ice cream with Yogi, movies, candy bar bingo, waterslide at the Old Swimming Hole, hayrides, and so on, and so on. However, the biggest hit was that we rented a golf cart for the weekend and Austie became the chauffeur. Great weekend—we packed a week into 48 hours.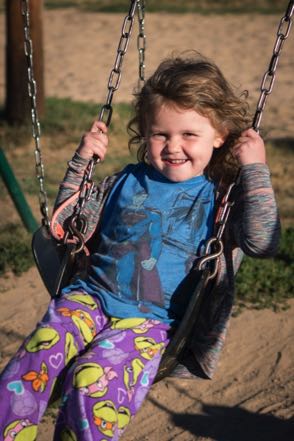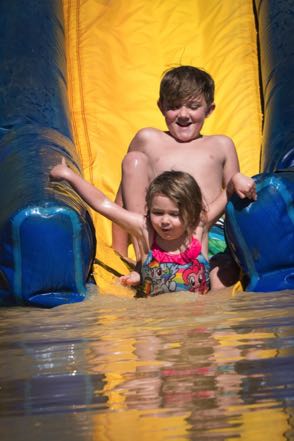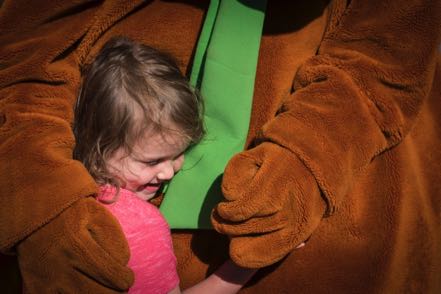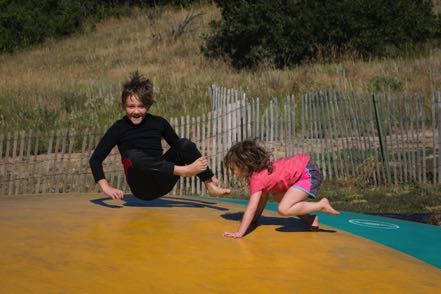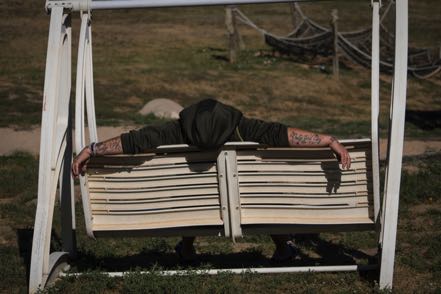 Chatfield State Park
From Jellystone, we took the short drive north and west to Chatfield State Park. We have stayed many times at this wonderful park…full hook-ups, roomy sites, lots of privacy, rabbits everywhere, and one of the best dog parks on the planet.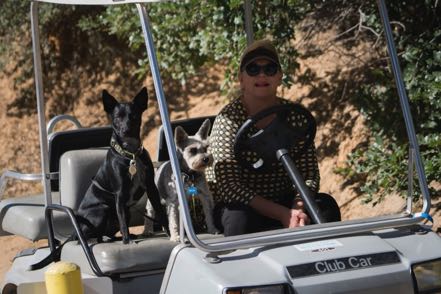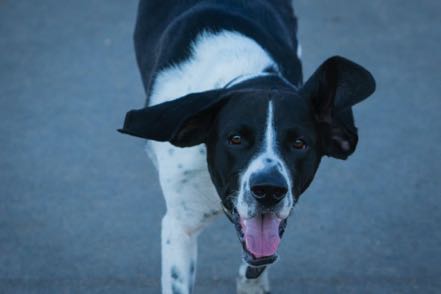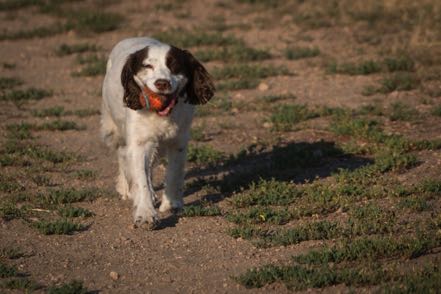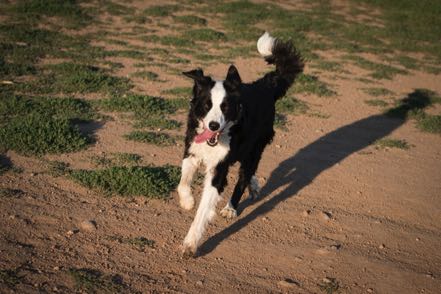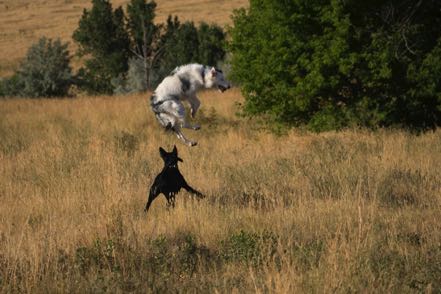 .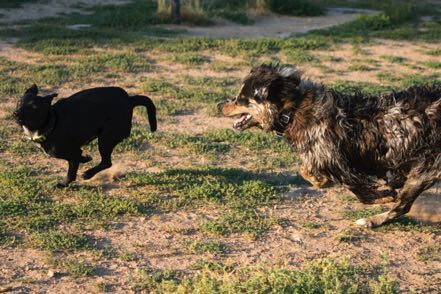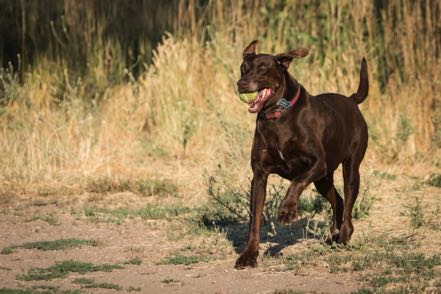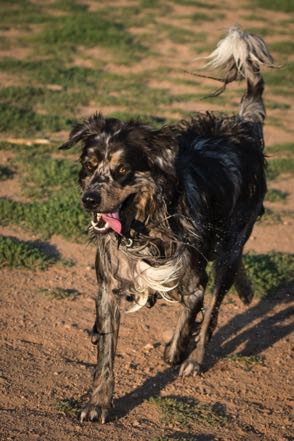 See you soon!
Quick Trip to San Diego
I participated in my business partner's excellent conference in San Diego where I did a workshop and a speech. Quality event with a great bunch of people.
Bark Park Bonanza
Chatfield State Park has a magnificent dog park—250 acres of trails along ponds, by trees, and through brush. We took our Pups there three days in a row and I was lucky to get a few pics—in fact I will feature some of these pup pics over the next few months. Here are five to start with plus a fall refection from one of the ponds.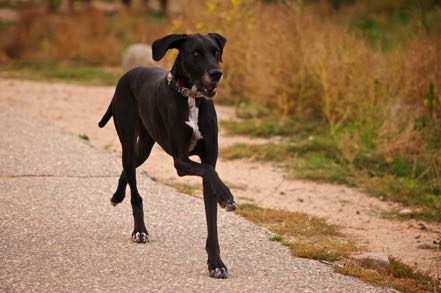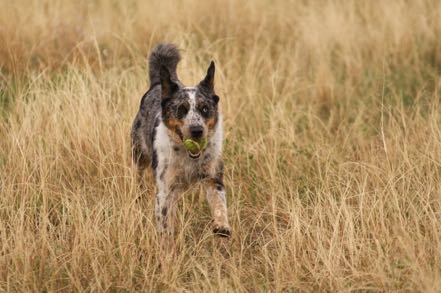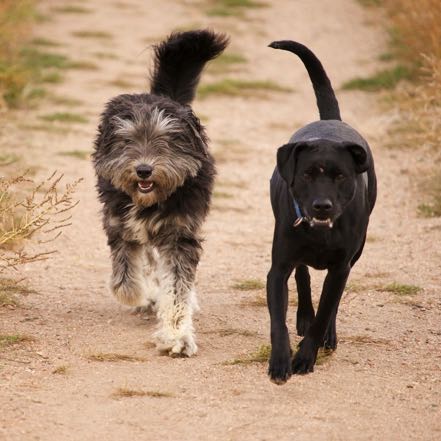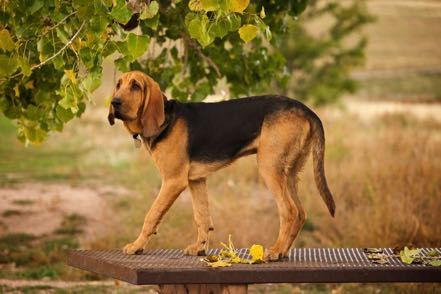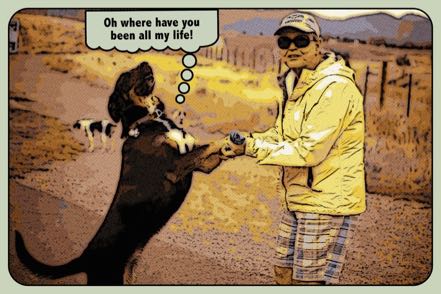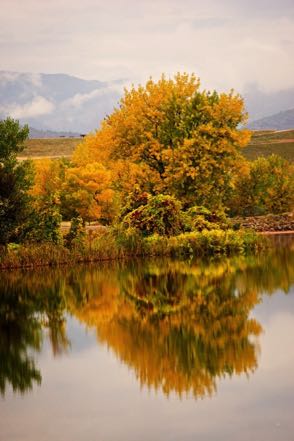 Play Ball
Here is a shot of Austie on the diamond, Nattie on the sidelines, and Nattie at night.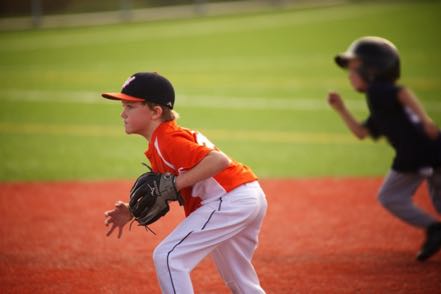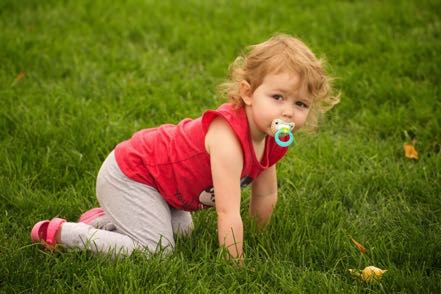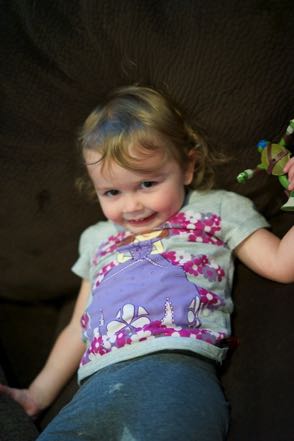 Old Sign
Here is one old sign (again from George's place)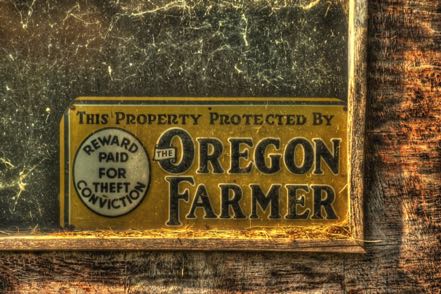 Old Trucks
Here are three old trucks.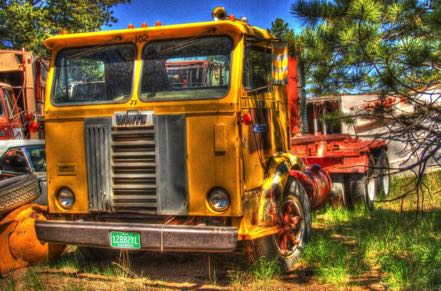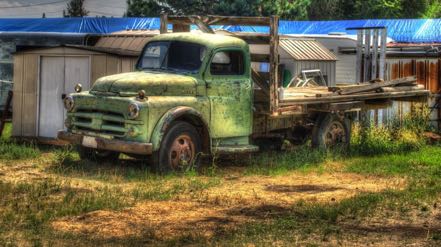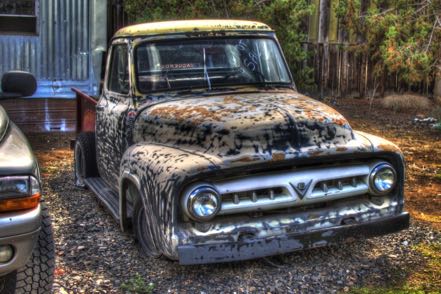 See you next week.