We said farewell to Nathrop and headed north again on 285 through the mountains. Near Denver we picked up I-70 East via I-470 West and stopped at a truck stop for a fuel-up and a wash. A short jag east, and then a few miles south on I-225 to Parker Road and our next camping location, Cherry Creek State Park.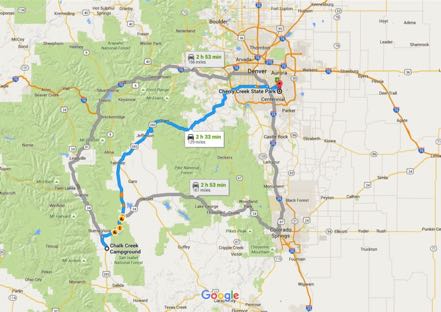 Denver's Central Park
We've stayed here many times and always enjoyed the nature. As it was Black Jack's first time, he quickly learned to appreciate the vast quantities of rabbits, squirrels, chippers, prairie dogs, coyotes, deer, and birds of all variety.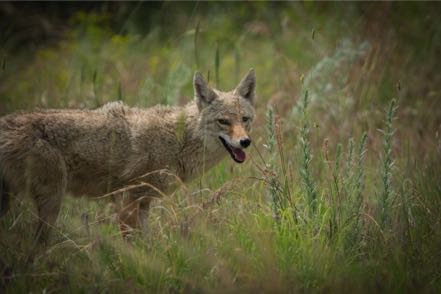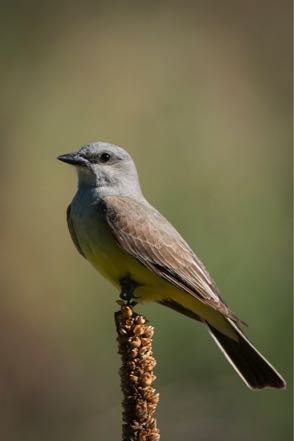 Bark Park
Another really nice thing about Cherry Creek State Park is their marvelous dog park. Many trails, lots of creek access, and over a four-mile jaunt around the perimeter. We were out there by 6:15 most mornings, but were never the first ones there.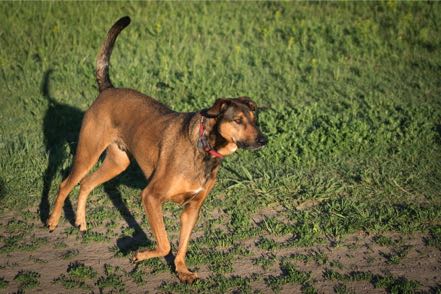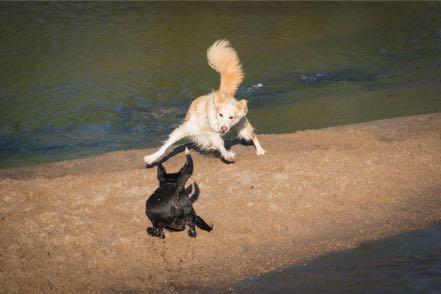 Jack just loves to play, especially in the water--nothing more fun than chasing a big canine or a big canine chasing him.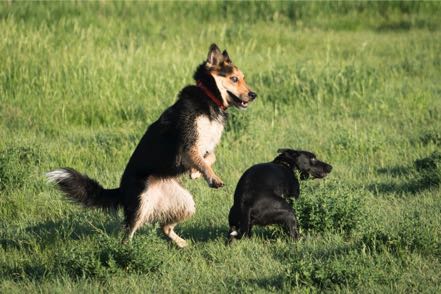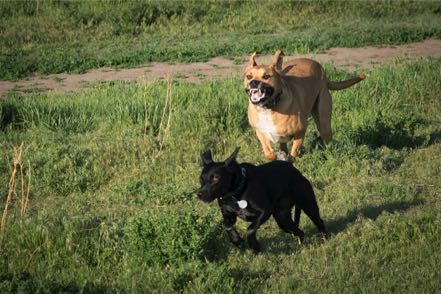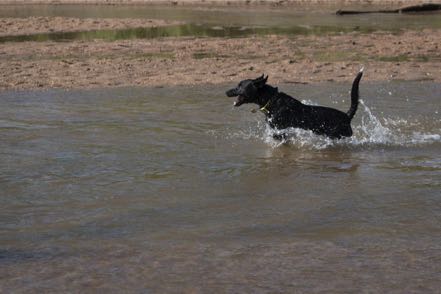 He has also learned to play fetch and brings the ball back…most of the time :'>>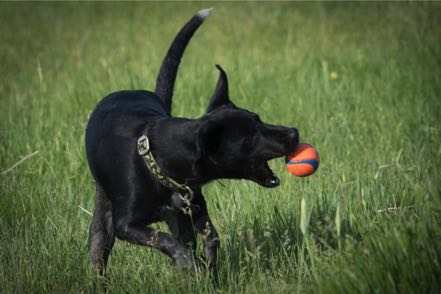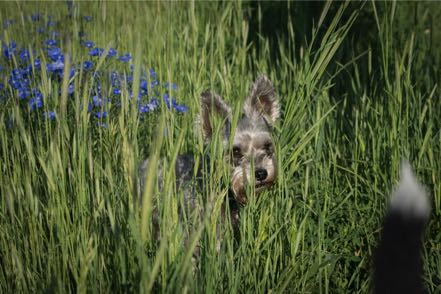 Mitzy thinks she is hot spit as she now has new wheels--whenever she gets tired of walking she has a chauffeured buggy from where she can direct the action of both dogs and people from a higher altitude.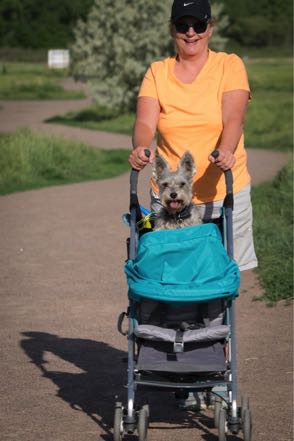 Jan's Art
Interested in seeing Jan's latest painting? Go to
www.janalexanderart.com/portfolio.html
and check out "Skyward" under "Acrylic Paintings and Murals" (the last painting).
See you soon.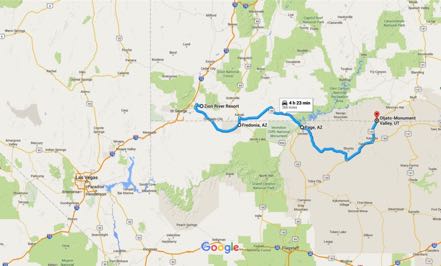 Leaving Zion we toured through Hurricane, skirted around the Kaibab Tribal Lands, went by beautiful Lake Powell close to Page Arizon, and then through Kayenta to our campground at Gouldings Campground Monument Valley.
Monument Valley
We took an afternoon trip to scope out our planned trip to the Monument Valley Navajo Tribe Park. As we were heading home, Jan spotted a wild goat eating weeds along the road. Here is a picture of the handsome critter.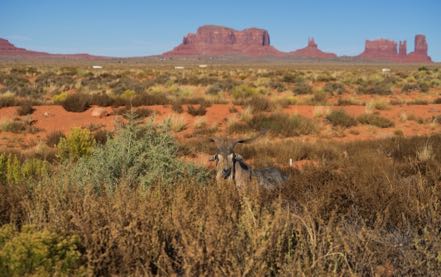 The next morning we were up super early, hoping to watch the stars. However, clouds stopped that plan, but those same clouds helped shape the colors of a gorgeous sunrise.
Monument Valley is the location of many John Ford westerns, including John Wayne's breakthrough role in the 1939 movie "Stagecoach." As a youngster I recall many a-time watching this and other westerns in black-and-white on a little TV in the living room with my dad. Monument Valley was often the background for the action. As one gazes out at the horizon you can almost see the dust rising from the rumbling wagons, smell the sweat from the galloping horses, sense the pilgrim fear that Apaches were right around the next rock with knives in hand, greedy for scalps. This is how the Old West is supposed to be! Wonderful place.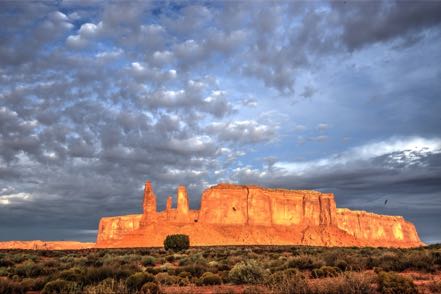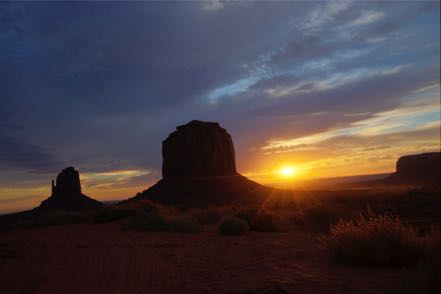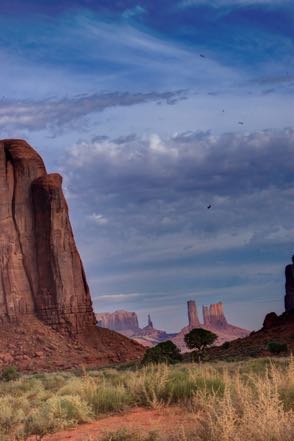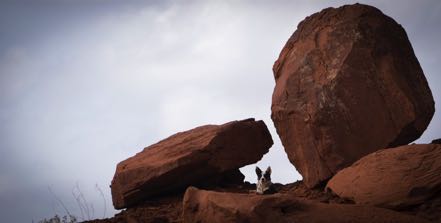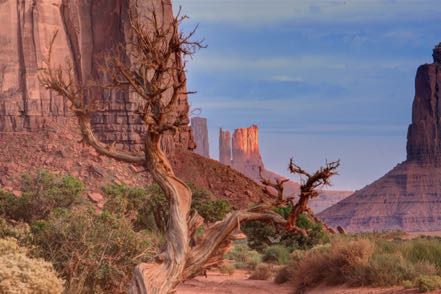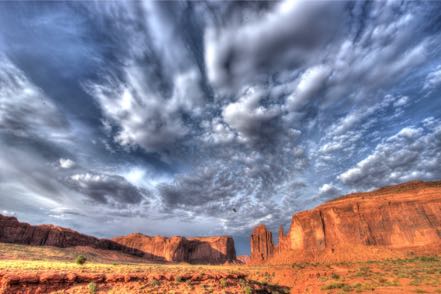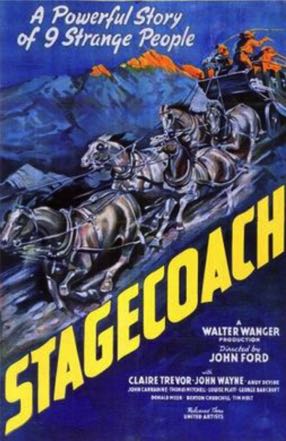 Natural Bridges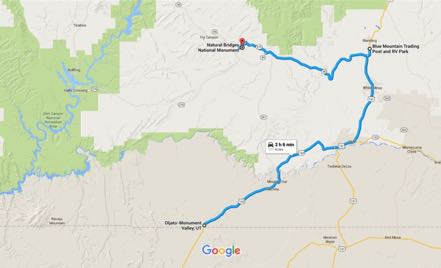 The same day of our visit to Monument Valley, we drove up 163 through Mexican Hat and Bluff into Blue Mountain RV Park in Blanding. After settling in, we took an hour trip to visit Natural Bridges National Monument. On an uncrowded road, we took the scenic tour stopping to walk and view the three natural bridges (formed by water erosion, not arches, which are formed by wind erosion). Here is a photo of one of the bridges.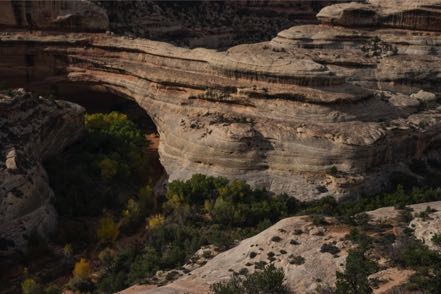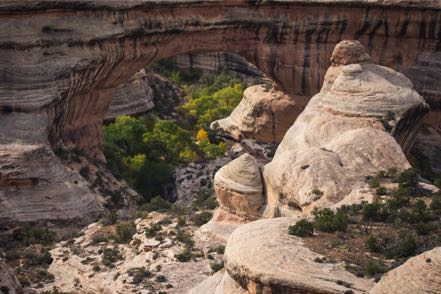 Back to Colorado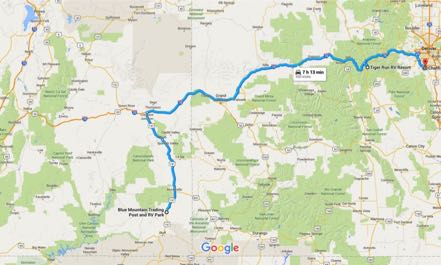 We continued north on 163 to 191 and headed past Canyon Lands National Park and Arches National Park near Moab. We hooked up to I-70, spent the night near Breckingridge at Tiger Run RV Resort, and then continued east the next day to our destination at Chatfield State Park.
Busy, but fun!
Pups
Here are a couple of pup pics.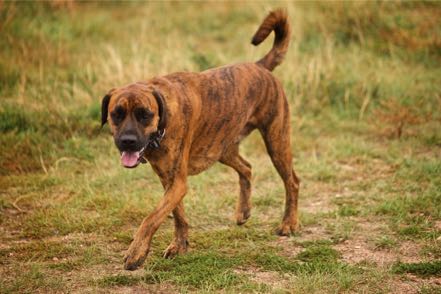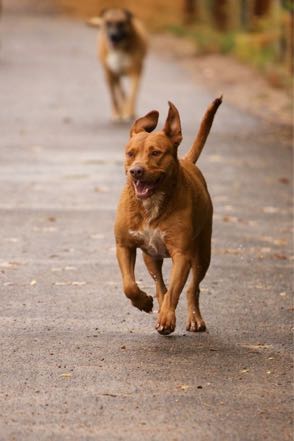 Old Signs
Here is an old sign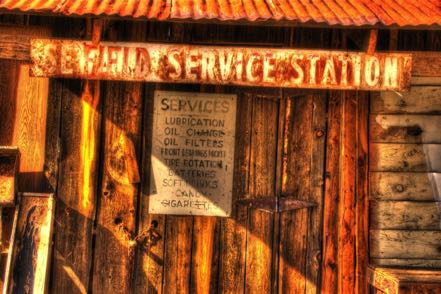 Old Trucks
Here are four old trucks.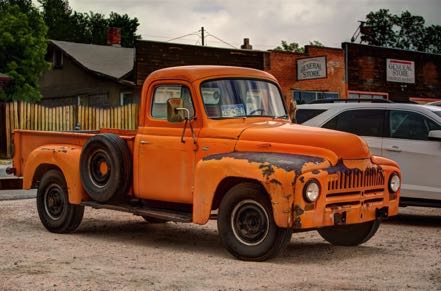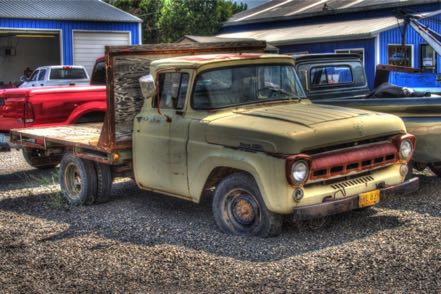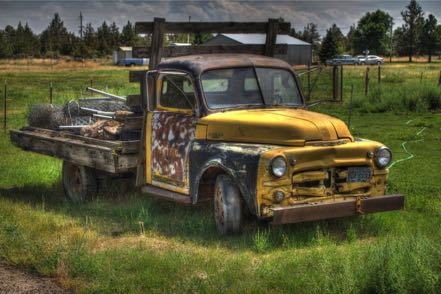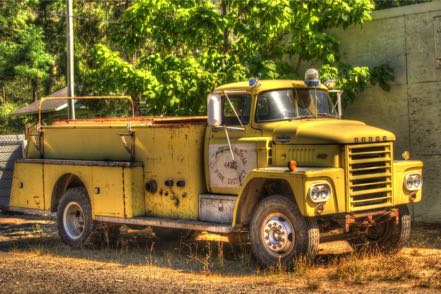 See you soon.