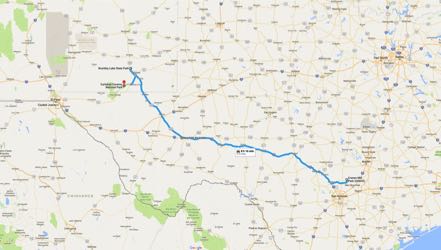 Heading north and east for 30 miles, we then hooked up again with I-10 West on our journey into West Texas. I-10 is like a friend that you enjoy for a couple-day visit, but then you start to yearn to move on—we were reaching the yearning point.
When you hear the words "West Texas" what thoughts come to mind? What feelings? What images? For me it is simple: "hot and windy, dry and dusty." We traveled for 317 miles in mid- to high-90s temperature before stopping in Fort Stockton for the evening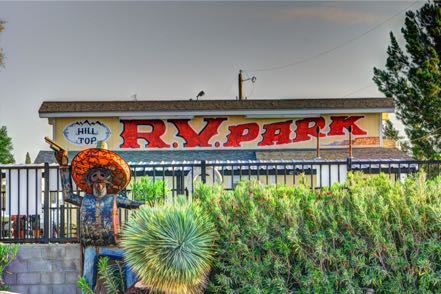 Hilltop RV Park, Fort Stockton
For one night, this was a good choice (I can't imagine spending more than one night in Ft. Stockton, though). The place was well run and adorned with metal art throughout the park.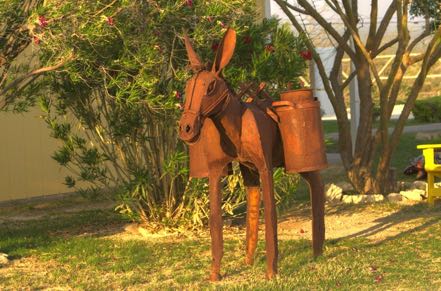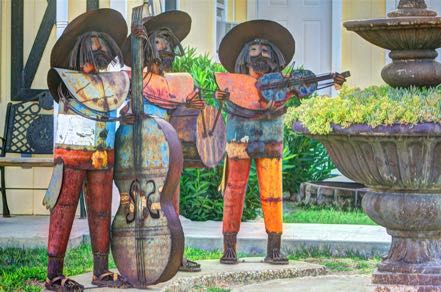 There was also a cool sign on a hill across from the campground.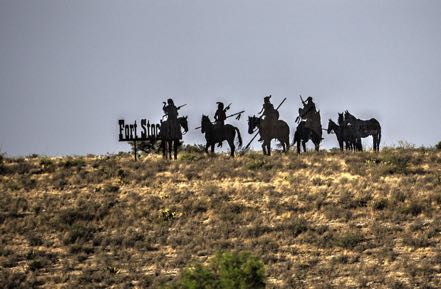 Brantley Lake State Park, Carlsbad, NM
From Stockton, we headed west on 285 all the way to the New Mexico border. The entire way through Texas the west wind whirled, sending streams of orange-ish red dust across a highway worn out by thousands of trucks, mostly hauling oil pipeline equipment and supplies. It seemed like every fifth truck was adorned with an "oversized load" sign on its grill with hunks of machines or metals or materials hanging over the side and out the rear. The trash on the side of the road reminded one of the littered streets in bad Detroit neighborhoods. Not pleasant. However, once we hit the state line, the road improved, the traffic lightened, and the roadside looked as New Mexico had a little more pride in appearances. We continued on 285 North through Carlsbad and up to our campsite in Brantley Lake State Park north of town.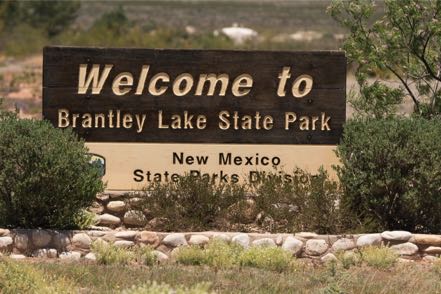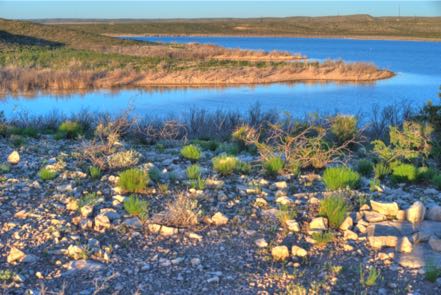 We thoroughly enjoyed this isolated area out in the desert of New Mexico. There were lots of bunnies and hundreds of those long-eared, long-legged Texas jack rabbits. Of course, Jack and Mitzy loved them.
Along with other critters there were lots of scaled quail, mockingbirds, grackles, roadrunners, and lizards.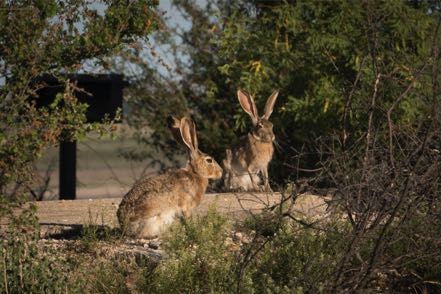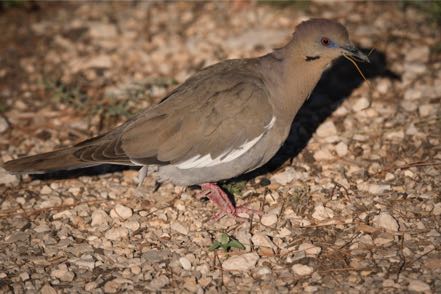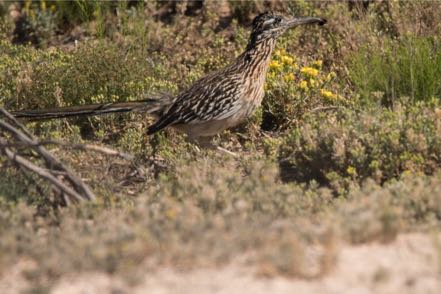 Carlsbad Caverns
Of course the most famous attraction in the Carlsbad area is the Carlsbad Caverns. Several years ago we wanted to tour them but arrived too late in the day. Last year I had put a plan together for Jan to drop me off for two hours while she and the Pups took the drive through the park (Jan is not crazy about caves). When I went to get my ticket, I was informed the elevators were broken. Yes, I could walk, but that would extend my visit to five hours. Hence, we put it off another year.
There was one upside though, Al Roker and an NBC camera crew was at the visitor center when we arrived. They were shooting sessions for their 100 Years of National Park series. Jan greeted Al, and he responded with a big smile, and I spent some time talking to the crew.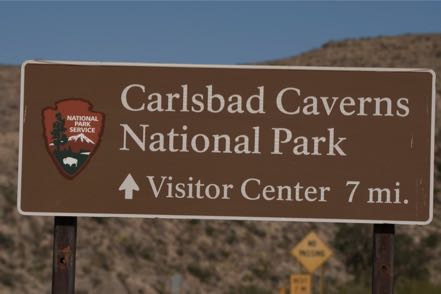 This year, however, I learned from my past mistake—like a senior checking out final exam results, I monitored the NPS Carlsbad Caverns website daily to make sure that all was a go. I learned that elevator maintenance was planned for the days prior to my trip, so no worries. However, the night before, I found that the maintenance had been extended one day! Oh, brother—I thought I was jinxed.
Luckily, we had a little flexibility in our schedule so I set back my trip one day.
I arrive 8:26 a.m., got my ticket, and at 8:29 I was in line for the first elevator (8:30) to take me to the Big Room, 850 feet below. A cool thing for me was, unlike most caves, they did not require being chaperoned in a tour group, and you could not only take pictures but also use a tripod. I spent two hours walking and photographing this immense cave, only seeing a few people along the way. Crazy impressive. Here a few shots.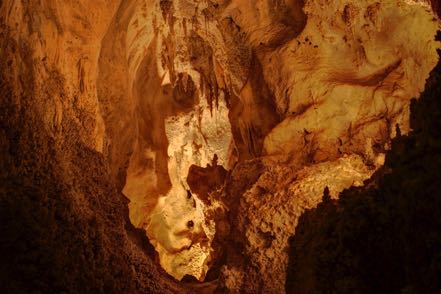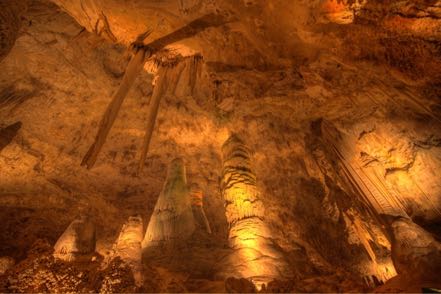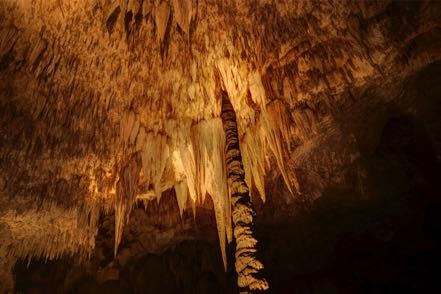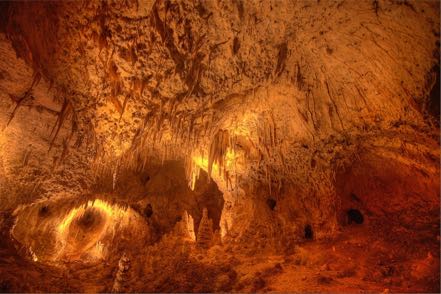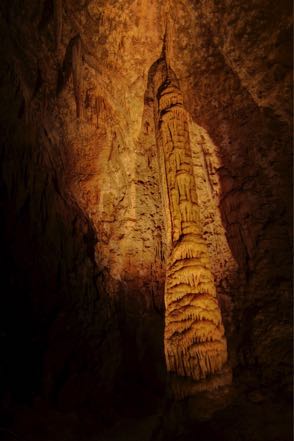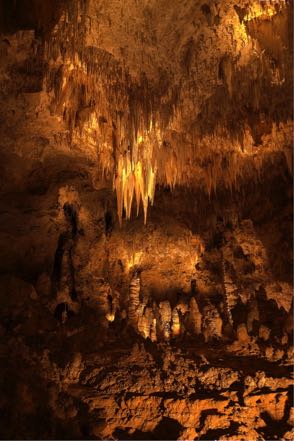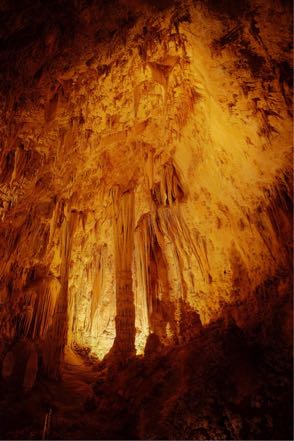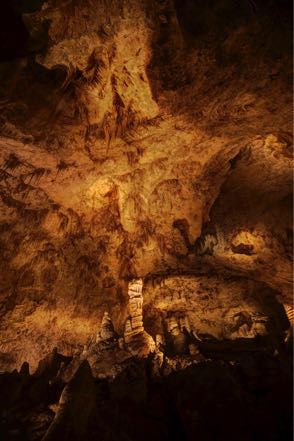 Note to future visitors of the caverns: Go early. When I exited the caves, people where in long lines to get in. There were six buses parked with hundreds of school kids streaming, screaming, and scampering to take the tours.
Can't Pass a Food Truck
Jan and I love food truck cuisine, especially Southwest food truck cuisine. We stop as much as we can. On my return to camp, I stopped at the La Patrona food truck to bring home their special burrito and a torta for our lunch. We sat outside, alert pups at our feet, desert before us, and tasting some of the best food in the world. It just doesn't get any better.
Old Trucks
Here are two old trucks from the Old Truck Reserve.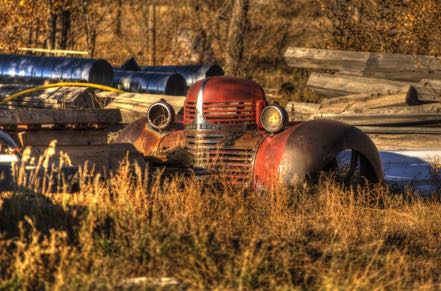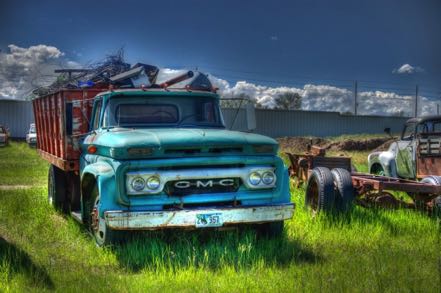 See you soon.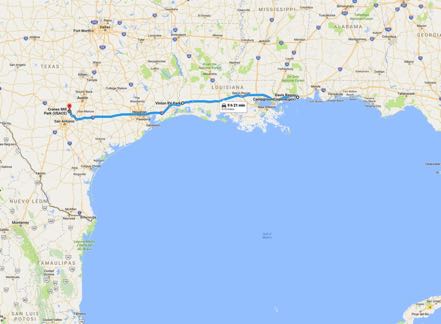 From our Ocean Springs campground, we once again strode on to I-10 West and traveled across Mississippi and most all of Louisiana, stopping close to the Texas border at Vinton RV in Vinton, LA. This was just an easy-on, easy-off location for the night—just a place to rest up, and then go.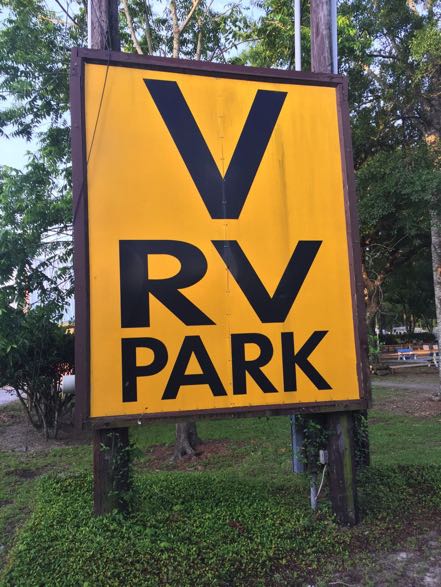 The next morning, we again pointed the coach west on I-10, scooting through the very light traffic of Houston, and then to exit 604 in Segun, Texas. After about an hour of taking Texas 46 to 2722 East to 2673 North, we arrived at our campground on Canyon Lake, Texas. Canyon Lake is strategically located, about 35 miles NE of San Antonio and 45 miles SW of Austin. It is a big, manmade lake created and managed by the Army Corp of Engineers.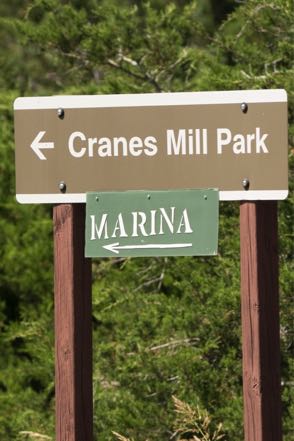 This place is our kind of park…small (just 30 sites), big sites, covered picnic tables, scrub country behind us, and lake views up front. Deer everywhere and lots of birds.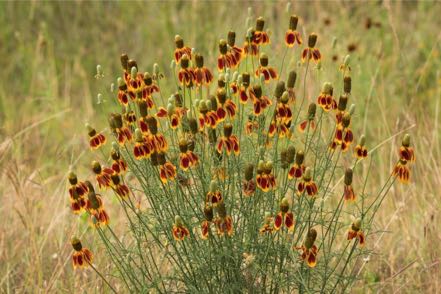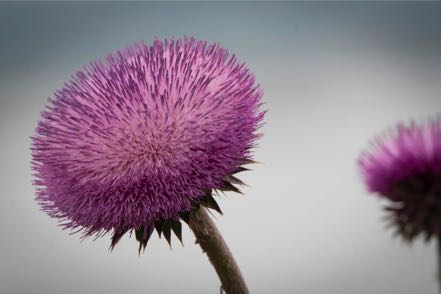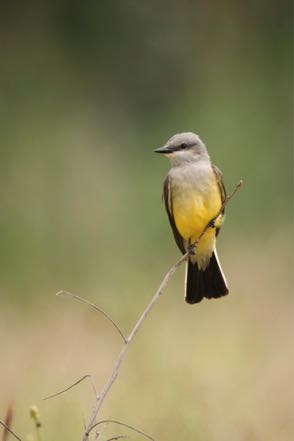 For many hours over our stay, we stalked the scissor-tailed flycatcher (also known as the Texas bird-of-paradise or the swallow-tailed flycatcher) and were fortunate to get a photo or two (in reality, I probably shot 400 or more).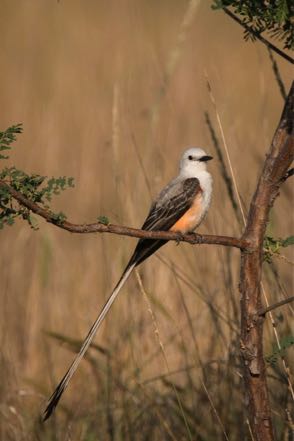 Our RV-really-good-friends from Oregon were in the area visiting family, and we spent time with this crew doing a little sightseeing, and then they took us out boating on the Caribbean-hued waters of the lake. Here are a couple of hot chicks on the boat.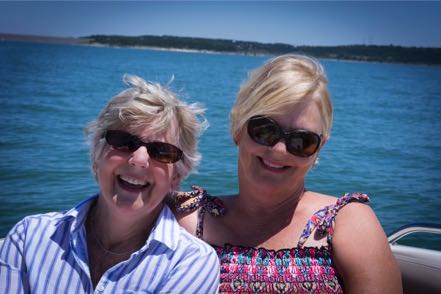 Old Trucks
Here is one old well-digging truck from the Texas heartland.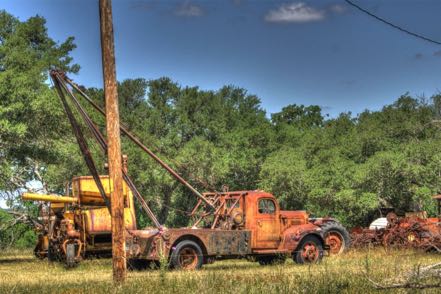 See you next time.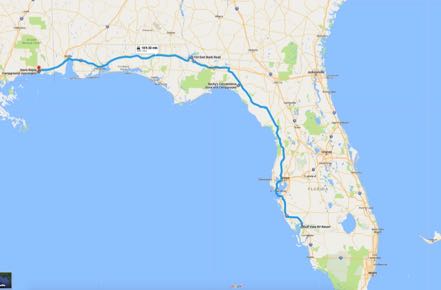 Adios, South Florida
As South Florida temperatures kept nudging upward and starting to set new highs, we departed Punta Gorda a couple of days earlier than originally planned.
After fueling up at the nearby Pilot, we headed north on I-75N, took I-275 around St. Pete, and crossed over the Skybridge, taking in the great Gulf views that tall structure provides. From there we took FL589 north until it merged into FL98N. Although the weather was in the mid-90s, cloud cover much of the trip helped keep the edge off the heat. Traffic was light (for Florida) and most of the roads were in decent to good condition—great traveling conditions.
We ended our travels four miles east of Perry, Florida, at Rocky's Convenience Store and Campground…right off the highway, large sites, nice setting—good overnighter.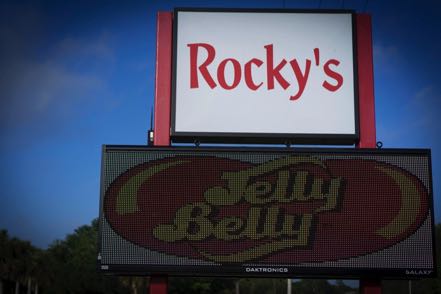 While walking Jack on a backroad the next morning, I came across a sign designating the site of a past hotel. We walked back to camp, got Mitzy and Jan, and came back to explore.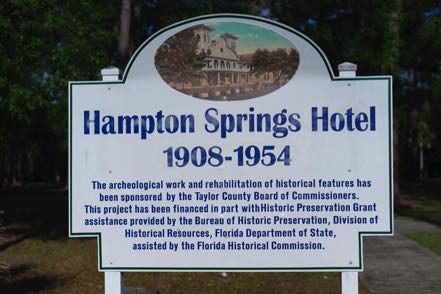 The Hampton Springs Hotel was the "must go to" Florida Panhandle destination of the rich and infamous. The hotel was visited by Theodore Roosevelt, and even royalty from the Far East. The sulphur springs and baths at the resort became known for their healing powers. The luxury hotel resort eventually included elaborate fountains and gardens, a covered pool, golf and tennis courts, stables, a casino, ballroom, an outdoor dance pavilion, and a railroad depot. The hotel also had a bottling plant, which bottled and shipped water from the springs to customers around the nation, and a private hunting and fishing lodge. The hotel burned down in 1954 and the area was largely abandoned.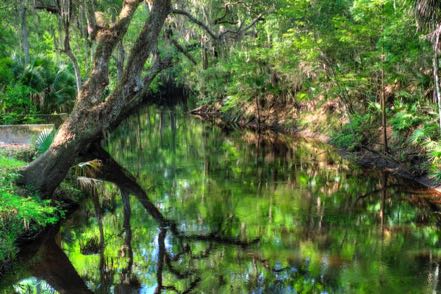 Johnny Weissmuller
While exploring the ruins of the hotel grounds, we came across a local walking his good-looking dog.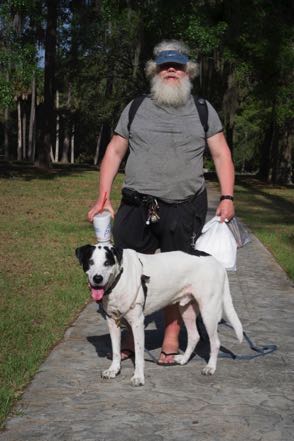 He was kind enough to share some insights about the hotel and the grounds, along with some information not readily found in the historical files. Much of the underwater filming of several Tarzan movies took place at Wakulla Springs, located about 14 miles south of Tallahassee, and some of the filming took place on the grounds of the hotel. According to the local word-of-mouth journal, Johnny Weissmuller stayed at the hotel several times, always accompanied by an entourage of several young ladies, all known for their bold and bawdy ways. Interesting stop.
Georgia on My Mind
We headed west on US98 with almost zero traffic. Five miles past Newport we headed north on FL363, then at the outskirts of Tallahassee we took the Capital Circle bypass that connected us to I-10 West. After heading northwest for close to 30 miles, we went north on 269 to the town of Chattahoochee. We then continued north three mile into Georgia to our next destination along the shores of Lake Seminole.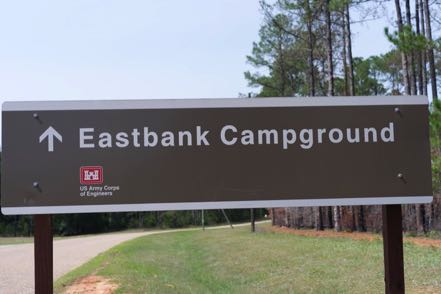 We stayed five nights at the East Bank Campground, a Corps of Engineers campground on Lake Seminole, bordering Georgia and Florida. Great big campsites, grounds as neat as a pin, and all sites with views of the water.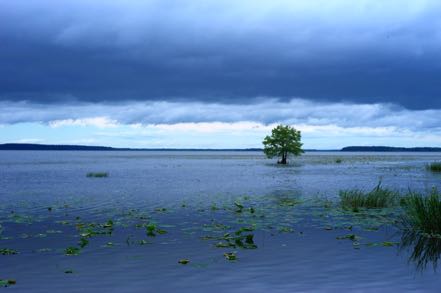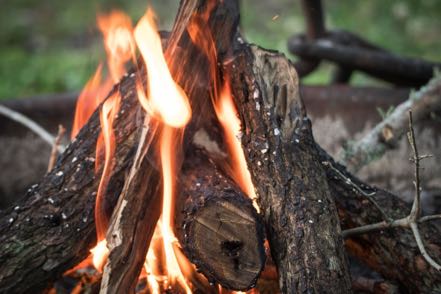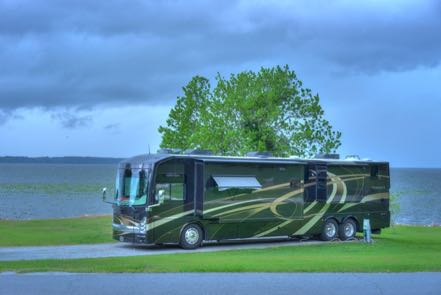 Mississippi Meet Up
We got an early start leaving the campground, headed west on 90, south on FL286, then west on I-10 across the Florida panhandle, a stretch of Alabama, then into SE Mississippi, where we took MS 57 south to Ocean Springs Road. That took us to our Davis Bayou COE campground, just east of Ocean Springs. After several warm days, the light-jacket weather was welcomed like an old friend you haven't seen in ages.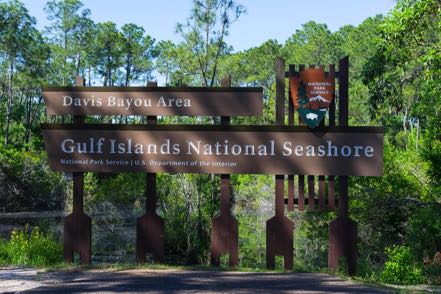 Davis Bayou Campground is another COE campground and part of the Gulf Islands National Seashore. The campground is on the east edge of Ocean Springs, Mississippi, and Ocean Springs is just a few miles east of Biloxi. Our campground was home to hoards of squirrels and vast numbers of birds. We spent a lot of time sitting outside watching the action, and Jack had the Squirrel Channel on from dawn to dusk.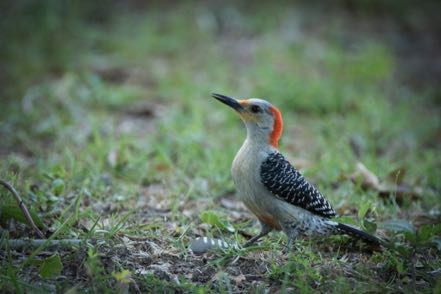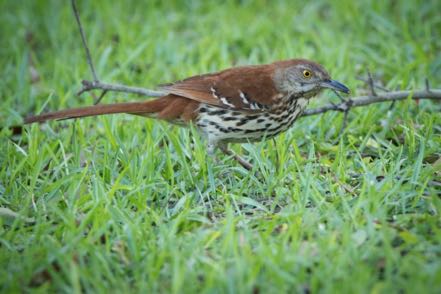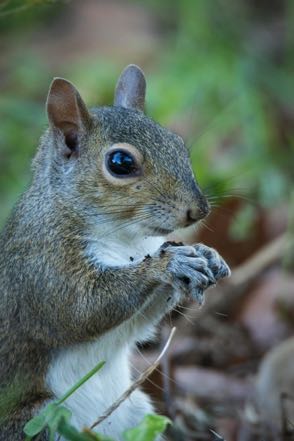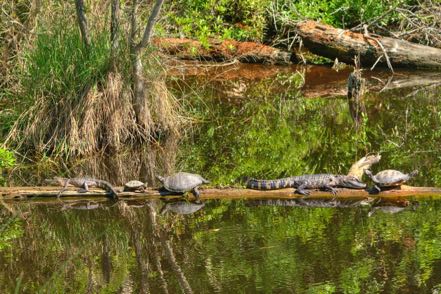 One of the campers towed a travel trailer with his classic car. Here is a shot of his rig and one of him standing proudly by his car with his chauffeur smiling at the camera.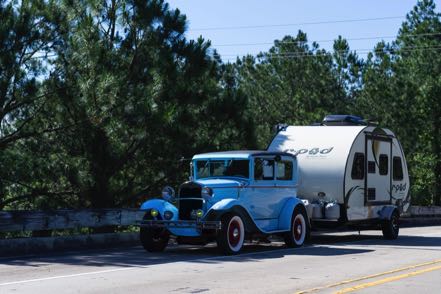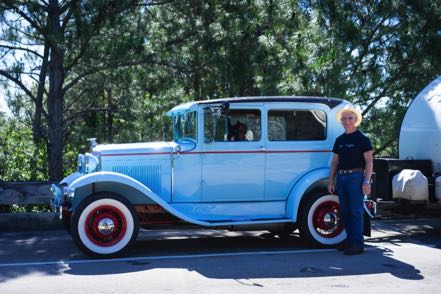 Beach Walks
Another great benefit of our campground location was the short time it took to get to the beach. Most mornings we took the Pups for early morning walks alongside the Gulf.
Shrimp Boil Buddies
The campground was awash with friendly people from Alabama and Mississippi. Within a few hours of our stay we had a squadron of new friends. Before long we were all telling stories and passing life histories like we'd known each other for years. Jimmy, our neighbor, is a talented fellow and one of his capabilities is making moonshine. Not wanting to offend, Jan agreed to sample his surprisingly excellent wares (of course I was polite as well :'). The kind soul gave us a sample to go to stave off the stress of traveling!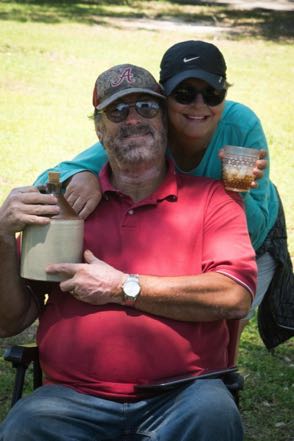 Later in our stay, Jimmy and several of his lifelong friends invited us over to a shrimp boil. Jimmy cooked and everyone ate the traditional boiled shrimp with sides of sausage, sweet corn, bread, deep fried gator, and blueberry cobbler. Just wonderful. Here is a pic of that interesting crew.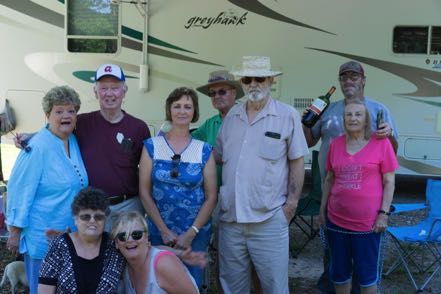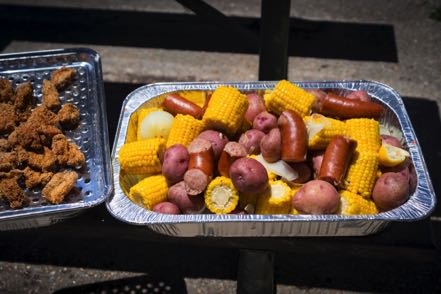 Old Trucks
Here are two old fire trucks taken in Biloxi.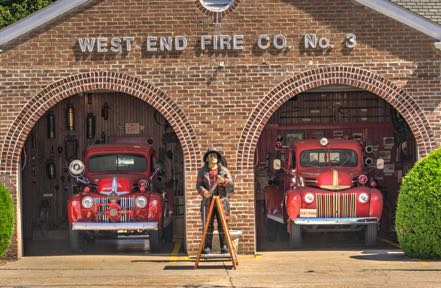 A really fun few days! See you next time.