Leaving Elephant Butte State Park, we travelled 148 miles north on I-25 to our American RV Park destination just east of Albuquerque. Nice, easy trip.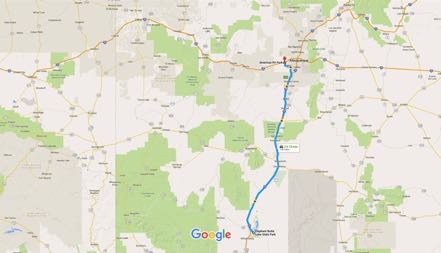 Side Trip to Sandia Peaks
After settling in we left the 5,000-or-so-foot altitude of Albuquerque and wound our way up to 8,500 feet at Sandia Peaks in the Cibola Forest. As the altitude rose, the temperature dropped, changing our mind about doing a hike at the top. Comfortable drive with great scenery.
Dog Park
In our continued attempt to socialize our new pup Jackson (aka Captain Jack Black) we took him to the dog park where he quickly learned the rules of multiple canine behavior. Here is a pic of Jack (lower left) learning it is sometimes better to observe than to be actually engaged.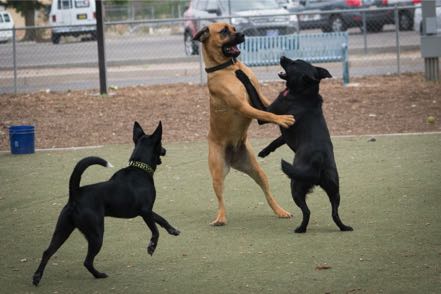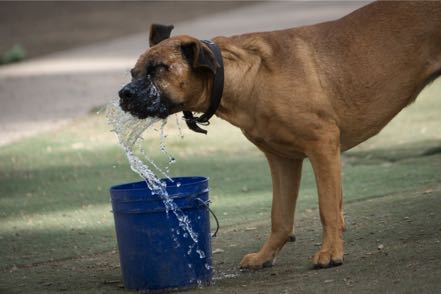 Quick Trip to Chicago
I made a quick trip to Chicago to facilitate a workshop, lead a panel, and give a keynote speech at a symposium. Great group of people and lots of fun. Chance to talk and catch up with folks I've known for decades. Hope to do it again next year.
Day Trip
After returning from my work trip, we had one full day before heading out. We loaded up and did a three-mile, high-desert hike at Petroglyphs National Monument. During our trek we saw a brightly colored roadrunner pass and numerous, really big jackrabbits. In fact, one looked about the size of a Great Dane--before I fully recognized that the creature coming at us wasn't a big coyote, I was chastising myself for not bringing pepper spray!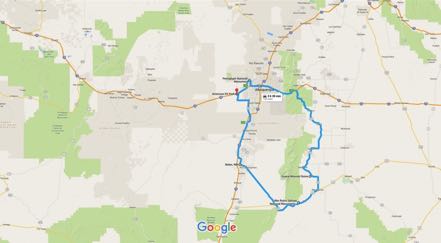 From there we decided to take the Abo Pass Trail that followed the Salt Missions Trail Scenic Byway for around seventy miles. It follows old trade routes and rail beds through the center of New Mexico. So from I-40 East we took 387 South through Escabosa and Chilili. We picked up 55 South and went through Tajique and Manzano to our first stop--the Quarai Mission Ruins just outside Mountain.
With the pups we walked around and through what was left of the old Spanish mission from the 1600s. From there we continued southwest on 60, going through the spot on the map marked Abo to the Abo Ruins Salinas National Monument Historical Marker, another interesting site along the mission trail. From there we picked up 47 headed north, diagonaled over at Los Lunas to I-25 and then I-40, ending our 150-mile loop.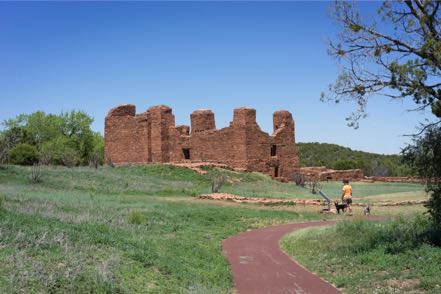 On to Antonitos
After our good stay at Albuquerque, we took I-40 West to I-25 North. About 20 miles from Santa Fe, Jan said, "Today is the Santa Fe Farmer's Market!" This is no ordinary farmer's market--the chili selection is celestial, the baked bread is off the planet, and the cheeses are made just south of Heaven. After a two-minute conversation, we decided to make this detour. Salivary glands had already engaged, and I could taste the bread and cheese for our mobile lunch. We got off US 285, no problem as we knew where to go…however, finding a place to park our 62 feet of motor-home-plus-car turned out to be challenging. We found a space within a couple of blocks of the market, but it took up six parking spaces, and I quickly calculated the possible fine this might bring and suggested we postpone our visit. Reluctantly, we pulled out, got back on 285, and continued north through New Mexico.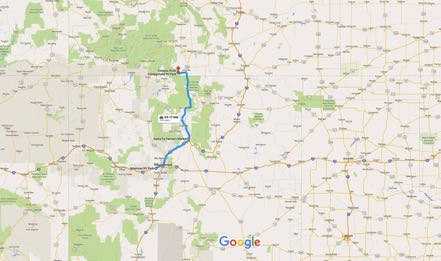 About 50 miles from the Colorado border with a perfect high-60s temperature, sunny skies, and light traffic, the hills and snow-topped mountains surrounded us, taking in 270 degrees of our view. Absolutely inspiring vistas.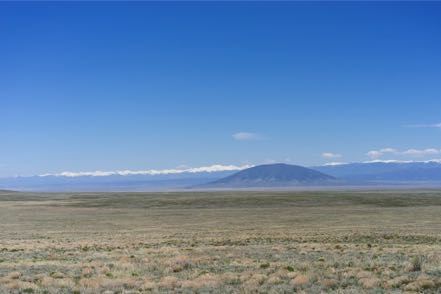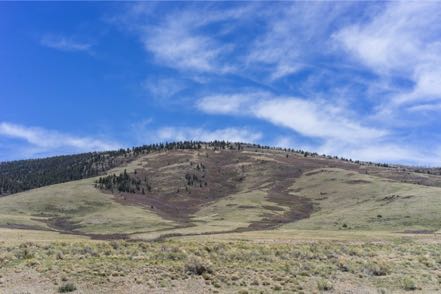 Conejos River RV Park
Six miles after crossing into Colorado, we turned west on Colorado 17 at the village of Antonito for the 12 miles to our Conejos River RV Park. At 8,500 feet of elevation, the air was naturally thinner, but so was the fly and mosquito population. This park had just opened May 1, and very few souls were in the camp that bordered the Conejos River and was within six miles from two national forests.
Over our three days at this campground we saw scores of birds of many shapes and variety: bluebirds, several kinds of finches, Western Tanagers. Great people, great vistas, and wonderful solitude when you wanted it.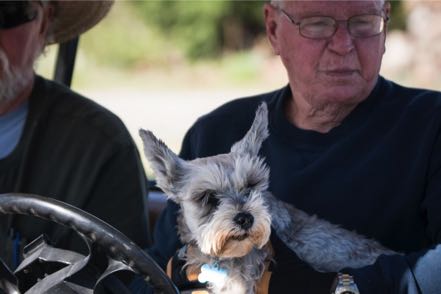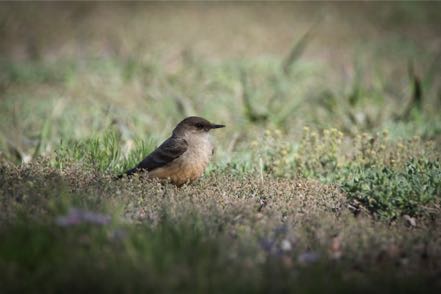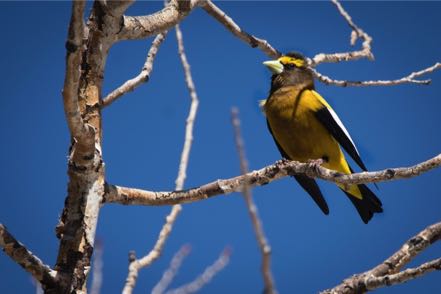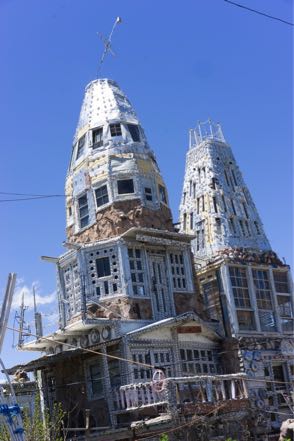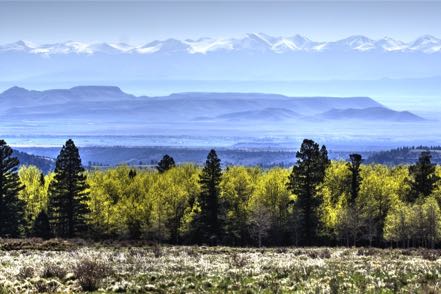 Early Morning Jaunt
Before sunrise on day one of our stay, we drove up Forest Road 101 into the Rio Grande National Forest. Alone on the dirt road we saw deer and a nice size herd of good-looking elk.
Another Early Morning Jaunt
With the temperature just over 30 degrees on day two, we headed west on Colorado 17, then headed northwest at the town of Horca, and were again moving into the Rio Grande National Forest on Forest Road 250. This dirt road paralleled the Conejo River high in its banks. We again saw deer and elk, prairie dogs, yellow-bellied marmots, desert bighorn sheep, chipmunks on every rock (well, almost every rock), a coyote, and scores of hummingbirds feeding on the bushes by the road.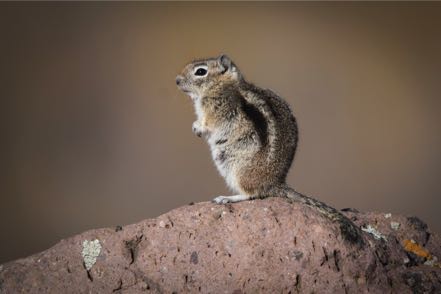 And Another Early Morning Jaunt
On our last morning, we were again up and out at 6:00 a.m. into the chilly but calm 30-degree morning. This time we headed east on 17, and then quickly turned south on Road D.5, which led us into the Rio Grande Forest of Forest Road 103 that paralleled Big Horn Creek southwest into New Mexico and the Carson National Forest. We wound through forests of Ponderosa Pine laced with trees just starting to bud. In the distance we saw several herds of elk, obviously skittish of hunters. We saw pronghorn along the way and deer, and of course, more chippers. After passing Sublette, Toltec, and Osier Mountains, we came to the end of the road, Osier, at 9,624 feet. It is the watering station for the Cumbres and Toltec Scenic Railroad. At this wayside along the mountain we ran across a marmot sentinel, who was not happy about our arrival. Standing erect as a Queen's guard on his rock pile, he loudly told me that I did not belong there.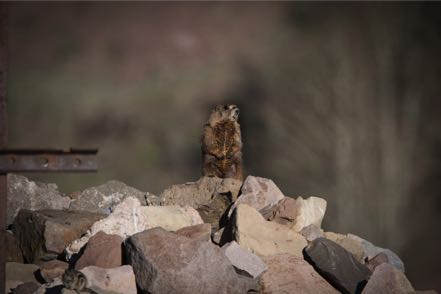 The railroad water tank was continually dripping and the whole locale was thick with swallows. In hopes it might connect with Highway 17, we took a narrow, steep, muddy path but it ended at the Rio de Los Pinos, much too deep to cross (six feet of fast-moving water). So we retraced our journey with mountain, valley, stream, and forest views along the way. During our three-hour trip, we saw only one vehicle and one person. Here are a few pics from the early morning jaunts.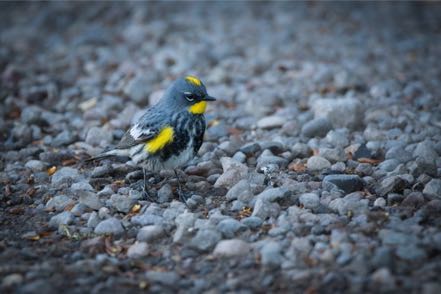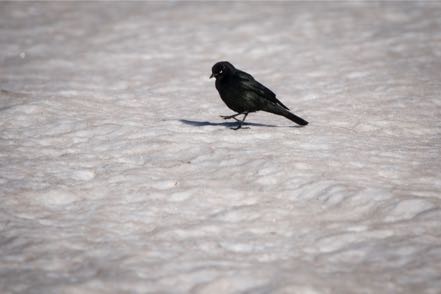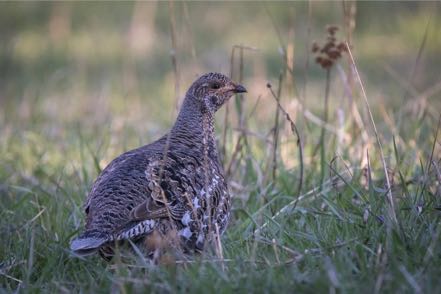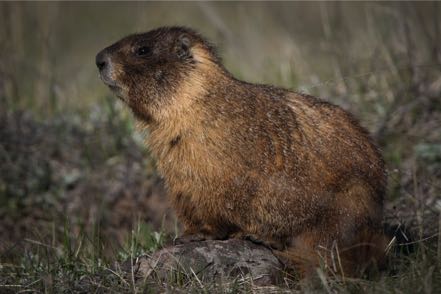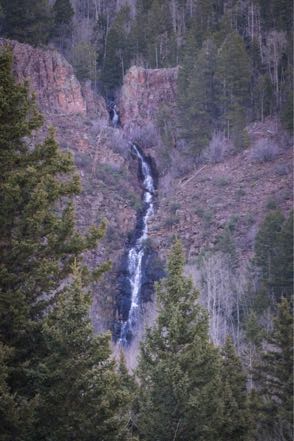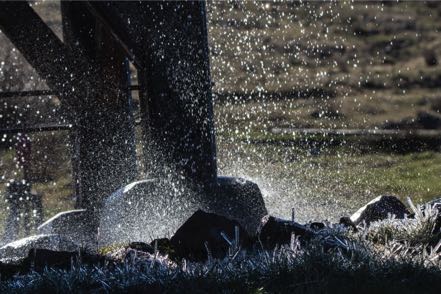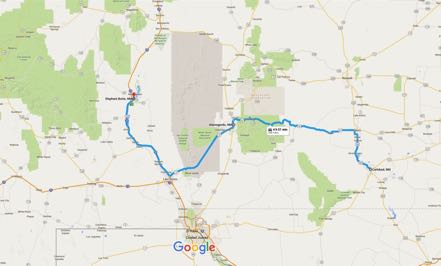 We left the Carlsbad KOA and headed out on 285 North to Artesia, took US 82 West through Mayville and Cloudcroft, and then headed on to Boot Hill RV Resort in Alamogordo. The last 26 miles of the 129-mile journey was traveling up, over, and down on a 6% slope through the Lincoln National Forest--beautiful drive. The temperature went from hot to mild to warm all in a three-hour span. We set up camp at Boot Hill RV Resort on the outskirts of Alamogordo.
White Sands National Monument
We timed our 25-minute drive from Boot Hill to arrive precisely at 7:00 a.m. when the gate to the park drive opened. We drove about two-thirds of the way into the dunes finding just the right spot. We all got out of the car, walked around a series of dunes, then let dogs do what they love to do—run like maniacs in the sand.
Mitzy enjoyed it but Jackson totally loved it, sprinting like a possessed thoroughbred, he leapt, raced, cornered, turned up, and ran down the white dunes for at least 15 minutes full out. Eyes bugging, tongue dragging, his legs pumped like the pistons of a drag racer in high gear…just a pleasure to watch.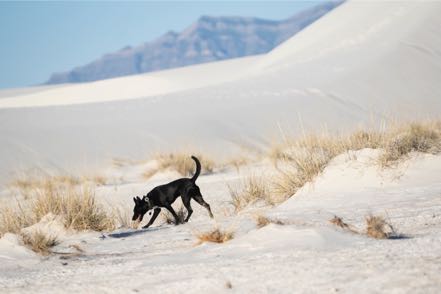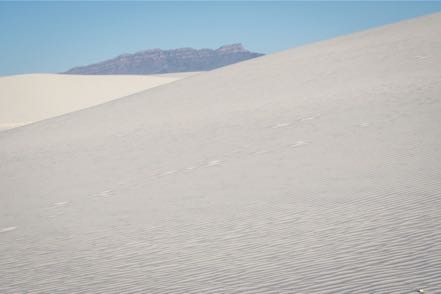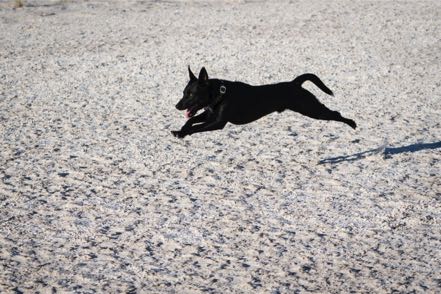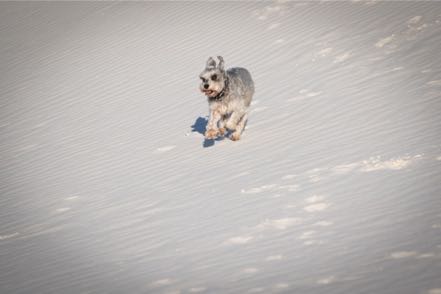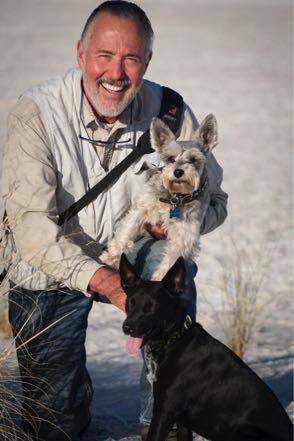 It was interesting, though, at this early hour we heard loud voices and laughter not far away--we assumed it was a large family gathering or a big group get together. However, we were wrong…atop some large dunes was a video set-up complete with satellite uplinks, big camera crews, and thirty or more people standing around. Al Roker, Matt Lauer, and their support team had just completed another video shoot on the National Parks! Maybe we will see them again soon.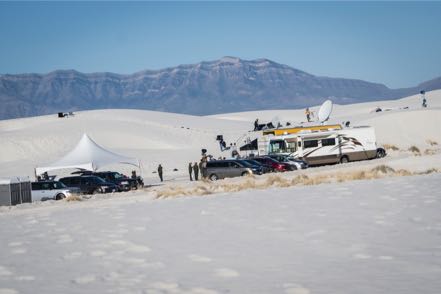 Elephant Butte
We took 70 West to I-25 North to camp at Elephant Butte Lakes State Park. Elephant Butte boasts the largest lake in New Mexico and they have beautiful campgrounds that overlook the water.
Critters
The campground supports lots of critters with many rabbits (including the big, long-eared jackrabbits), a few squirrels, lots of doves, wrens, Bullock orioles and numerous coveys of Gambel's quail--a beautiful bird. I was fortunate to capture one calling a few minutes after dawn.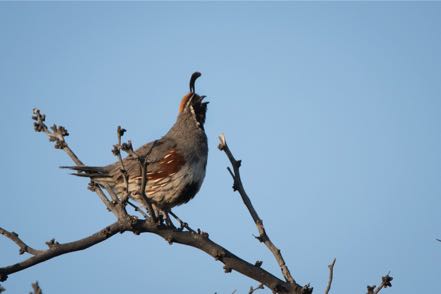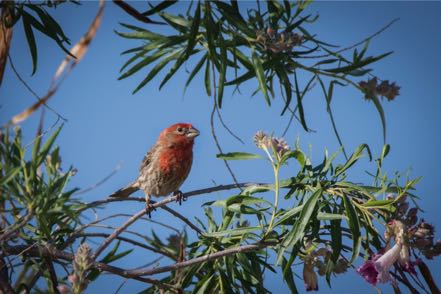 The Beach
However, everyone's favorite campground activity was our morning walk on the beach. Every day we arrived before dawn and walked along the water. The brown sand between Jack's toes acted like a volt of electricity, turning the mild-mannered pup into a wild-eyed canine. Here is a shot of Black Jack in full action.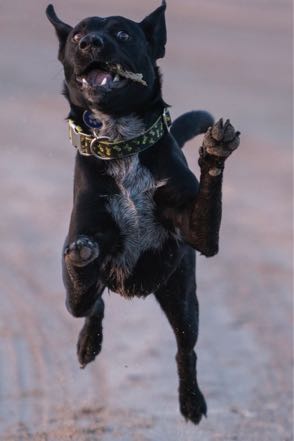 Great stay…we will come back here again.
Since my last blog, I had a week-long client engagement that took me from Orlando to San Jose and Chicago, and then back to Orlando. Early morning before my departure flight, we loaded up and did the Apopka Loop one last time. As always, lots of beautiful birds. Here is the first least bittern we have seen while exploring the loop.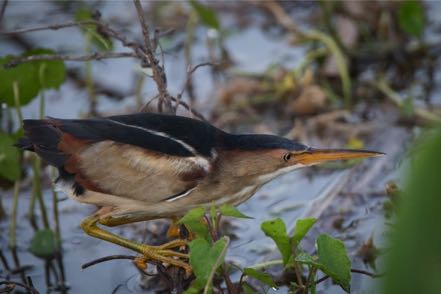 The day after my return back to Apopka, we loaded the bus and started our trek west: I-429, Florida Turnpike North, I-75 North, and then the long slog across I-10. The weather was clear, and with just a few exceptions, the roads were in good condition and the traffic light to moderate. In the Florida panhandle we stayed by Holt at the Eagles Landing RV Park. In Louisiana we spent a night at Sulphur at the A+ Motel and RV Park. All across Louisiana underwater trees and overflowing banks showed the results of weeks of continuous rain and the flooding that ensued. After circling around the north part of Houston we picked up 290 West heading to Austin.
Leander Meander
We spent a couple of nights in the northwest corner of the Austin metro area at the Leander KOA in Leander, one of the fastest growing towns in Texas. Here we took a day trip with old friends, driving by the LBJ ranch, a marvelous wildflower farm, and then on to the destination town of Fredricksburg, home of Admiral Nimitz. Although the bluebonnets were in retreat, the roadside wildflowers were at their height in one of the best years on record. I took multiple photos, but none did justice. For over two hundred miles we visually feasted upon vibrant reds and yellows, speckled with blues, and a background of various greens…enough to make retina overload.
Ft. Stockton
After lots of miles, we camped at the Ft. Stockton RV Park just off of I-10…easy on and easy off. Here is a shot of the Mexican paradise plant right by our campsite.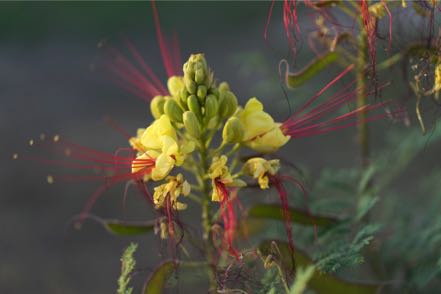 Carlsbad
At Fort Stockton we took 285 North into Carlsbad, and just a few miles north we set up camp at the Carlsbad KOA for three days. Each morning was chilly and calm, but by afternoon it was hot and windy. At this campground, Jack was introduced to a bunny plantation, and soon he suffered from a severe rabbit habit, spending hours on the coach dash, staring at the hundreds of rabbits. The birds were plentiful and loud with boattail starlings everywhere, lots of doves, and scaled quails. We also saw a scarlet tananger, a Bullock's oriole, and a few hummers. Jan also took a great pic of a flowering cactus.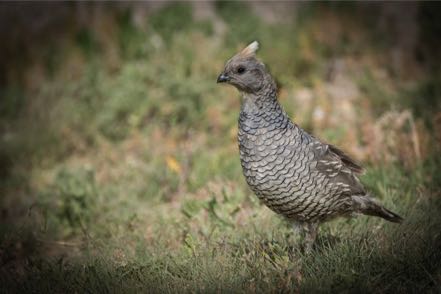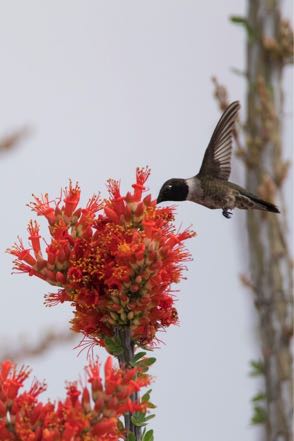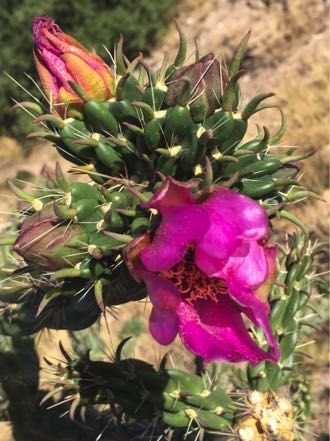 Roswell Side Trip
A short hour north of our campground is the famous Roswell, home of alien landings, mystic happenings, and conspiracy theories.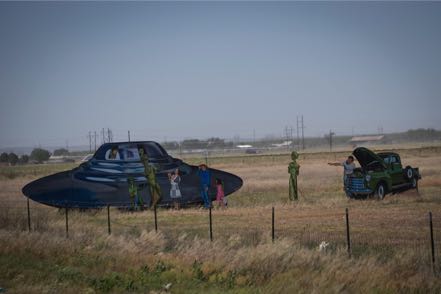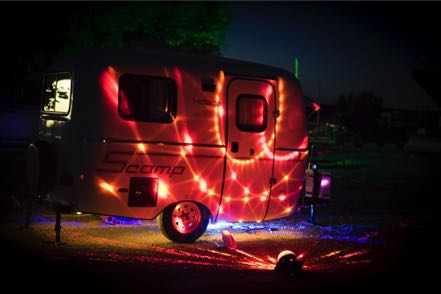 Just north of Roswell, we toured the loop of the Bitter Lake National Wildlife Preserve. We saw some stilts, gallinule, and a variety of ducks--not bad for a hot, windy, midday in the off-season.
Carlsbad Caverns NP
We had another early morning plan: We would all load up and be at the Carlsbad Caverns at 8 a.m. opening, and I would take the elevator down to the main caves and spend an hour shooting photos, and then return to our car and resume our day trip (Jan doesn't like caves).
Surprise #1: The 7-mile entrance road to the caverns brought a nice surprise, as I was focused on the caverns, not wildlife…right in front of us 14 momma and baby bighorn sheep crossed the road, went up a short hill, and then turned and stared at us--great photo opp! A short time later we saw another herd, and later a couple rams. Great way to start the day.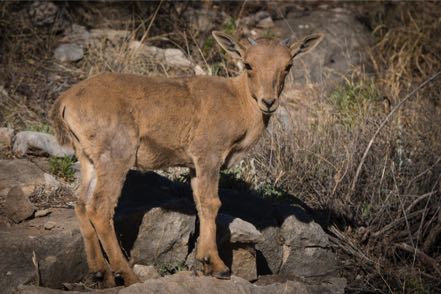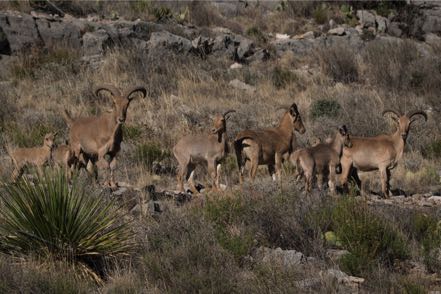 Surprise #2: As we pulled into the Visitor Center, there was Al Roker and a camera crew preparing to do a shoot for the Today Show's celebration of the 100th anniversary of the National Park system. Jan hollered a greeting to Al and he smiled and waved back. I had a nice conversation with the lead cameraman.
Surprise #3: While showing my park pass to a ranger, he informed me that the elevators were broken and that it was a very steep and strenuous mile down just to reach the bottom and a very steep and more strenuous mile back up…my planned one-hour trip would take 3.5 to 4.5 hours…yikes! So I went to plan B, and we drove the 45-minute Walnut Canyon Desert Drive, and then we drove to another section of the park (Rattlesnake Springs) were we saw a flycatcher and a roadrunner resting in a tree.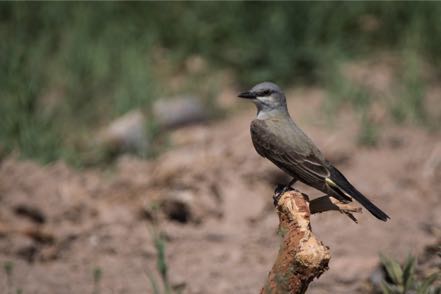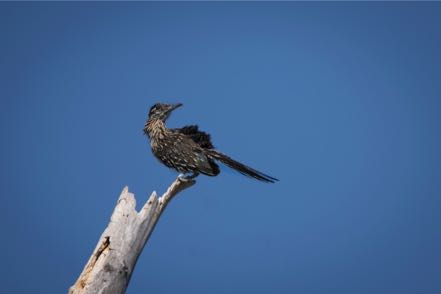 Guadalupe NP
Since we were no less than a half hour away, we drove into Texas, stopped at Guadalupe NP, and then returned back to Carlsbad to the patio of a wonderful restaurant where all four of us feasted on green chili cheeseburgers, carne tacos, and frijole charros. Great way to celebrate Mother's Day!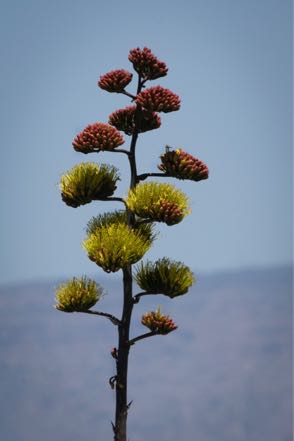 Finally, a public service announcement.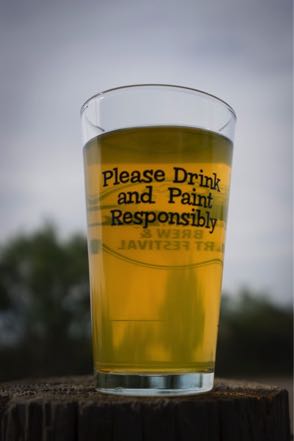 See ya'll soon.