Stanley to Ketchum
We begrudgingly left Stanley. Our 68-mile trip followed Idaho 75 South with hairpin turns and some gorgeous vistas, especially around Galena.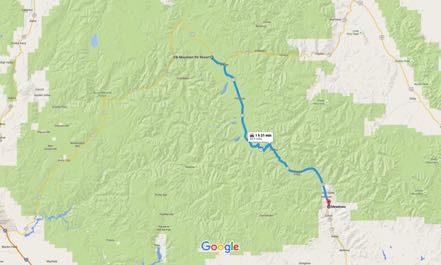 Ketchum
Ketchum borders Sun Valley, full of the vacation homes of the rich and famous. Mountain views, running streams, fabulous houses, paved paths everywhere, with beds of flowers (some the size of fields) blooming their colors everywhere. Here is a 59-second movie clip of a section of lupines bordering about a quarter mile of streets in a very upscale neighborhood.
It is also a wonderful place for dogs, as there were off-leash areas everywhere. Here is a pic from Trail Creek Road, one of Jackson's and Mitzy's favorite places.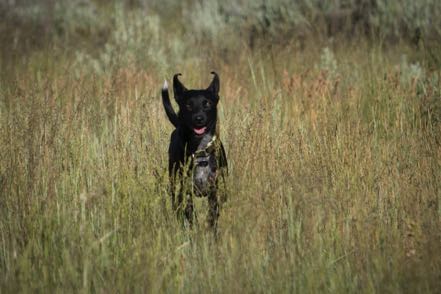 Ketchum to Eden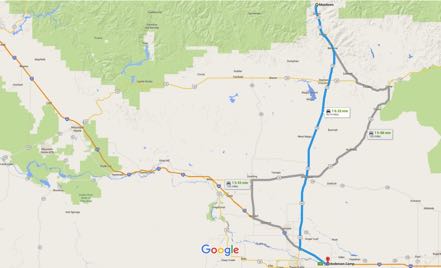 After four days in Ketchum, we took the 84-mile trek south on Idaho 75, then south on Idaho 93, and then east on I-84 to Anderson Camp. Here we met up with our RV buddies--a couple we have been RVing with for a month or more each year for the last several years. Here is a shot from our campsite.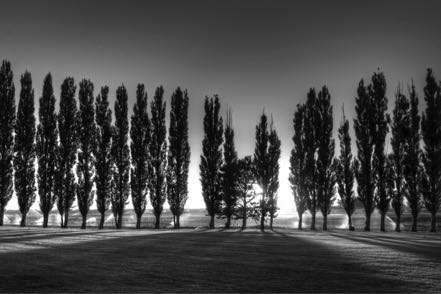 Small-Town Parade
A small town just a few miles away was holding its yearly summer celebration, starting with a parade. The people of the community went all out, with scores of floats and the biggest number of trucks I have ever seen in any parade.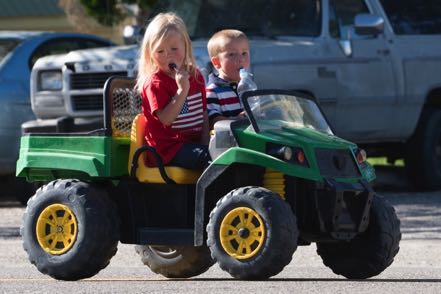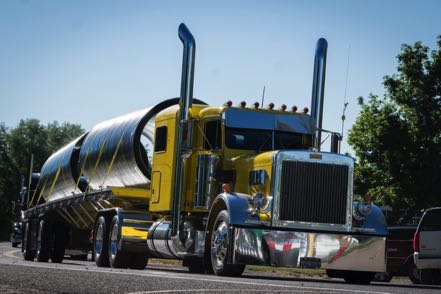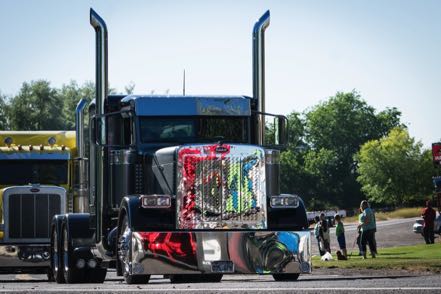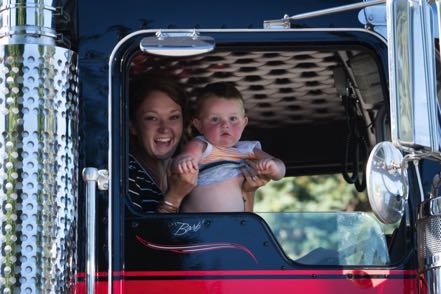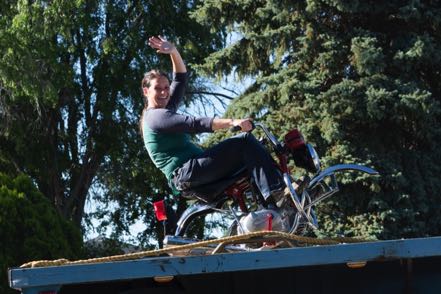 Shoshone Waterfall
We took a short road trip (to us) to a nearby natural wonder, Shoshone Falls. Even with the harsh, midday lighting I was very pleased with the photos.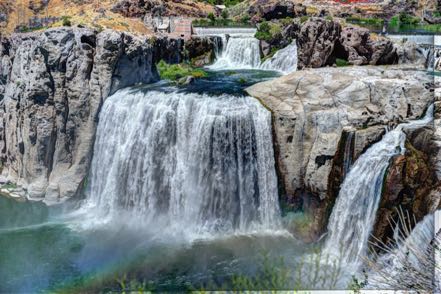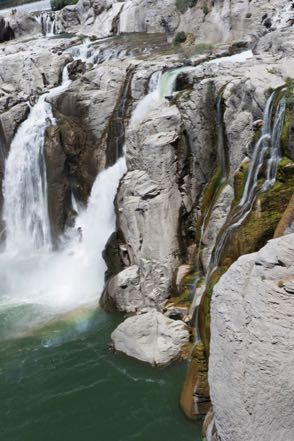 Eden to Declo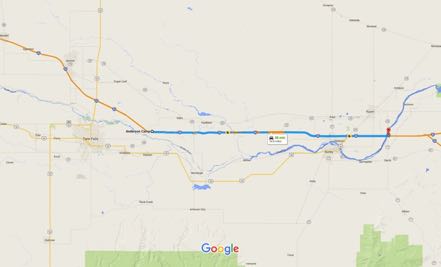 Jersey Girl Dairy Farm
A longtime friend of our traveling buddy arranged to have us visit a dairy farm close by--it was just amazing. They milk 11,800 Jersey and Holstein cows twice a day, every day. High-tech technology with high-touch care for the cows.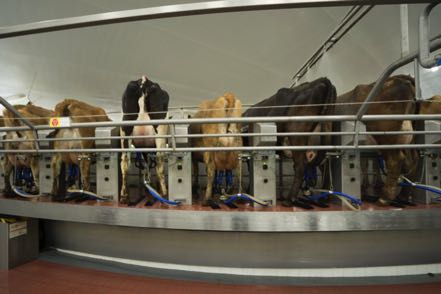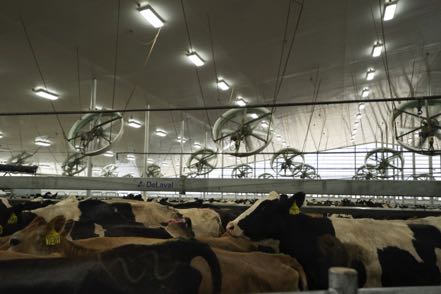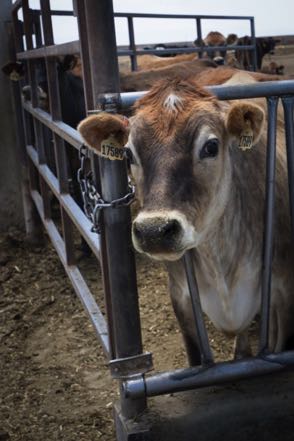 Declo to Springville

After a couple of days at Anderson Camp, we left Idaho and drove down to Springville, Utah, past Salt Lake City and bordering Provo.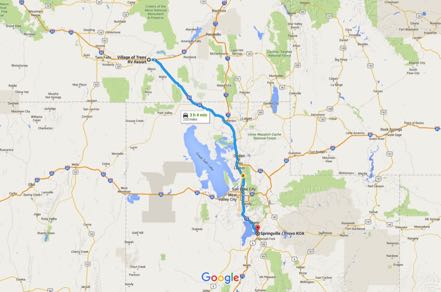 Day Trip: Mount Timanogos Wilderness Loop
We took highway 92 to the Timpanogos Cave National Monument were we hiked a nature trail along the water. From there we took the curvy, steep, and narrow trip up by Mount Timanogos, by Sundance, around to Bridal Falls, and back to our camp.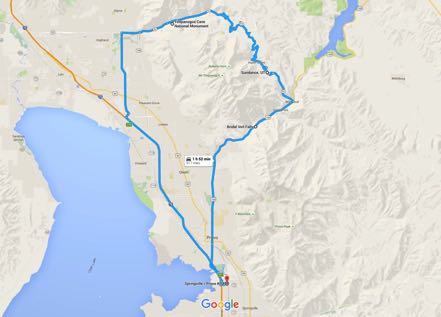 Nebo Scenic Byway
From our campground we headed south to Payson and picked up the Nebo Loop Scenic Byway. It took us around Payson Lake, up over Bald Mountain, above the Santaquin Canyon, up to Santaquin, and back to camp.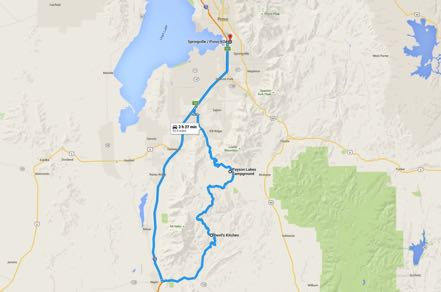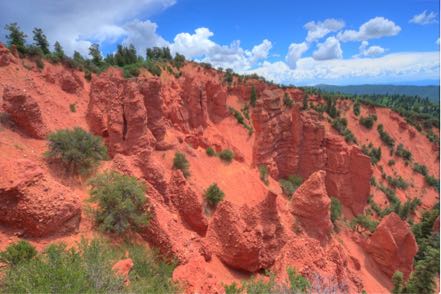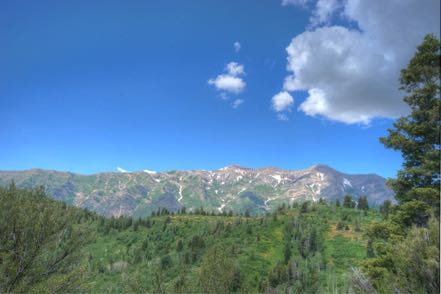 Nice visit around the Salt Lake area, but really warm.
See you next week.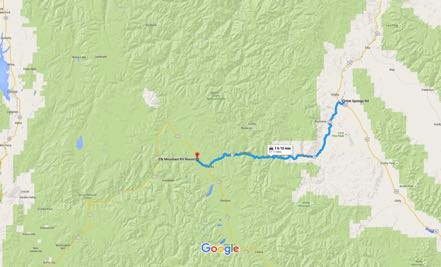 From Challis we headed west on Idaho 75, the pretty but winding road that parallels the Salmon River, passing by Sunbeam all the way through Lower Stanley, and then turning north on Idaho 21 at Stanley for six miles to our campground, Elk Mountain RV Resort. Another gorgeous setting with the jutting and dramatic Sawtooth Mountain Range dominating the view. Our campground was full of chipmunks and whistlepigs (that's what folks call groundhogs or woodchucks in this area).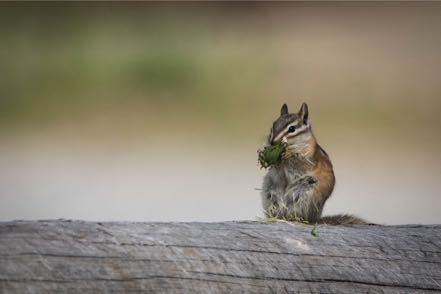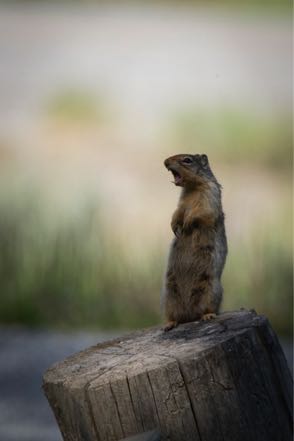 Morning Trip to Lowman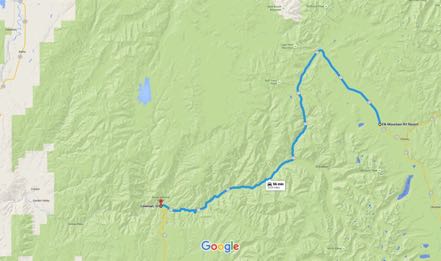 Just after sunrise we headed north on 21 for a mile, and then turned onto Stanley Lake Road. There we took a loop tour on Forest Road 455 that took us through a dense portion of the Sawtooth National Forest. After spotting a young buck deer and a large, well-fed coyote, we exited the lake area and again went north on 21 for about five miles before exiting on Forest Road 203 that took us through the Cape Horn Wetland—moose country. Alas, we saw no moose, but did see a pronghorn, more deer, some whistlepigs, a variety of birds, and many wildflowers that Jan enjoyed identifying.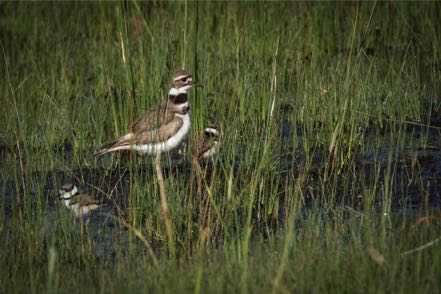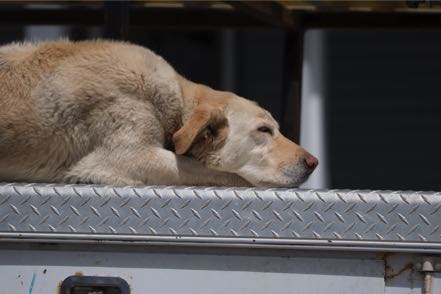 After about a dozen miles, our dirt road reconnected with 21 that took us up and around, down over Banner Summit, and south, all the way down the mountains into the little burg of Lowman, where we stopped for a late breakfast at a roadside restaurant. For about 15 miles the highway was side-by-side the South Fork of the Payette River, whose rushing emerald green waters produced dozens of oohs , lots of ahs, and a continuous stream of wows.
Redfish Lake
Late afternoon we gassed up at Stanley, and then drove south to check out the very popular Redfish Lake. With paved roads and lots of amenities it reminded us a little of Estes Park. After our initial exploration, we decide to get off the beaten path, turning southeast on Forest Road 210. I envisioned in my mind that this rocky path would take us above the congestion of the lake, providing a quiet location with magnificent vistas that we alone would share…well, good luck on that! The rocky road got really rocky, and my planned mountaintop view never materialized. After investing a half hour of bumpy travel, we decided to just keep going, as this path eventually connected with the highway. Just as I figured we were close, a fallen tree across our path brought us to a halt. After confirming that the tree could not be easily moved nor could we drive around it, we blew the bugle of retreat, completed a 26-point turn of the Jeep, and limped back to camp.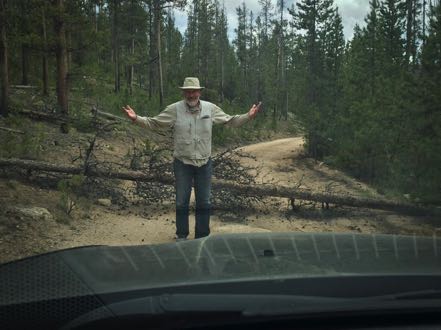 Pettit Lake
Early one morning we again headed south on ID 75 stopping by the side of the road to shoot the Sawtooth Range with cattle and fog in the foreground. We then turned west on Forest Road 208 due to Pettit Lake. Without a soul in sight we took a few pics in the brisk morning air. From there we headed south again to check out Alturas Lake. South of the lake we went off-road again taking Forest Road 204 south and west past the (very little) remains of the original Sawtooth City and on down to the end of the road at the Pilgrim Mine.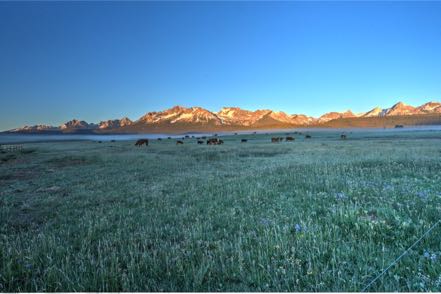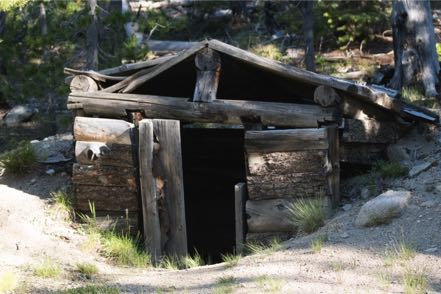 A Day at the Beach (sort of)
After exploring both Stanley and Lower Stanley, touring the local museum, and taking a short drive on the highway (where Jan spotted a couple river otters playing in the Salmon River), we decided to hang out by the water. There are many, many choices within a few miles of our campground that fit that criteria, but we decided to find some solitude and headed down a gravel road to a spot along Kelly Creek. Here we pulled out our picnic supplies, set up our gear, and sat by the edge of the running creek with dozens of varieties of wildflowers all around us and the mountains in the background.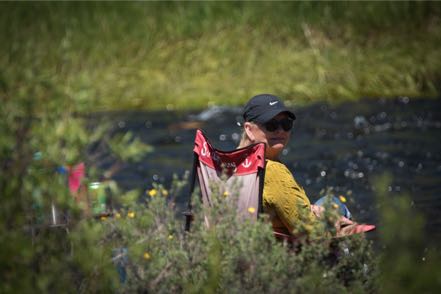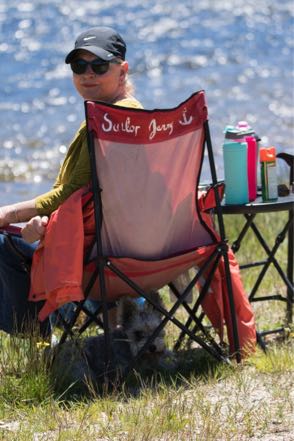 Sunrise Shoot at Stanley Lake
We left the coach at 5:15 a.m. leaving in plenty of time for pre-dawn set up on the east side of Stanley Lake just 10 minutes from camp. The moon was full, the air was calm, and as we waited we saw the gradual transitions of sky colors from grays to pinks to golds. Just beautiful.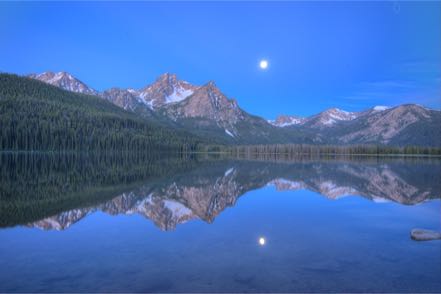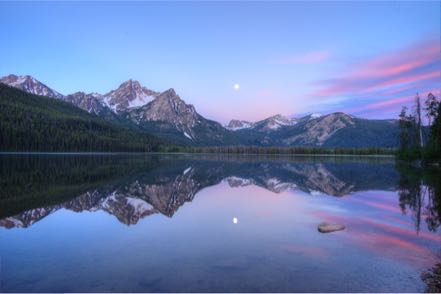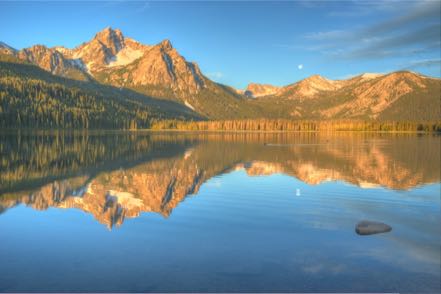 This Sawtooth area is magnificent.
See you next week.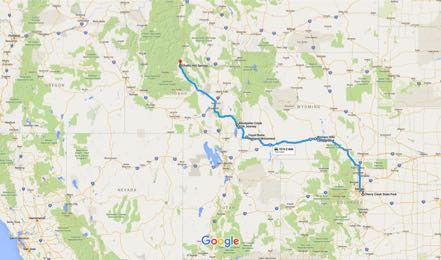 Vamos Colorado
From Cherry Creek State Park on the outskirts of Denver, we headed north on CO 83, took I-225 North, I-40 West, and then I-E 270 North to I-25 North, all the way to Cheyenne. Here we picked up I-80 West and made our way to Rawlins, WY, and spent the night at Western Hills Campground.
The next morning we again headed west on I-80 and then US 30, marveling at how green Wyoming was this time of year. We made a short stop at Fossil Butte National Monument and were awed by the size, detail, and quantity of fossils, especially of fish. Just a few miles west of Kemmerer, it is off the beaten path but worthy of visitation. We travelled west into Idaho and stopped for a couple of nights at the Montpelier Creek KOA.
The first mid-afternoon we took a short road trip east on 89, and then on Wood Canyon Road to Bauman Lane, and up to the Montpelier Reservoir.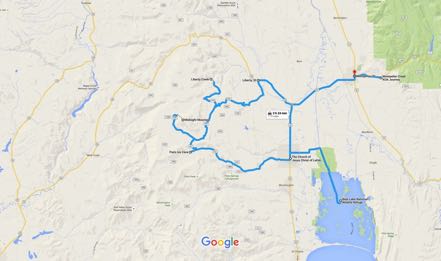 After working the next morning, we took a road trip west to Ovid and then south to Paris on 89 South. Our first stop was the Paris Tabernacle.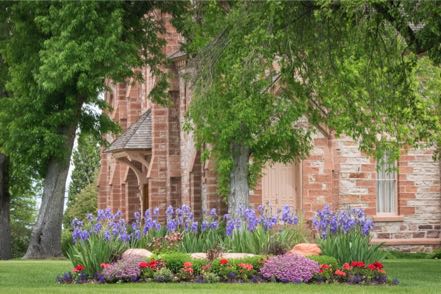 Next we toured the Bear Lake National Wildlife Refuge and shot a few birds.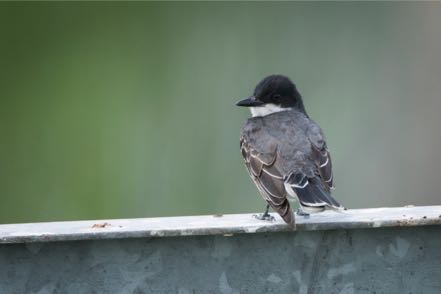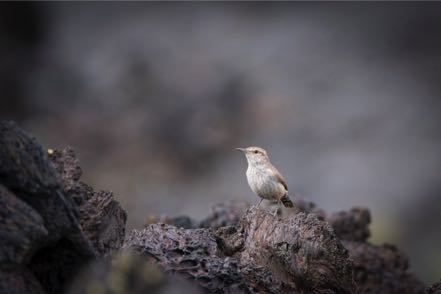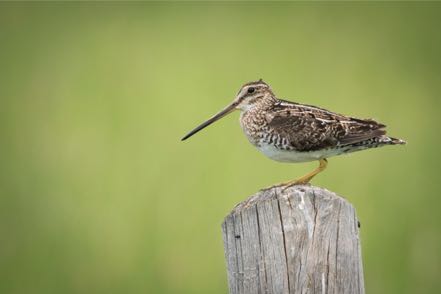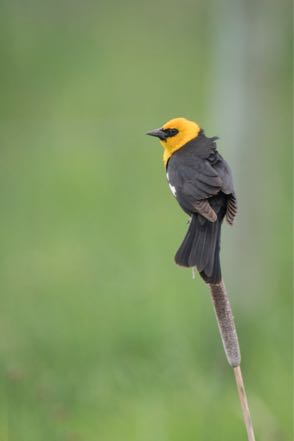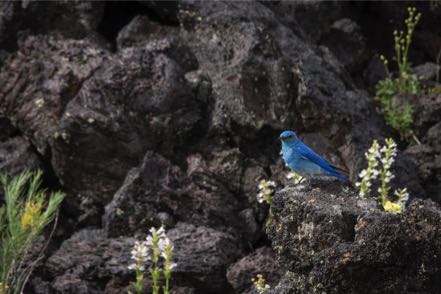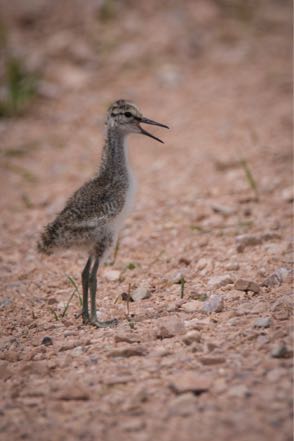 From there we headed up into the Cache National Forest taking Paris Canyon Road. Jan had a blast identifying wildflowers as we slowly worked our way to the Paris Ice Cave, noted for having ice all year round. We circled our way back on Canyon Road.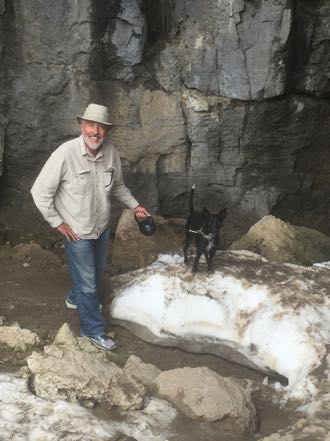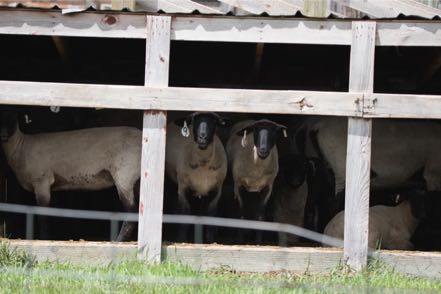 After two nights at Montpelier, we drove 168 miles west on US 30, and then west on US 26 to the Craters of the Moon KOA located in Arco, Idaho. Pretty trip but not ideal, as the wind gusted more than 40 miles per hour much of the journey.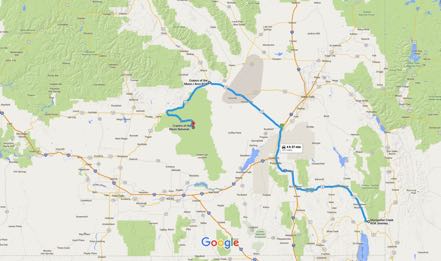 Craters of the Moon
We visited this National Monument several years ago when it was hot and there was very little vegetation. Quite a difference this time, with cool weather, overcast skies, and bright flowers everywhere against and among the unique "off-worldly" scenery of this place.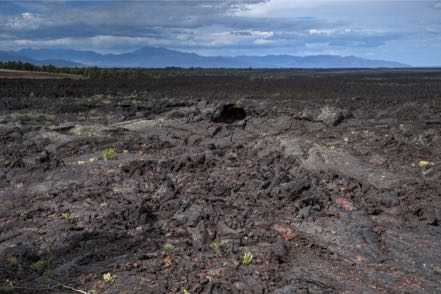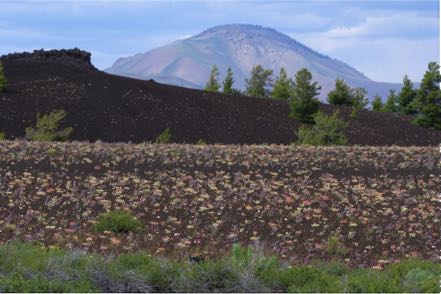 Challis Hot Springs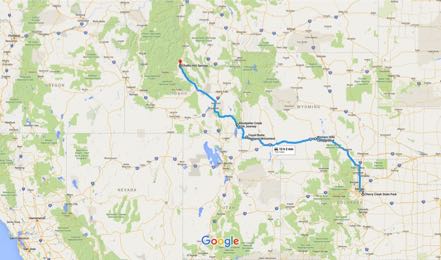 The next morning we had a wonderful 82-mile trip north on US 93. The road was smooth, the traffic light, pleasant overcast skies driving through lush green valleys, by rivers and creeks, and surrounded by mountains.
Our campground was situated on the hot springs property with our site adjacent to the Salmon River. Each evening we walked over to the Springs and soaked in the 105-degree waters.
Little Road Trip to Bayhorse Lake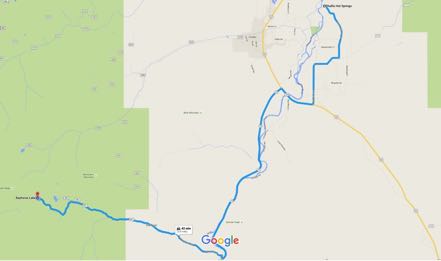 Our first afternoon we took a backroad trip to Bayhorse Lake. Old mines, ghost town.
Big Road Trip to Sunbeam and Back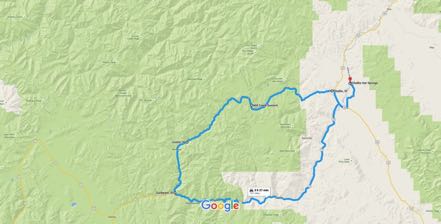 Our second day at the Hot Springs we took a big backroad trip. Our path took us west of Challis, up and over the Mill Creek Summit, with occasional ruins from mining or the old toll road route, where stagecoach travelers could shave days off their trip by spending $5 per person back in the late 1800s.
See you next week.