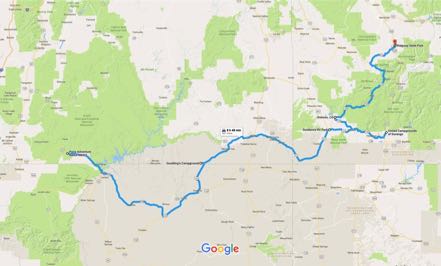 Monument Valley
From the hot desert of the Paria Guest Ranch we traveled to Goulding Campground in the hot desert of Monument Valley that straddles Northern Arizona and Southern Utah. The location of some famous John Ford Western movies, the dramatic landscape is awe-inspiring in the right light and weather.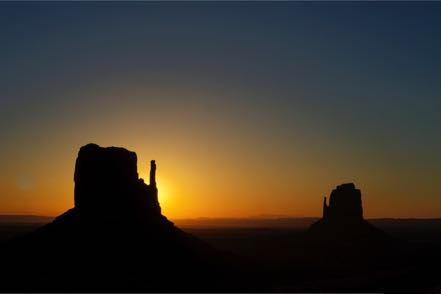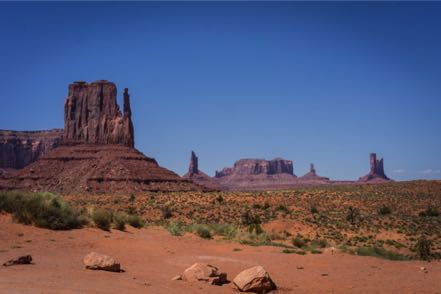 Mesa Verde
After a couple days in Monument Valley, we headed north and east to Sundance RV in Cortez, Colorado. We took some short trips, including a tour of Mesa Verde, a wonderful national park that we had not visited in several years. Here is a shot from the Park plus one of Hunting Jack from a morning stroll.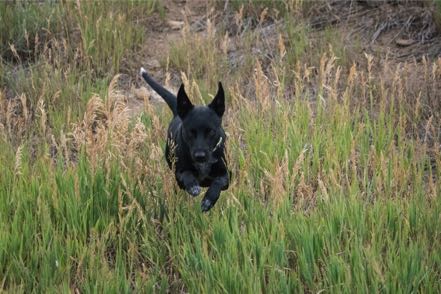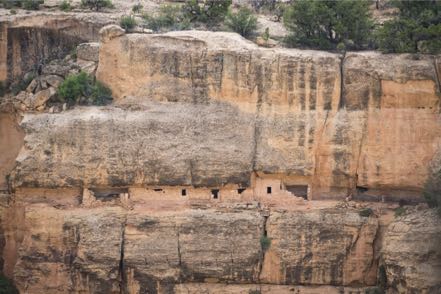 Durango
From Cortez, we took the short trip east to United Campground in Durango. What makes this campground special is that the famous narrow rail Durango-Silverton train runs right through the center of the place! So every morning and every evening campers walked down to the train track to hear the whistle, smell the smoke, and view the trains chugging along…actually, it is quite addictive!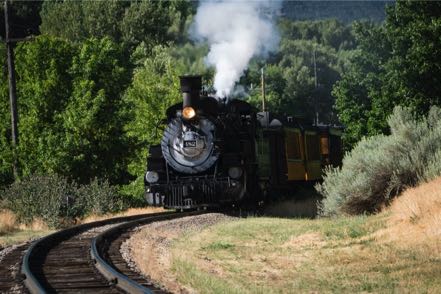 Ridgway
From Durango we made our scenic way to Ridgway State Park, just north of the town of Ridgway and close to the great towns of Ouray and Telluride. This is one of our favorite areas in all of Colorado, and that says a lot.
Our large, wooded campsite was full of birds, and we spent much time viewing their antics. Especially fun to watch was the large number of bluebirds.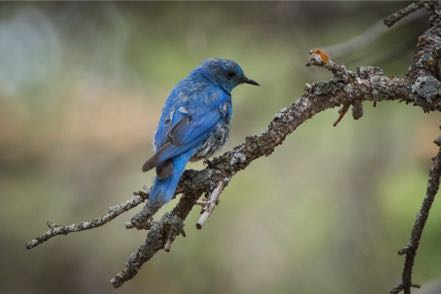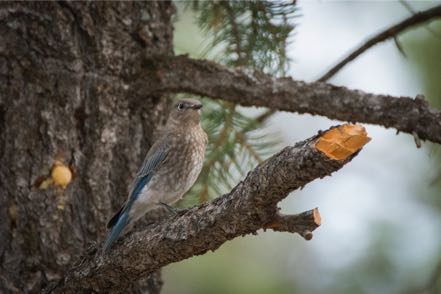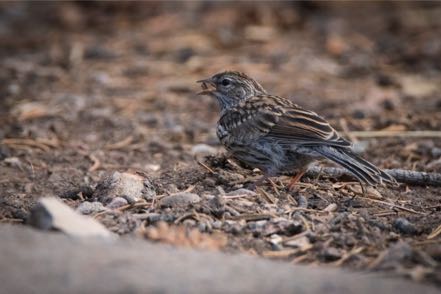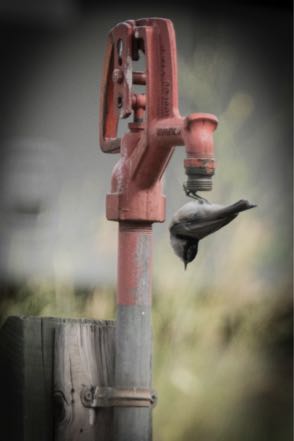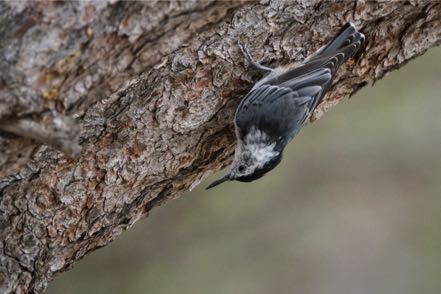 Owl Creek Pass Day Trip
We took a wonderful trip up into the mountains to Owl Creek Pass. From there we headed north and east on to Silver Jack Reservoir, especially enjoying the wildflowers--Indian paints, cow parsnip, bull thistle, larkspur, daisies, scarlet gilia, penstemon, goldenweed, elk thistle, hawksbeard, fireweed, and on and on. This is the same trip we took a few years ago where we spotted our first mountain lion.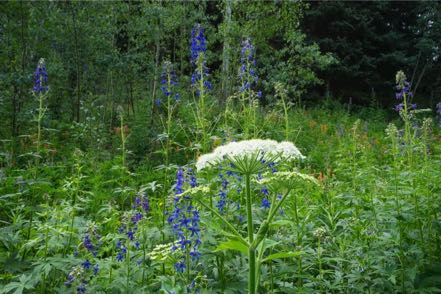 Morning Walks
Every morning we took the Pups down to the Ridgway Day Use area along the reservoir. Since there were only a few fishermen up at that hour, we let the Pups run loose. Jack chased everything that moved, including chippers, birds, and grasshoppers. Mitzy strolled along sniffing and peeing as the mood fit her. When she got tired we put her in her buggy and gave her a ride. One morning we saw a red fox, and the next morning we saw two of them together. We watched them jump, box, and chase each other as they played in the morning sun. I did not have a long lens, but I did at least capture the solo fox the first day.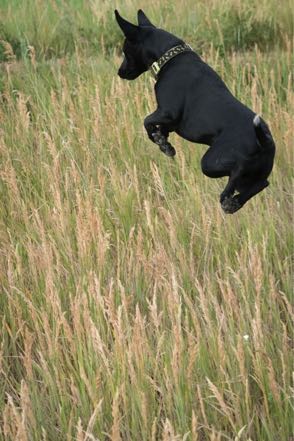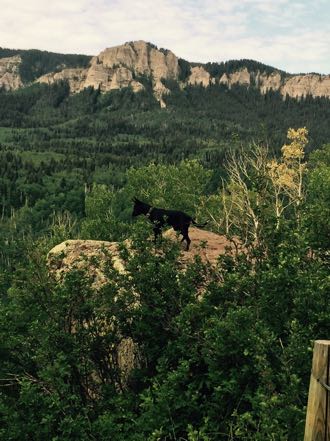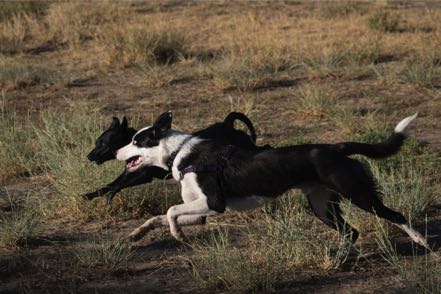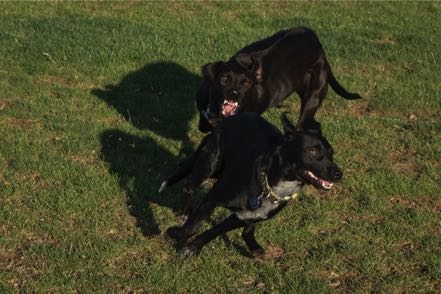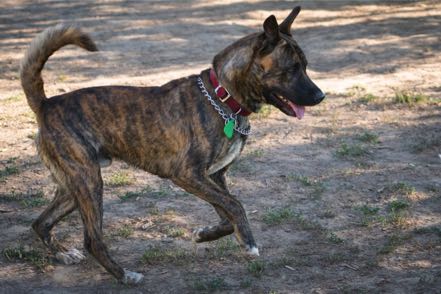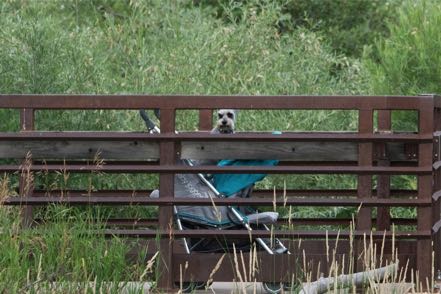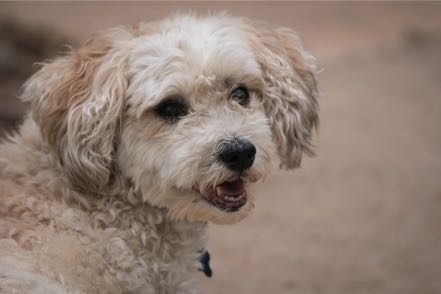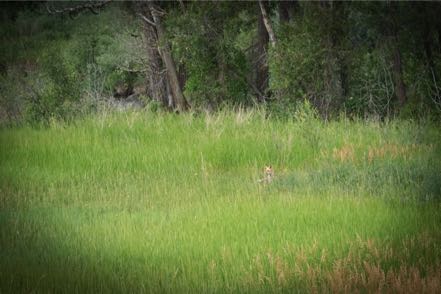 In the town of Ridgway there was a really cool mural and a really neat old truck at the train museum. Just a wonderful area.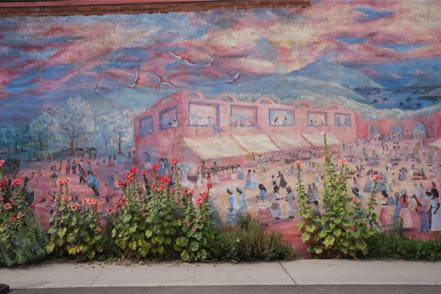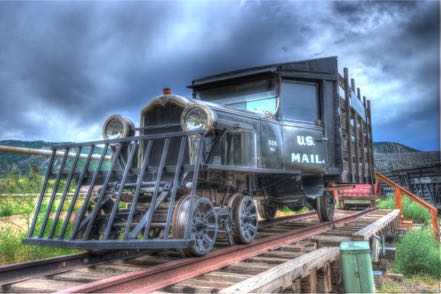 See you soon.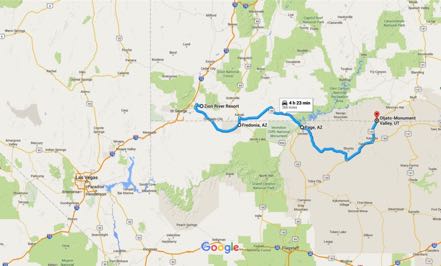 Leaving Zion we toured through Hurricane, skirted around the Kaibab Tribal Lands, went by beautiful Lake Powell close to Page Arizon, and then through Kayenta to our campground at Gouldings Campground Monument Valley.
Monument Valley
We took an afternoon trip to scope out our planned trip to the Monument Valley Navajo Tribe Park. As we were heading home, Jan spotted a wild goat eating weeds along the road. Here is a picture of the handsome critter.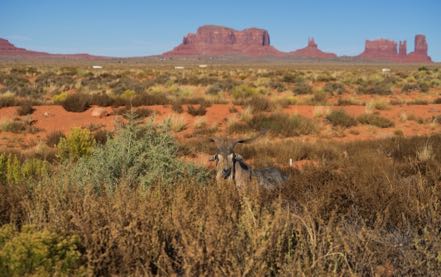 The next morning we were up super early, hoping to watch the stars. However, clouds stopped that plan, but those same clouds helped shape the colors of a gorgeous sunrise.
Monument Valley is the location of many John Ford westerns, including John Wayne's breakthrough role in the 1939 movie "Stagecoach." As a youngster I recall many a-time watching this and other westerns in black-and-white on a little TV in the living room with my dad. Monument Valley was often the background for the action. As one gazes out at the horizon you can almost see the dust rising from the rumbling wagons, smell the sweat from the galloping horses, sense the pilgrim fear that Apaches were right around the next rock with knives in hand, greedy for scalps. This is how the Old West is supposed to be! Wonderful place.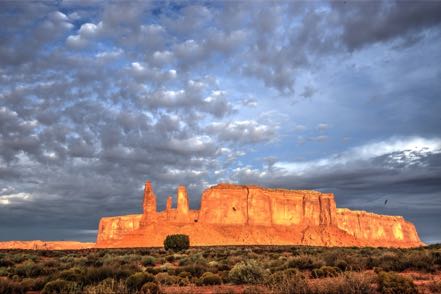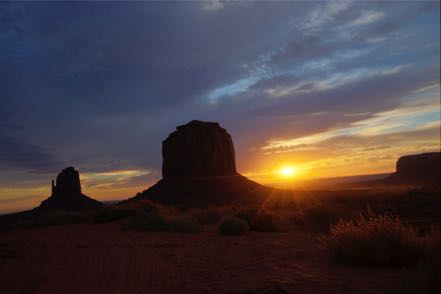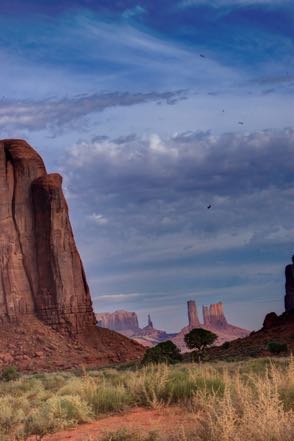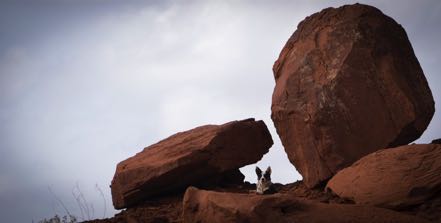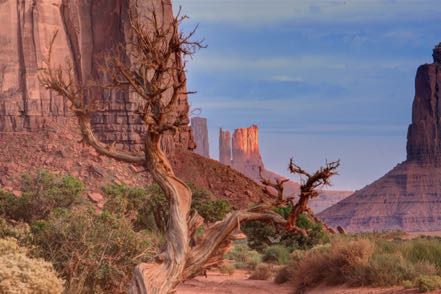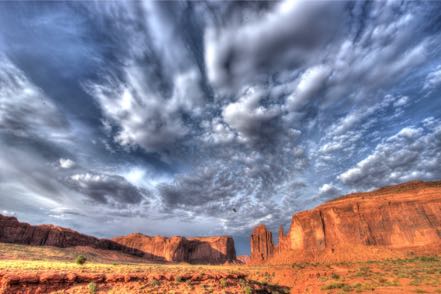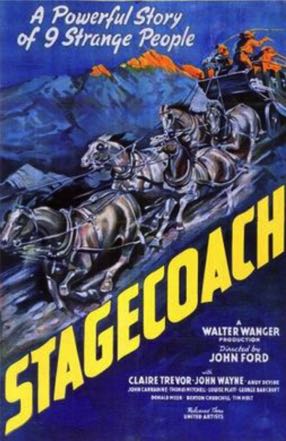 Natural Bridges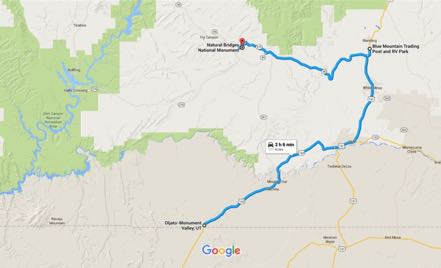 The same day of our visit to Monument Valley, we drove up 163 through Mexican Hat and Bluff into Blue Mountain RV Park in Blanding. After settling in, we took an hour trip to visit Natural Bridges National Monument. On an uncrowded road, we took the scenic tour stopping to walk and view the three natural bridges (formed by water erosion, not arches, which are formed by wind erosion). Here is a photo of one of the bridges.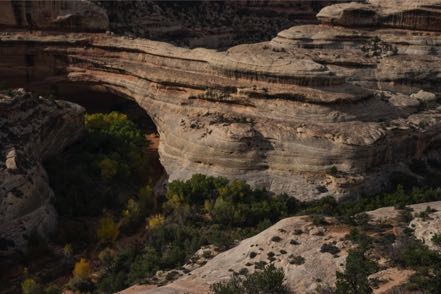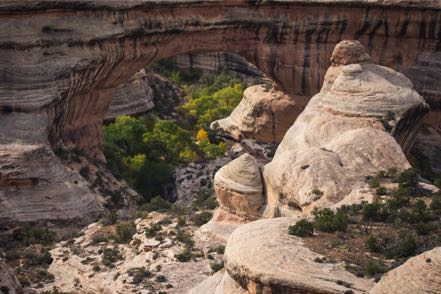 Back to Colorado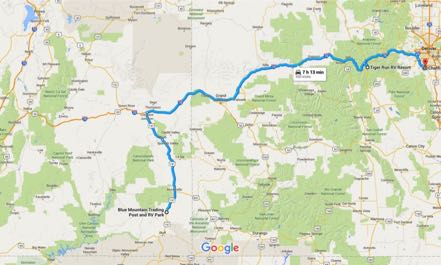 We continued north on 163 to 191 and headed past Canyon Lands National Park and Arches National Park near Moab. We hooked up to I-70, spent the night near Breckingridge at Tiger Run RV Resort, and then continued east the next day to our destination at Chatfield State Park.
Busy, but fun!
Pups
Here are a couple of pup pics.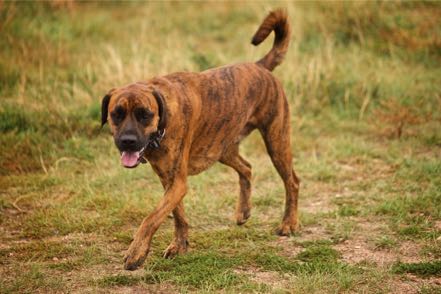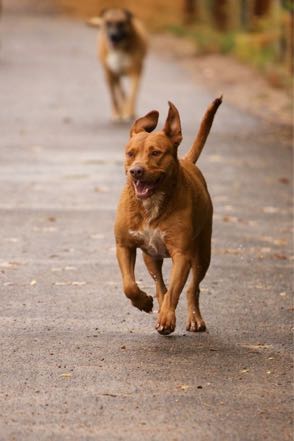 Old Signs
Here is an old sign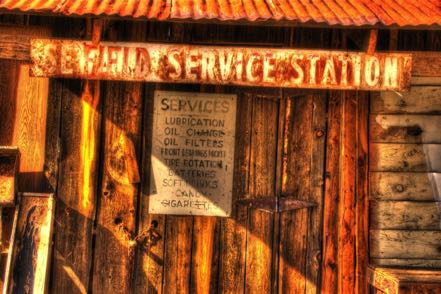 Old Trucks
Here are four old trucks.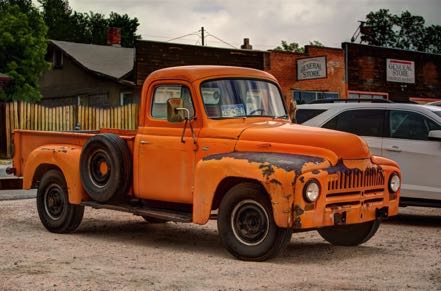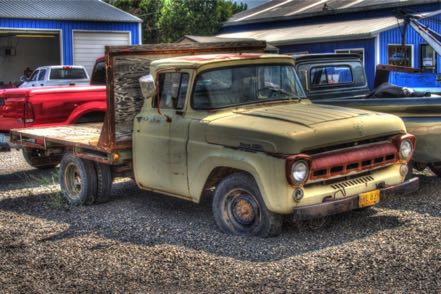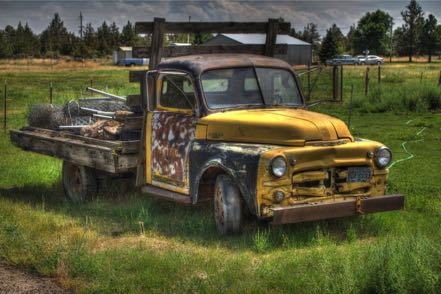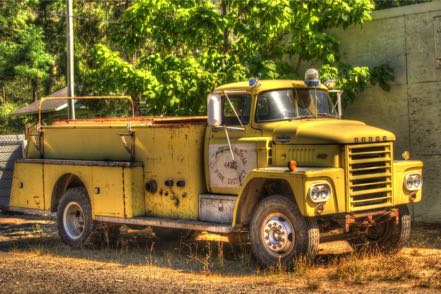 See you soon.
Sunday morning Austie and Auntie accompanied Jan and me as we flew from Denver to Las Vegas. Here we rented a Jeep and drove the 121 desert miles to Grand Canyon West in Arizona. Here is a pic from a scenic view stop along the way.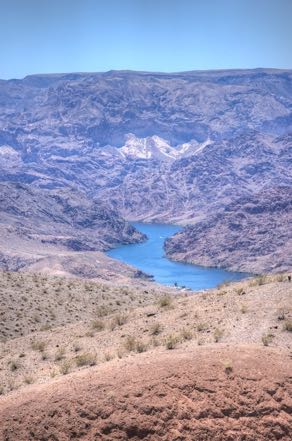 Grand Canyon West obviously is a part of the Grand Canyon, but not a part of the national park. It is owned and managed by the Hualapai (pronounced WALL-uh-pie) tribe.
Hualapai Ranch
We stayed for two nights on the property, based out of cabins directly on the Hualapai Ranch. Here is a view of the cabins at dawn (that's my shadow), a shot of the sunrise, and a view from the cabins.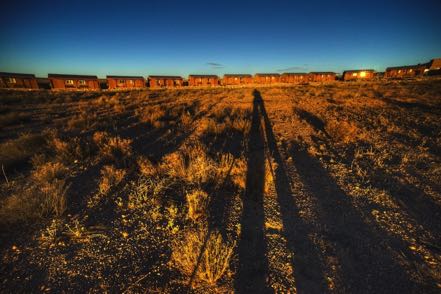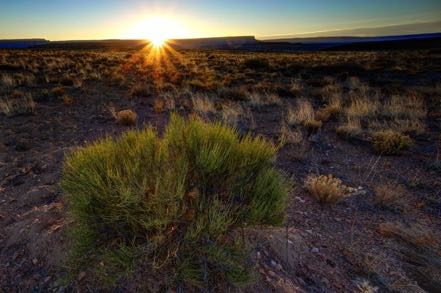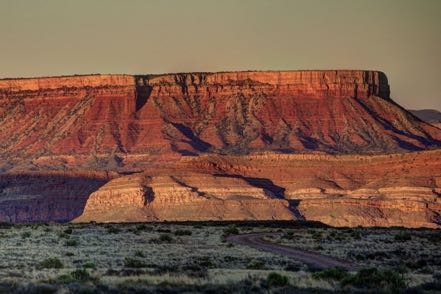 The ranch is a replica of an Old West town, complete with jail, gallows, saloon, general store, and more. Cowboys direct the activities, such as fast-draw contests, roping, arrow shooting, horseback riding, chuck wagon rides, and bonfires. Short on help, with busloads of rowdy Chinese converging on the ranch, the sheriff deputized Austie to help keep things in control. Over two days he stared down would-be troublemakers, showed strangers card tricks to keep them calm, and pulled his gun more times than I can count. He helped lock up several strangers, plus Jan and me, and helped to hang Auntie. He was one busy hombre. Here are some pics of Austie in action.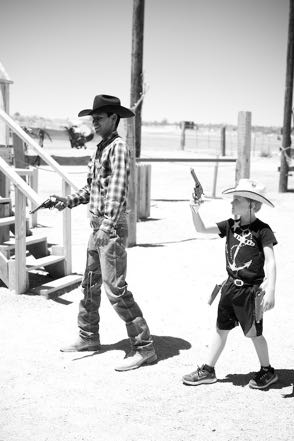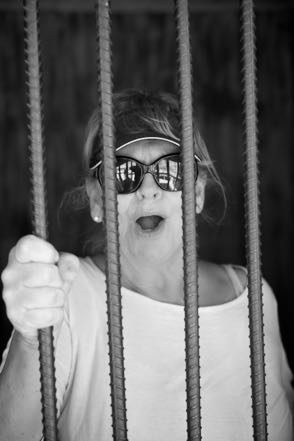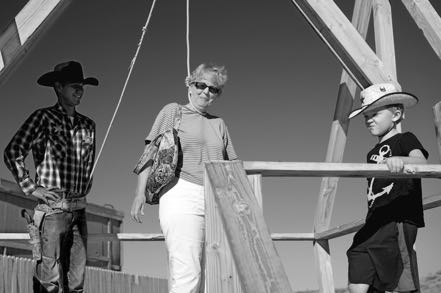 Here is a pic of the ranch chuck wagon plus a crusty old cowboy.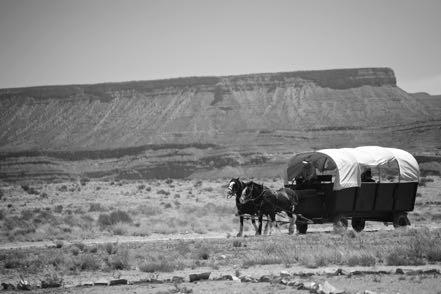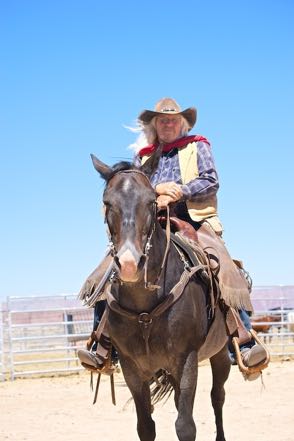 Grand Canyon Skywalk
The four of us experienced the Grand Canyon Skywalk, strolling at 4,000 feet suspended by glass and steel with a great view below your feet of the canyon floor. No personal cameras allowed, but here is a pic taken of us by the on-duty photog, plus a stock photo to give you a better feel for the place.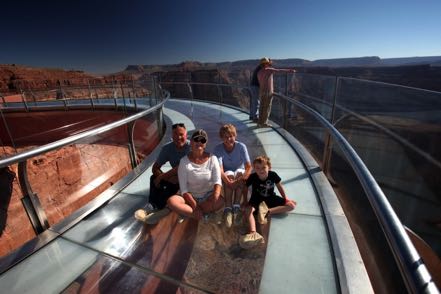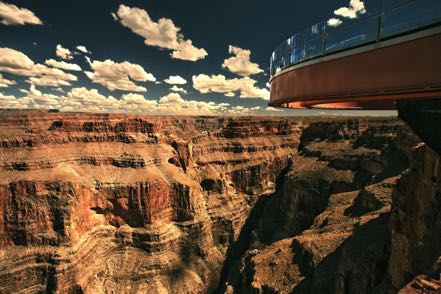 Guano Point
Another pretty stop at Grand Canyon West is Guano Point. Here is a shot of the head bird, plus a scenic view.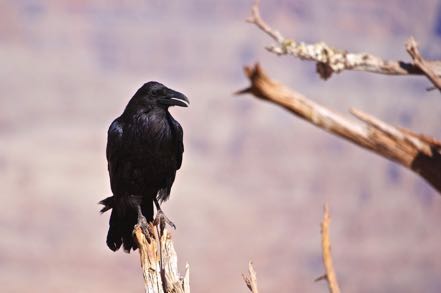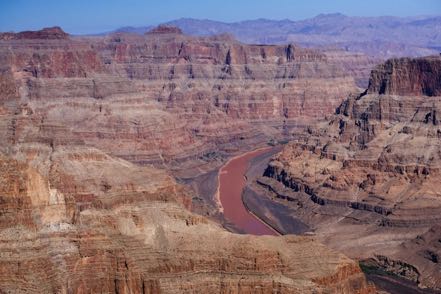 Helicopter-Float Trip
To end our visit to Grand Canyon West, we took a helicopter ride over and through the canyon, and then landed down by the Colorado River. Here we took a float trip on the canyon floor before flying back out via chopper. My pics did not do this wonderful excursion justice.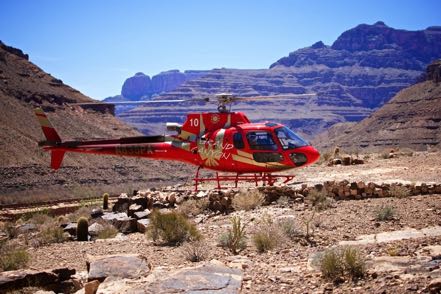 A return drive and flight, and it was back to Denver.
Jan's Old Signs
Here is one old sign from Colorado.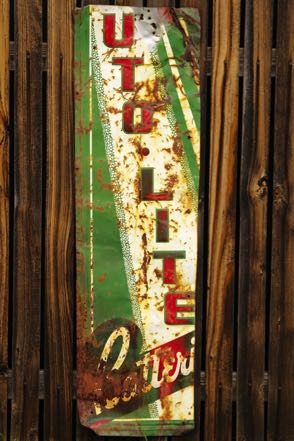 Old Trucks
Here are three old trucks.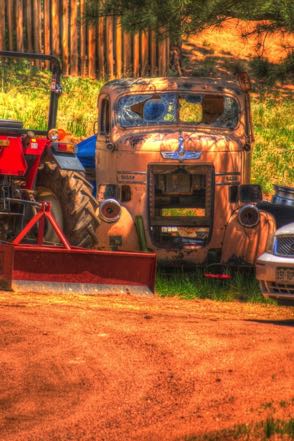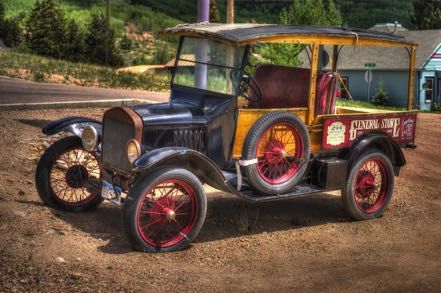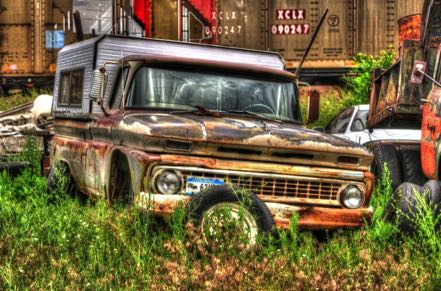 See you next week.