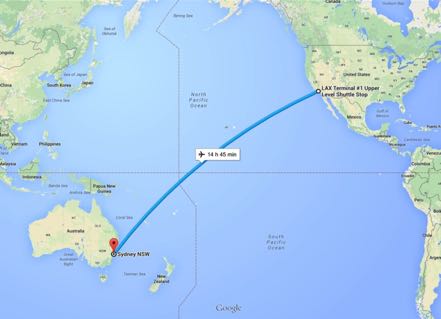 Sunday: Trip to Sydney
After a four-and-a-half-hour flight from Detroit to LA and a three-hour layover, I voyaged across the Pacific on a 15-hour flight to Sydney on the long-haul standard, the Boeing 747. The food and drink were good, the movie selection robust, and sleeping arrangements tolerable. Arriving in Sydney relatively rested and on time at 6:30 a.m., I breezed through passport control and customs, flagged a cab, and was in my hotel room by 7:35. After a hot shower and a short nap, I headed to Hyde Park for a three-hour walking tour. Always best to take advantage at the opportunity at hand, as they say.
Our Russian-born guide was knowledgeable and passionate about Sydney and made the tour both educational and fun. We visited the Botanical Gardens, Circular Quay, the Rocks with views of the iconic Opera House, and the Sydney Harbour Bridge. The Rocks were full of musicians and entertainers vying for tips from the scores of tourists. Here is a pic of one young visitor taking a break.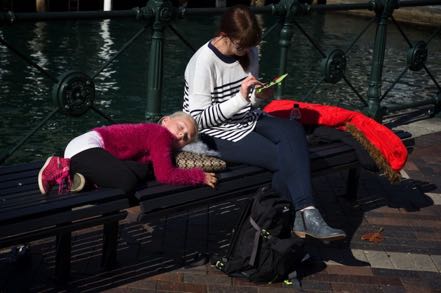 After a pub lunch, I walked across the bridge and up the hill to my North Sydney hotel where I rested for a couple hours before walking back to the harbour to take photos. By luck my stay in Sydney corresponded with the annual 10-day "Vivid Sydney," a marvelous light show of the harbor and the city it encircles. Here are a few pics. Here is a photo of the view from my hotel plus three taken from Milson's Point looking south in the direction of the Opera House and other structures along the harbor.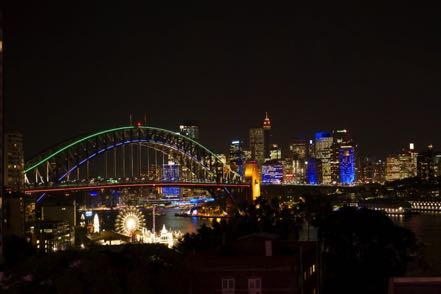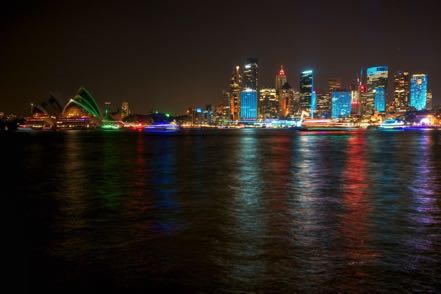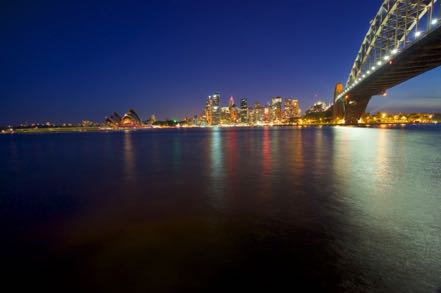 Monday: Harbour Sunrise
Before sunrise I walked a half mile or so and set up mid-way on the Harbour Bridge to take a few pics.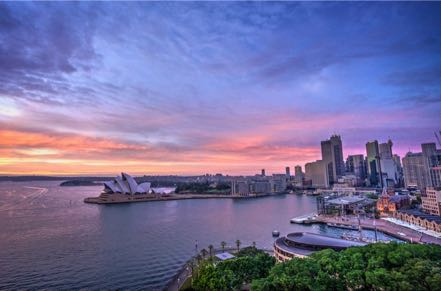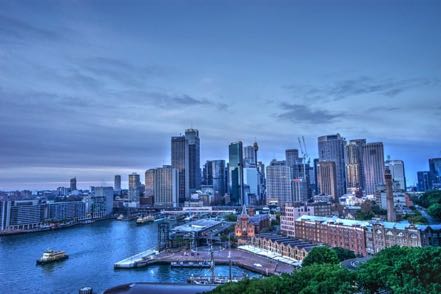 The rest of the day was spent working with the Australian-New Zealand team of a long-time US client. After work they hosted a nice dinner at a waterside hotel in Darling Harbour where we were entertained by the constant light shows.
Tuesday: Luna Park
Another work day, but when the sun went down I walked down to Luna Park by the ferry launch to take more Vivid photos. What a show!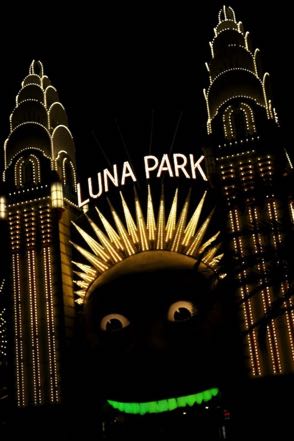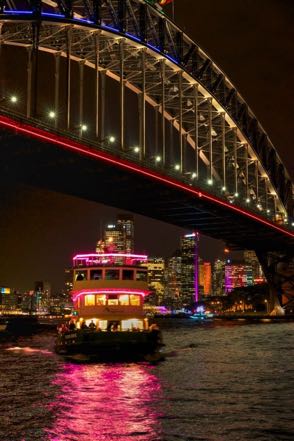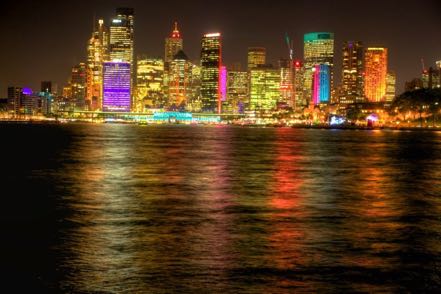 Before heading back I stopped at a local cafe for a dinner of pork cutlet, French fries, and applesauce accompanied by Australian Shiraz-Cabernet. Nice ending of a nice day.
Wednesday: On to KL
This was a travel day, as I left Sydney on an eight-and-a-half-hour flight to Kuala Lumpur. An uneventful flight, and I was in my hotel room by 10:30 p.m.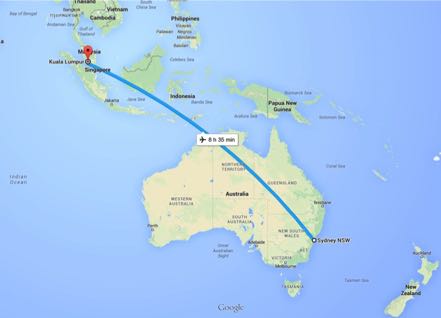 Thursday: Mountain Hike
Waiting on my Wednesday flight, I browsed TripAdvisor, researching something to do in KL on my day off. A jungle/mountain nature hike caught my attention as I was tiring of walking city streets, so I signed up online for Thursday morning. If I would have studied the description (below) in more detail I might have been more cautious before committing.
DragonBack Scenic Trek: 3 to 4 Hours

The trek starts off with a relatively steep section through dense jungle for about 30 minutes, and then follows by a short section where we need to scramble up steeper terrain using all four limbs. The trek then levels off to flatter terrain as you will be on top of the ridge and you will get a panoramic view of pristine virgin jungle on one side, and KL city on the other. Towards the last part of the trek, there is a longer steep section where scrambling with all four limbs are required. Please do not eat a heavy breakfast in the morning before the trek as it might make you feel uncomfortable during the trek. Please bring a spare t-shirt to change at the end of the trek, as you will be drench in sweat.

Everything stated was true. Our guide, Amos, was a native Malaysian who was an avid hiker, rock scaler, and mountain climber. My colleagues were a young guy from Egypt, a younger guy from Saudi, and a youngster from Louisiana. It was already warm when we hit the trailhead at 7:15 a.m. and it continued to heat up as the morning progressed. The jungle was thick, the mountain was rugged, the rocks and roots were slick from a heavy rain the night before, the sand and soil were loose, and the trail was steep and narrow…perfect for a hike! Challenging at times (many times) but a really great experience. Survival can be invigorating!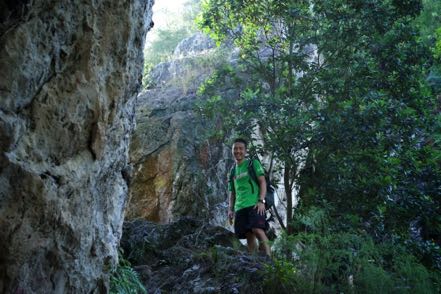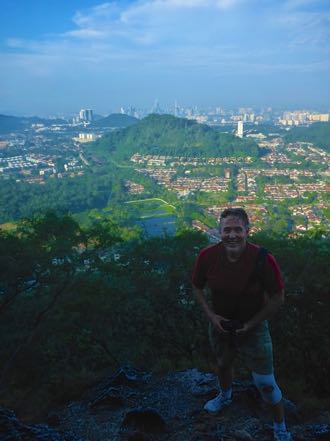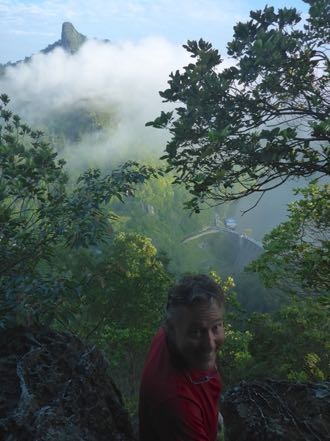 Back at the trailhead, we stomped the jungle out of our shoes, swizzled the last of our water supply, peeled off our shirts (yes, they were drenched), toweled off the promised sweat, and put on clean shirts.
Our guide then treated us to a late lunch at a neighborhood restaurant where we sampled a variety of great food that I don't remember the name of. Here are a couple photos of the help.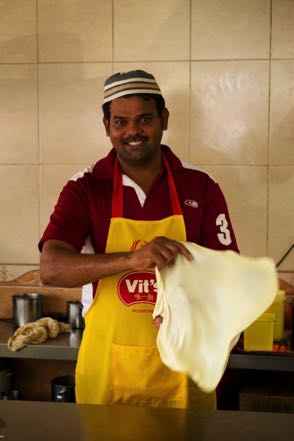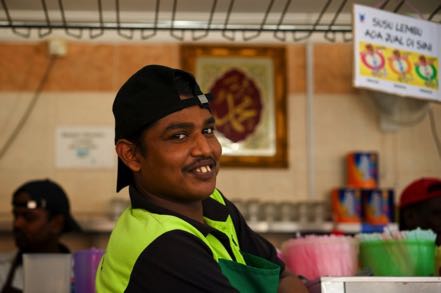 Friday: Work Day
Here I worked with the Malaysian team of my client. Very nice group of smart, motivated people.
Saturday was another work day.
Sunday: A Walk in the Park

By Sunday I was ready to again trade steel and concrete for grass and trees. My plan was to taxi over to the botanical gardens, stroll for a few hours taking pictures, and then walk back to the hotel, stopping by a few other sites along the way.
However, when I got to the botanical gardens (more like a really big park with some flowers) I was in for a surprise. The peace I had expected was replaced by the sound of a carnival-trained MC shouting into a really loud sound system. When he was not making announcements, disco-like music stomped through the grounds like a nervous herd of cattle (I kept looking up for a big silver ball). The Chicken Rice Shop was having a Chick-A-Thon in honor of their 50th anniversary of doing business in Malaysia.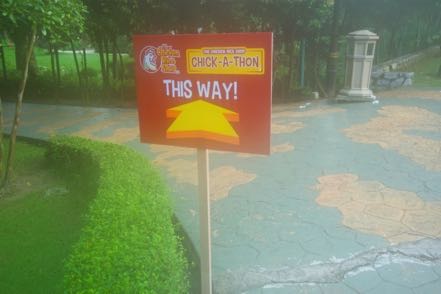 Hundreds of red and yellow signs of chickens were put up everywhere, with scores of red and yellow clad persons manning booths playing chicken games. I altered my plans and headed back to the hotel to work, blog, and rest up for my return home.
See you soon.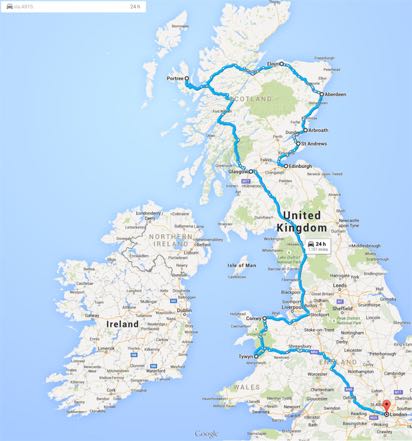 Portree
Heading north from Portree, we stopped by a small herd of sheep (mainly rams) standing by the side of the road. Only mildly curious, these handsome ruminants stared and occasionally posed for our lenses.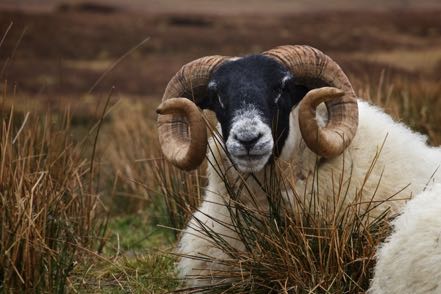 Our first planned stop was Dunvegan Castle and Gardens, a place for intrigue and several murders over the centuries. We toured inside the castle and strolled outside among the vibrant flowers cast upon the grays and browns of the setting. From there, another stop at St. Mary's Church Graveyard, a place so old you couldn't read the writing on many of the gravestones and markers.
After dinner we back-tracked our trail from a couple days earlier to revisit Eilean Dornan Castle at evening to see this castle lit up.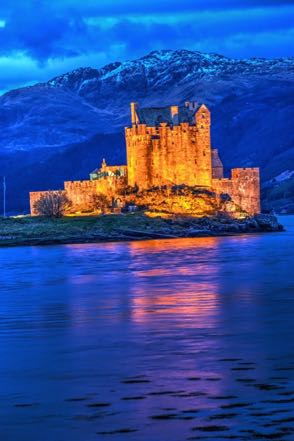 Our small group met at 3:35 a.m. for a hoped-for morning sunrise hike up to see the Old Man of the Storr. However, we postponed this trek until later because of the rain and probable slick conditions. However, mid-morning the rain stopped and the skies lightened, so we headed off to this local nature-made iconic structure. An hour up and an hour back changing 3,500 feet in elevation on a sometimes steep, sometimes slick, almost always windy path we trekked along watching our steps and bracing our backs from the wind-tunnel-like gusts of air. Here a couple shots.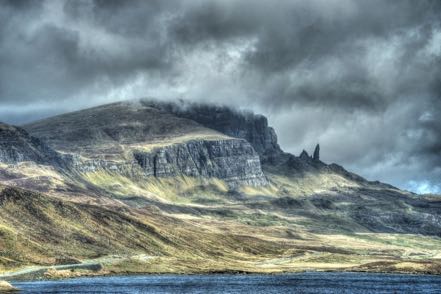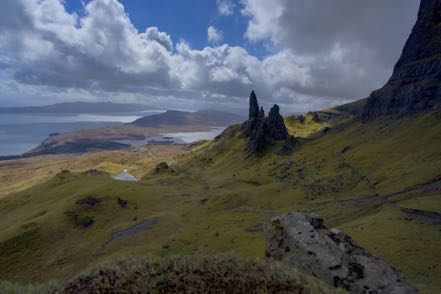 Inverlochy Castle
Tuesday we had a marvelous lunch at Inverlochy Castle.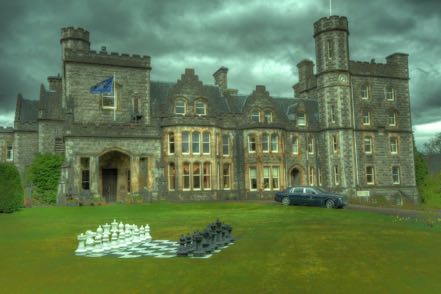 Glasgow Cathedral
I titled this blog entry "Just Another Cathedral" in jest. Check out the Glasgow Cathedral.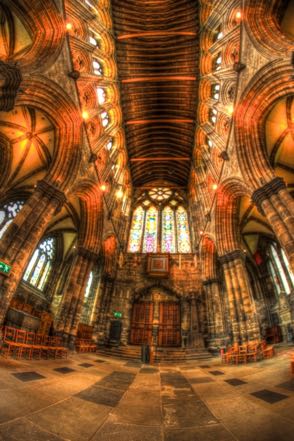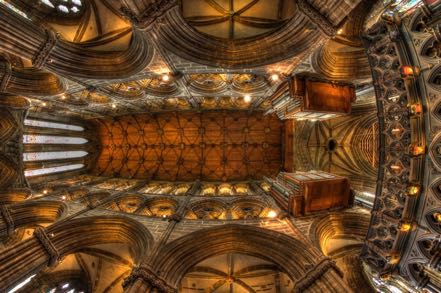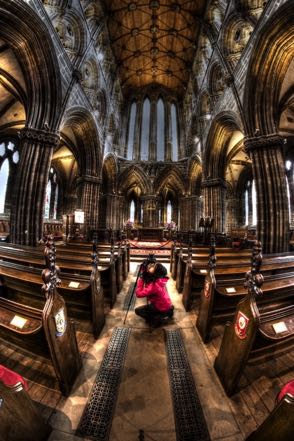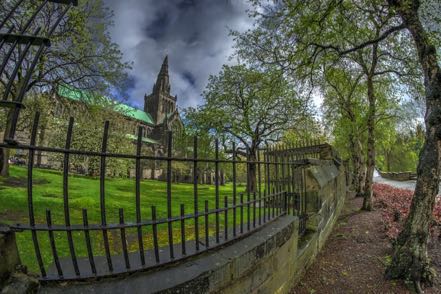 Conwy
We stayed at beautiful Conwy in Wales.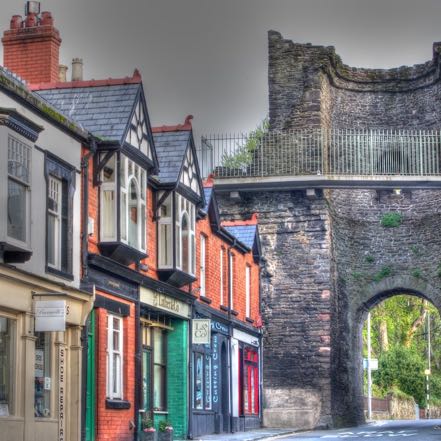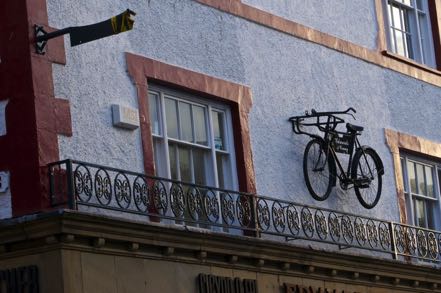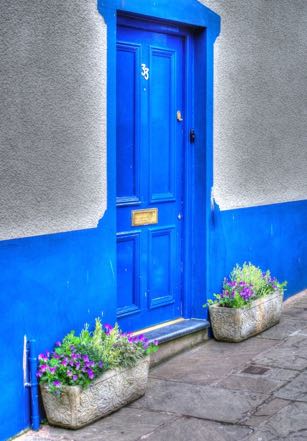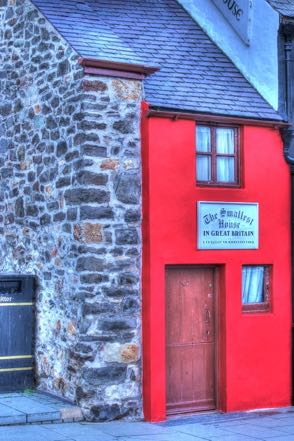 Dolgoth Falls
At the train station we met this handsome pup named Milo. Next we shot the narrow gauge train.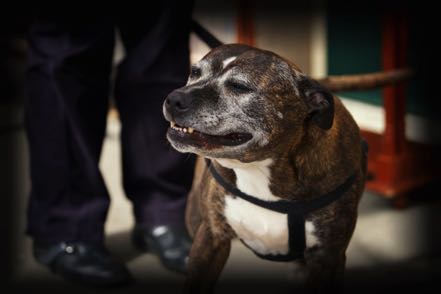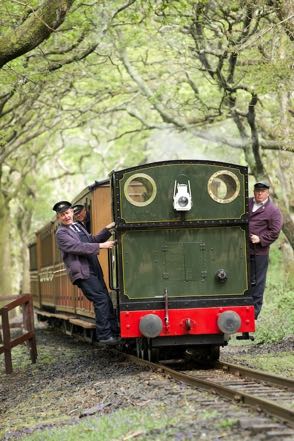 London
Jan and I split from the group and spent a fun day in London hitting many of the tourist spots, including a ride on the Eye.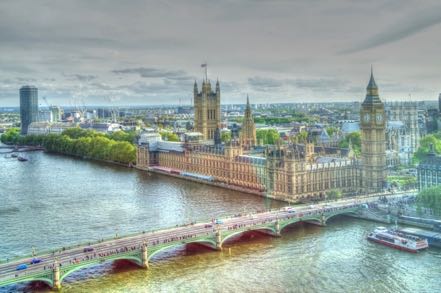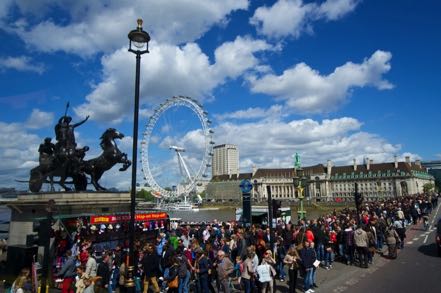 Pups
Here are some pups from my Pup Reserve.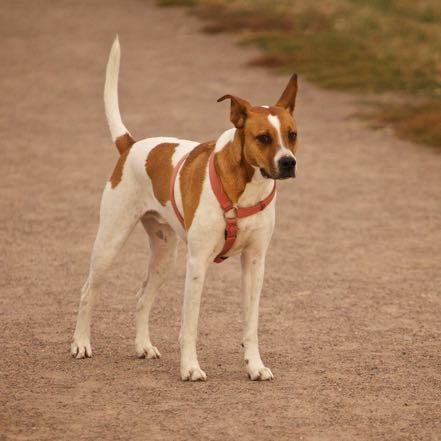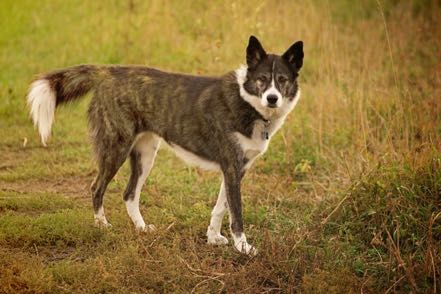 Old Sign
Here is one shot from the Old Sign Reserve.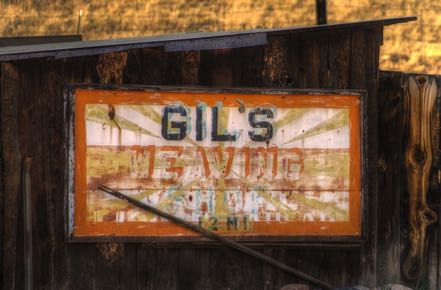 Old Trucks
Not many old trucks in Scotland! Here are three from the Old Truck Reserve.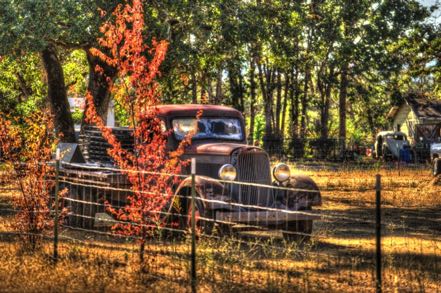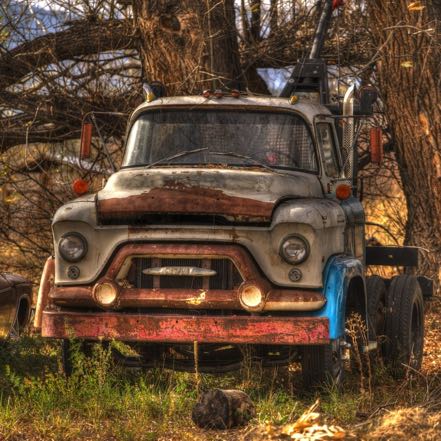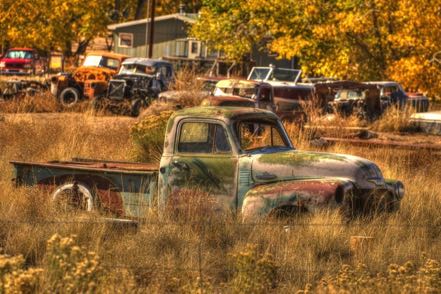 See you soon.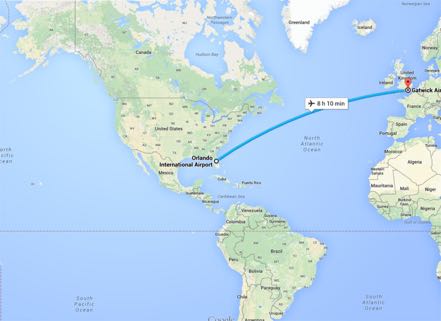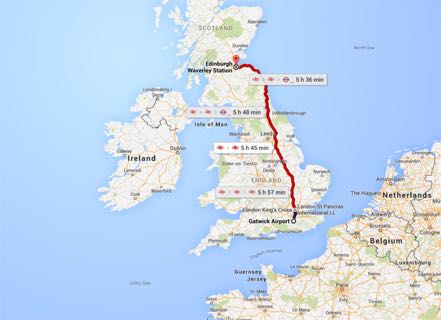 Across the Pond
After a night flight on Virgin Atlantic from Orlando, we arrived Monday morning into London Gatwick airport. From Gatwick we took the train to hectic Victoria Station, snaked through the jostling crowds of business commuters, and took the tube to Kings Cross. After a proper English breakfast of sausage, ham, eggs, potatoes, baked beans, tomato, and toast, we boarded our train headed for Edinburgh.
Under skies the color of steel barrels, our train whizzed (sometimes chugged) north through England with stops at York and Darlington. Passing our window, laundry hung, laborers worked, children played, sheep bleated, and churches steepled.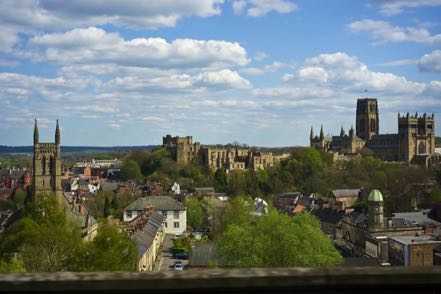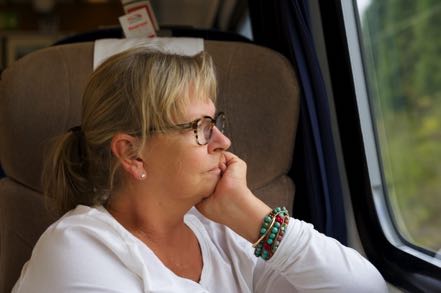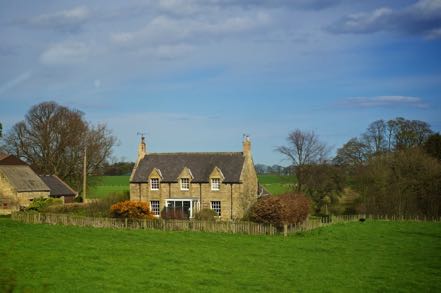 About the time we stopped next at Newcastle, our right-hand window view from our coach showed the cold, blue waters of the North Sea. We stopped one more time in England at Berwick-upon-Tweed, and then passed into Scotland arriving in Edinburgh thirty minutes later. As we hauled our bags through Waverly Station, the grey clouds finally yielded their deposit of rain as we cabbed over to our hotel near the castle. Soon Mr. Jet Lag entered our room, and from there it was a very short time till lights out.
Tuesday: Edinburgh and the Royal Mile
After a good night sleep, we ate in the hotel, Jan dining on Eggs Benedict and I on smoked salmon and eggs on a muffin. Like students before an exam we crammed for our morning activities by reading up on Rick Steve's Snapshot Scotland travel guide.
In a blustery wind strong enough to make Floridians retreat, Jan tightened up her scarf and I strapped down my hat as we walked up the hill to tour Edinburgh Castle, our first stop on the Royal Mile. Built upon volcanic rock, this fortress commands views of all four directions and protected its inhabitants for five centuries.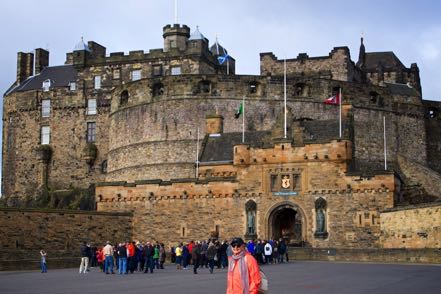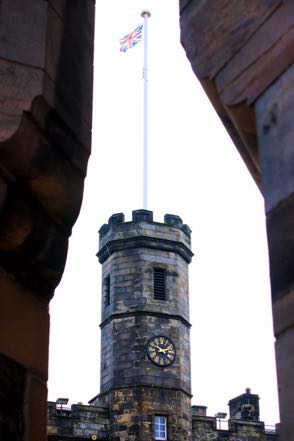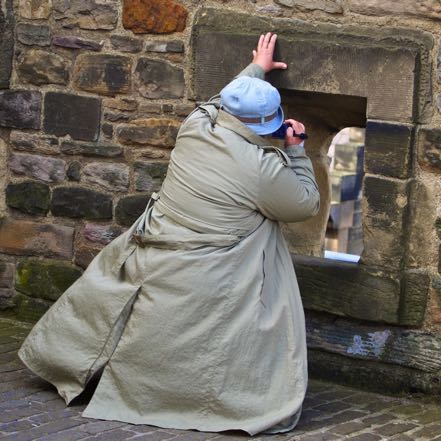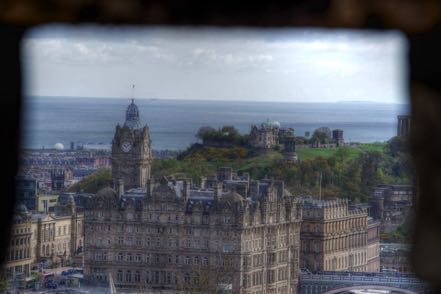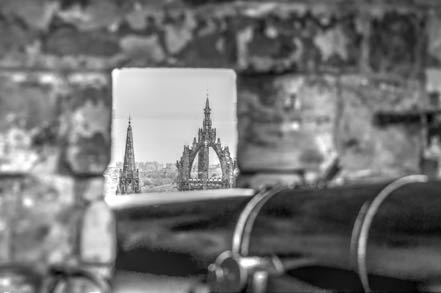 From there we walked the Royal Mile, entering the Old Town, soaking up bits of history and color from the writers and warriers, scientists and scholars, philosophers and politicians, academics and authors that lived in this city over the centuries.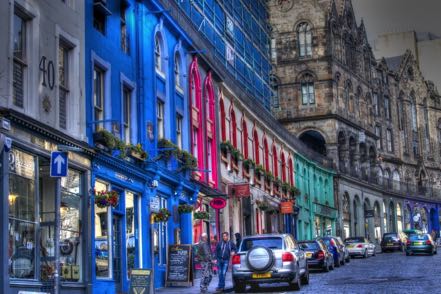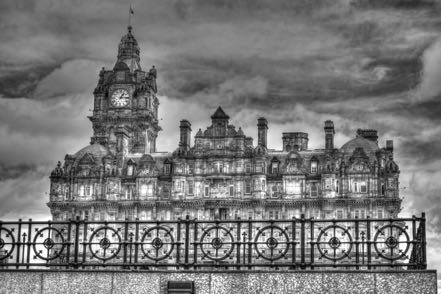 Wednesday: St. Giles Cathedral and Calton Hill
At our Edinburgh hotel we met up with the five other members of our photo tour group and discussed our plans for the trip. Our first stop was a great one--St. Giles Cathedral in Edinburgh. Here are a few shots that hopefully give you the feel of this marvelous structure.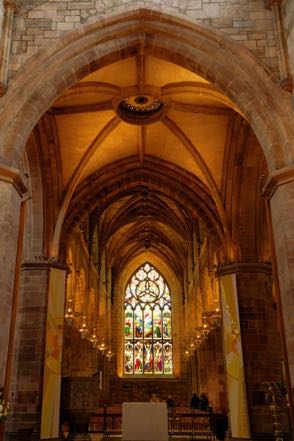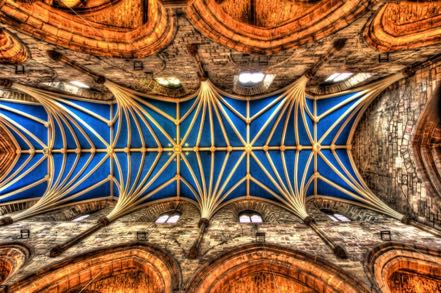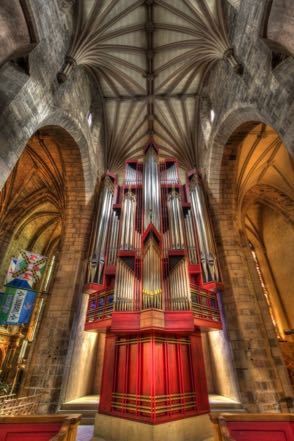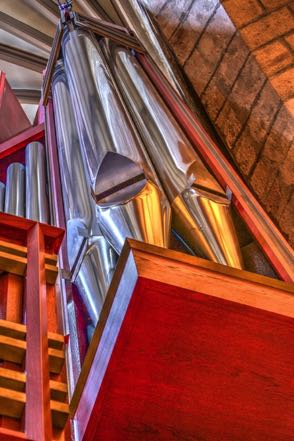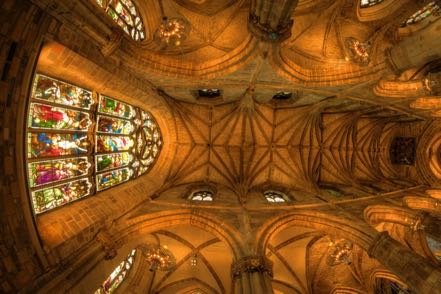 That evening we went up to chilly Calton Hill (gloves-scarfs-and-all-the-clothes-you-have kinda weather) to shoot some shots of the city--see what you think.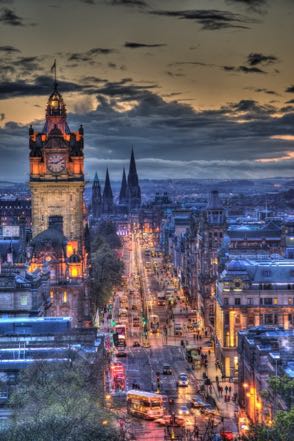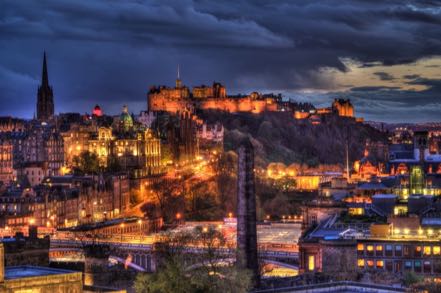 We stayed overnight in Edinburgh.
Thursday: The Kelpies, St. Andrews, and Dunnataron Castle
The first stop on our road trip was The Kelpies: two, one-hundred-feet-high horse-head sculptures close to the town of Falkirk.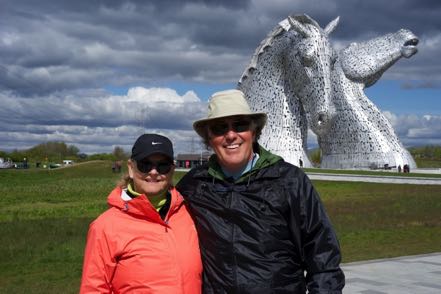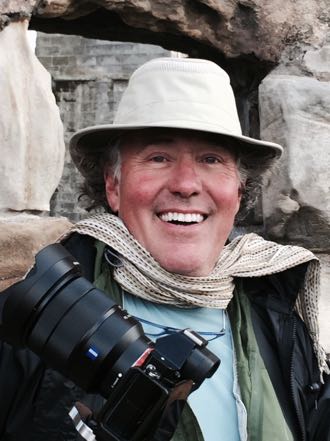 Known for more than just a famous golf course, the ruins of St. Andrews Cathedral share a glimpse of past granduer.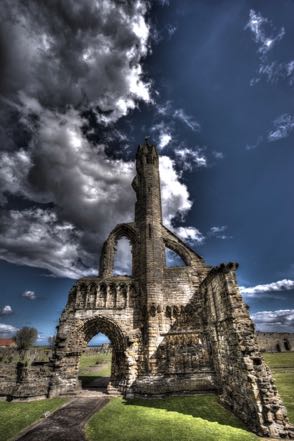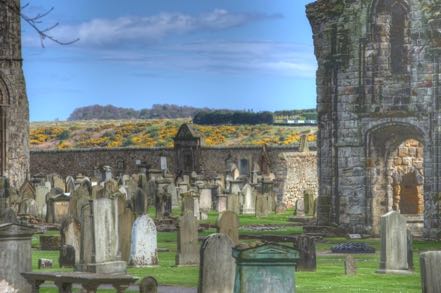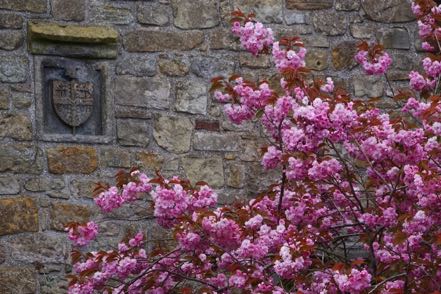 From here we went to Arbroath Abbey, and our last stop of the day was a stunning vista of Dunnataron Castle on a bluff overlooking the sea. We stayed overnight Aberdeen.
Friday: Craigaivar Castle and Glenfiddich
Our first stop of the day was at Craigaivar Castle near Alford.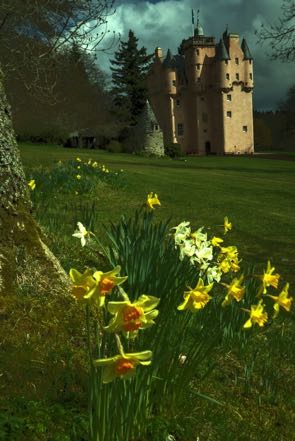 Next we had an enjoyable time touring and tasting at Glenfiddich Distillery. We stayed overnight in Elgin.
Saturday: Loch Ness and the Isle of Skye
We started the day shooting the Castle on Loch Ness. Note that there were no sightings of Nessie during our time there. We stopped at Eilean Dornan Castle along the way. We stayed overnight at Portree on the Isle of Skye.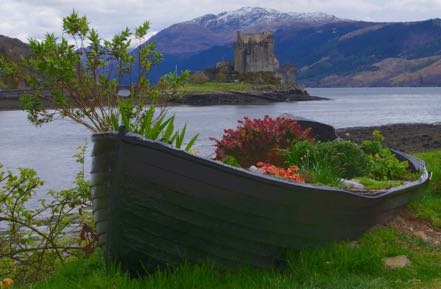 Here are two shots of a very handsome, very hairy brown bull.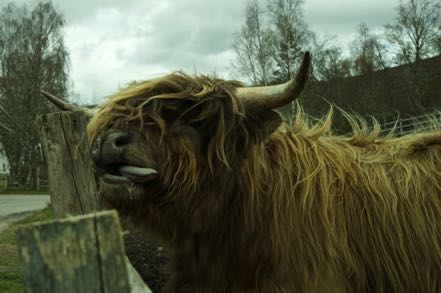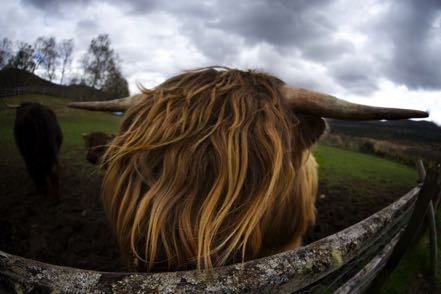 Pups
Here are some Scotland pups.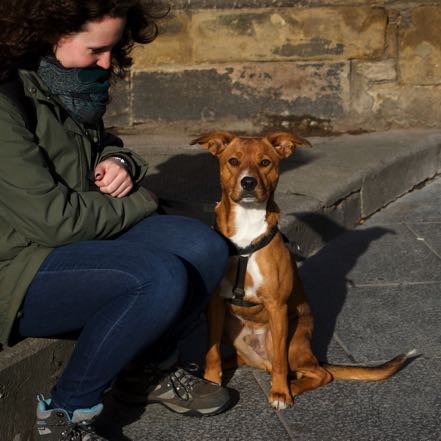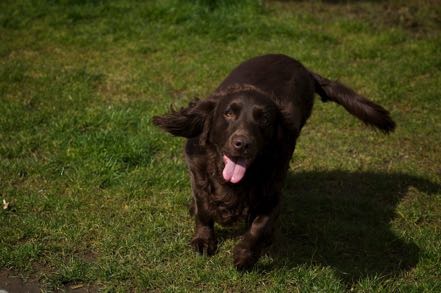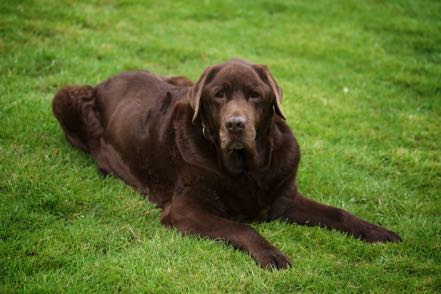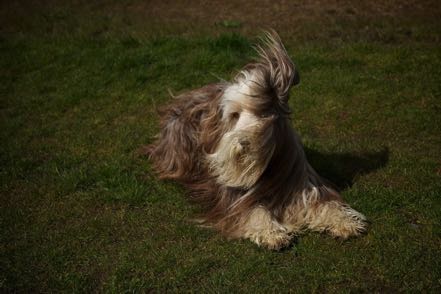 Old Sign
Here is an old Scottish sign.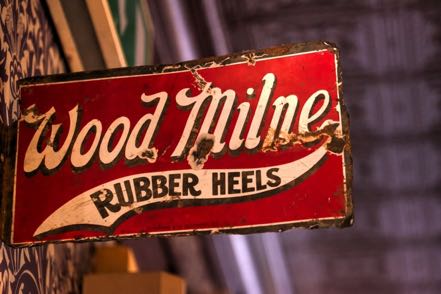 Old Trucks
Maybe next week.
See you soon.