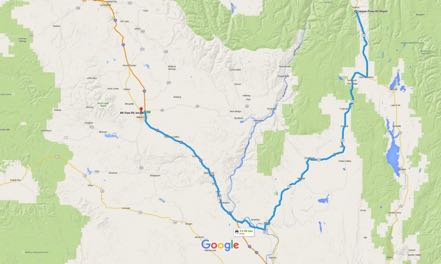 We took 95 South to Weiser, Idaho, then took the 201 shortcut into Oregon, then on to I-84 West. The day was clear and the traffic was light as we rolled along the eastern side of the home of the Ducks. At Baker City we set up camp at Mountain View RV Park and settled in for a few days.
Baker City to Hells Canyon Trip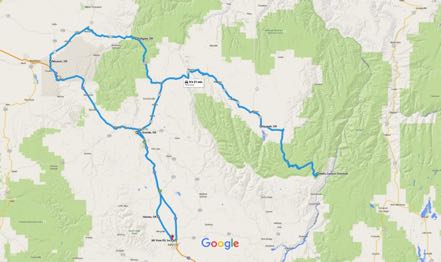 We had visited Hells Canyon from the Oregon side a few years back, but were thwarted from getting the full impact of the region as Highway 39, the Wallowa Mountain Loop, had been washed out by flooding.
Our intent was to take Highway 86 east to Oxbow, on to the dam at the end of Hells Canyon Road, then backtrack and go up Wallowa Mountain Loop to Joseph, then back north, west, and south to our campground.
However, less than three miles eastbound into our journey in our Jeep was a sign stating that 86 was closed ahead due to a new fire. Therefore, we backtracked a little before heading north to La Grande, then north and east on Highway 82, the first leg of the Hells Canyon Scenic Byway. We passed through Elgin, then Wallowa, stopped for a latte at the Blue Banana Coffee Shop in Lostine, then on to Enterprise, then Joseph. The further east we got, the prettier the scenery, as the prairies and rivers turned to mountains and streams.
We headed south at Joseph, down and around Wallowa Lake, then stopped at Wallowa State Park for a hike then a stroll. At the Park we saw a Pileated Woodpecker hunting for lunch and spawning Kokanee Salmons in the stream, the landlocked version of the Sockeye Salmon.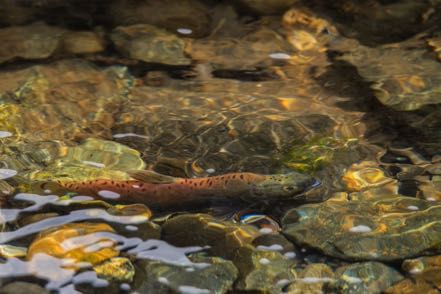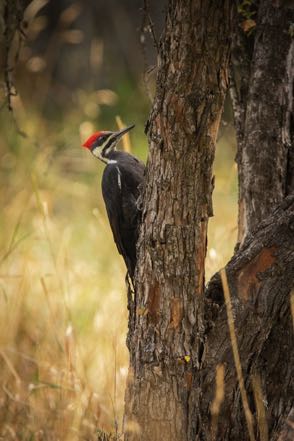 Driving back to Joseph, we headed east on the Wallowa Mountain Loop through forests and along streams past Salt Lick Summit, ending up at Hells Canyon Overlook. Alas, the supposed-to-be-magnificent view was shrouded in a blanket of smoke. Oh, well, it was a magnificent ride.
Joseph
Because of the size of our excursion, we spent the night at a delightful motel and RV park (no we did not drive the rig--we stayed at the motel) less than a mile north of town. The next morning the smoke had cleared, the snow had fallen, and the view of Ruby Peak sparkled among the snow and clouds and fog. Joseph also has a half dozen or so bronze statues lining the main drag. Really cool place.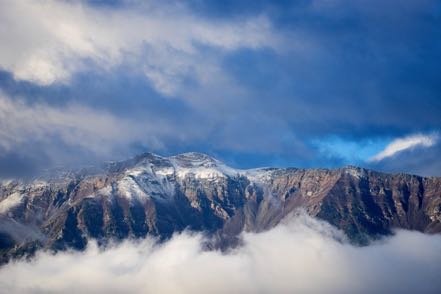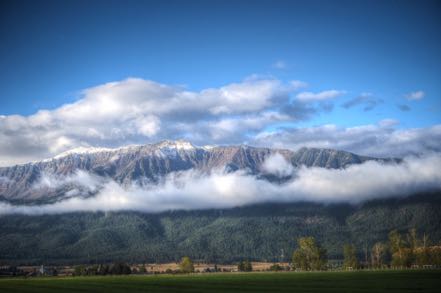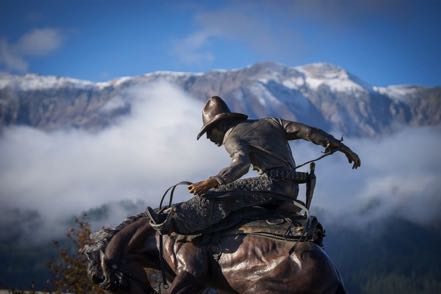 Return Home
For a little variety, instead of exactly backtracking, we headed north and west at Elgin on Highway 204 up into the Umatilla Wilderness. We turned southwest, but instead of passing through Pendleton, we took the back roads to Mission, and then on to the Old Emigrant Trail that eventually lead back to I-84 that we took back to our campground in Baker City.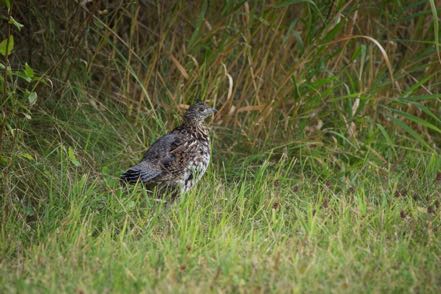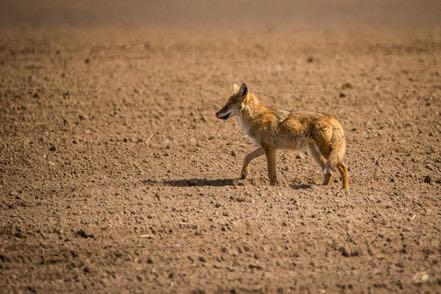 To Hell and Back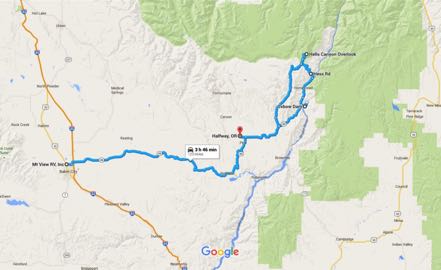 What a difference a few days make! We awoke to a cold but clear day with not a trace of smoke in the air. We headed out east in the early morning chill on Highway 86 determined to complete our travel goals of a few mornings earlier. At Mile Marker 44 we found the reason the road had been closed--the earth on both sides of the road for several miles was scorched like land along the path of Sherman's March to the Sea. We passed through Richland and drove by Halfway on to the Oxbow Dam, where we had stayed at an RV park several years ago.
Our original intent was to continue on the east side of the Canyon and go to the end of the road at Hells Canyon Dam. Instead, we took the dirt road on the west side of the water, 13 miles until the road ended at Copper Creek. Since we had decided we wanted to go see what the Hells Canyon Overlook had to offer in clear light, we were faced with retracing our steps to Oxbow Dam, heading back west on 86, and then going north and east on Forest Road 39. I estimated that this 42-mile trip would take us at least an hour and a half. However, my handy Oregon atlas of back roads showed another option: Hess Road was an 8.3-mile shortcut that would take us within five miles of the Overlook--a no brainer. Yet, there was a price to pay for this "convenience" of shorter distance.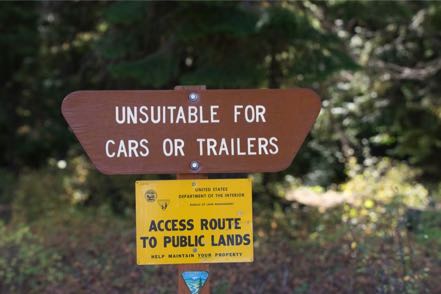 True to the sign's warning, this national forest road was not for the faint of heart--narrow, rocky, curvy, and steep, it rose over 3,800 feet in the short trip. We were rewarded with wonderful views (many straight down), especially along the hairpin curves that held us over the canyon. Actually, it was a lot of fun, especially since we met no other vehicles.
Here is a photo from our Hess Road journey, and one from the Overlook. After lunch we took a hike then returned back to camp. Great trip.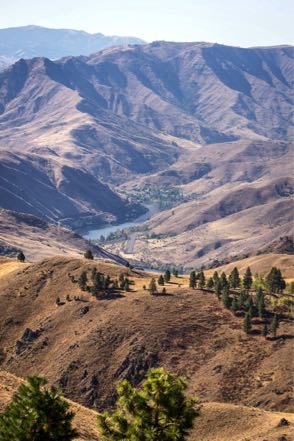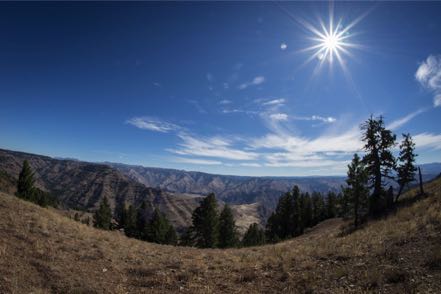 Pups
Here are two pups from the reserve.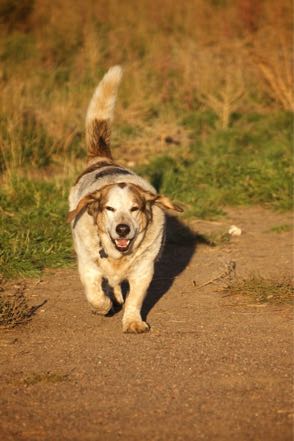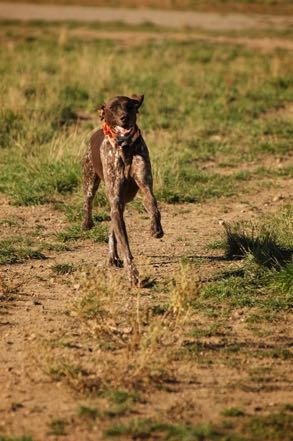 Old Sign
Here is an old sign.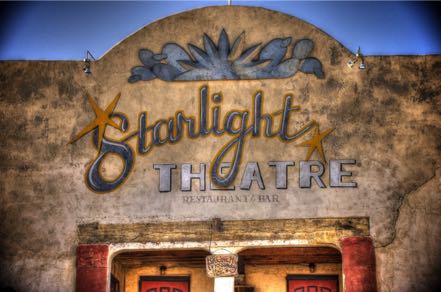 Old Trucks
Here are three old trucks.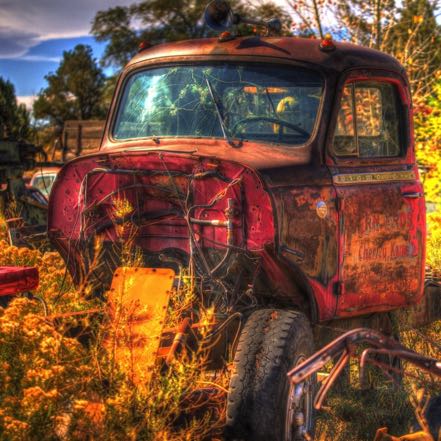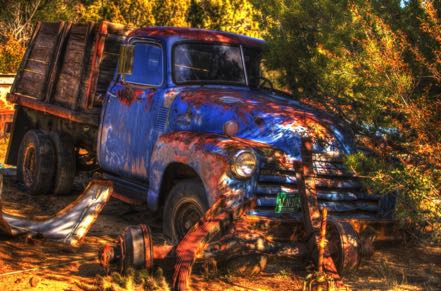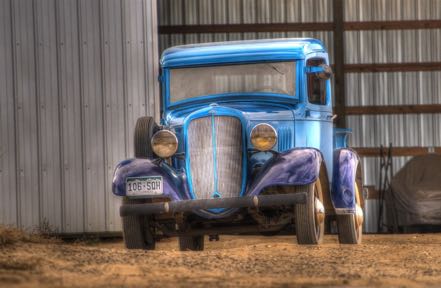 See you soon.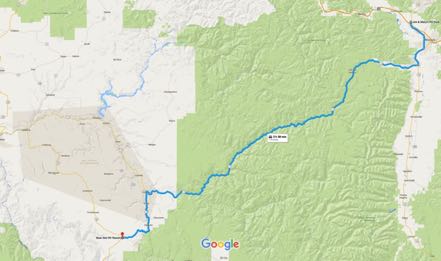 Heading south from Missoula on 93, we turned west on 12 at Lolo, crossed over Lolo Pass, across the border into Idaho, over to Kooskia, and took 13 down south to Grangeville. The trip was only 179 miles, but with the very curvy roads it took us over five hours. Beautiful journey, but it felt good to set up camp just outside of Grangeville, Idaho.
Grangeville Day Trip
From Grangeville, we headed south on 95. It was a cloudy and rainy day, and we were rewarded with dramatic, cloudy skies. Here is a pic that Janny shot right outside of Grangeville, and one I took a little further down, just before the burg of White Bird.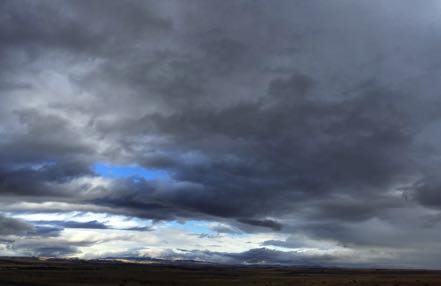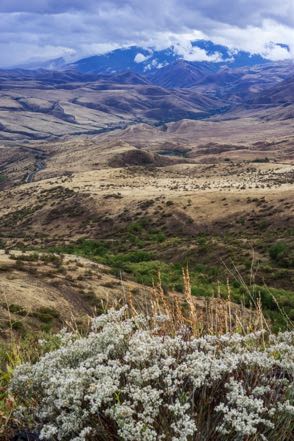 Exiting at White Bird, we turned right after the bridge to take the White Bird Grade (Old Highway 95). The seven-mile stretch averages over a 7 percent gradient. Along with being a lot of up and down, the road constantly zigged and zagged like a Labrador pup unleashed in a meat market.
The Battle of White Bird Canyon occurred in the valley that the drive overlooks. The Indians easily won that opening battle of the Nez Perce War but were later decimated by the vastly superior numbers of the U.S. Cavalry. As was too common the practice, the war was started after the U.S. government reneged on its treaties, lied on its intentions, and stole from the tribe.
Returning to White Bird, this time we turned left after crossing the bridge, taking Road 493 in the Nez Perce Forest for the 17-mile scenic drive to Pittsburgh Landing along the Snake River in Hells Canyon. Wet and chilly, misty and gray, the colors in the landscape sparkled like the eyes of youngsters on Christmas morning.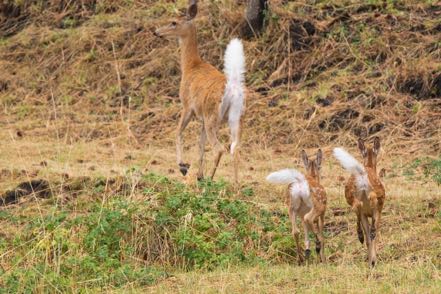 On to Riggins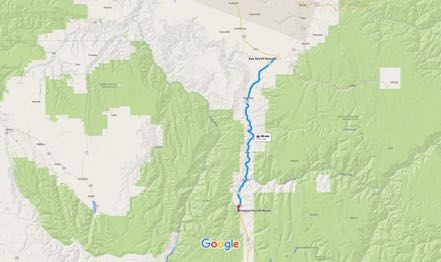 The trip from our Grangeville location to our campground south of Riggins was short but pleasant. Our Canyon Pines campsite was right on the Salmon River backed by the White Bird Ridge. We quickly fell into a pleasant routine: work in the morning, trips into the national forests in the afternoon, early evening sitting outside and enjoying the river and the busy Kingfishers. Here is a shot of our campsite view plus some fishermen across the way.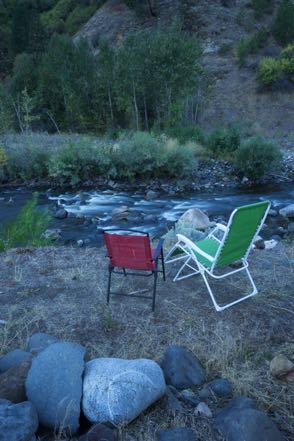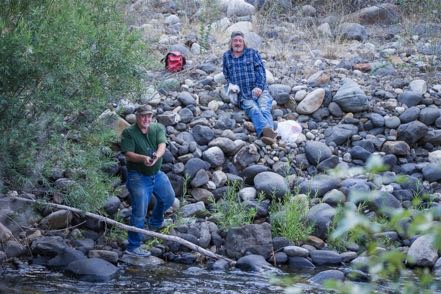 Ponderosa State Park
On a day trip, we took 95 South to 55 East past McCall. We entered Ponderosa State Park and took the loop around the park, searching for red fox among the towering Ponderosa Pine. We found no fox, but found several deer along the way. We took a hike before we picnicked overlooking the water. Very nice park.
Forest Trips
Our trips into the Nez Perce and Payette National Forests included taking the Smoky Boulder Road and Mud Creek Road loop down to Rubicon and New Meadows, taking Rapid River Road to the fish hatchery and beyond, taking the rough and rocky Race Creek Road up past Cold Springs and Cow Camp, and taking the 7 Devils Drive, up past 8,100 feet and on to the Heavens Gate Lookout, where we walked a trail among the remains of an older fire and saw new fires staring in the east. Beautiful scenery with horses and cattle running wild, a deer here and there, and flocks of quail scurrying among the brush. One sign summed up our forest travels: "Caution! Steep, Narrow Winding Road."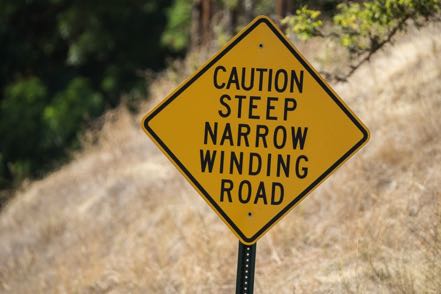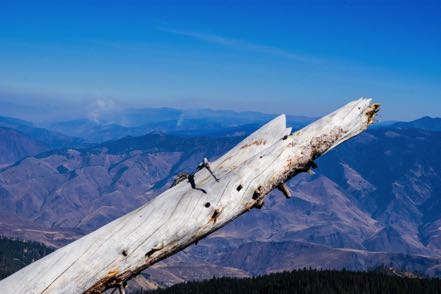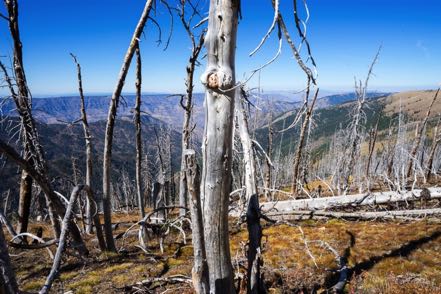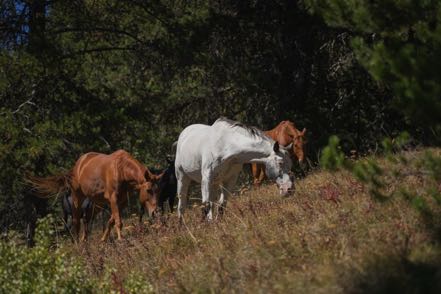 Pups
Here are two pups from the reserve.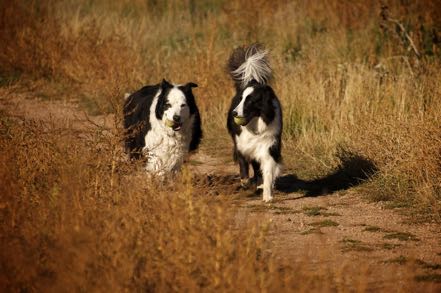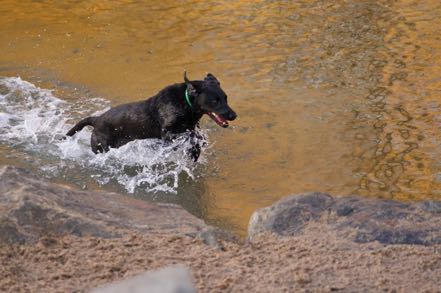 Old Sign
Here is an old sign.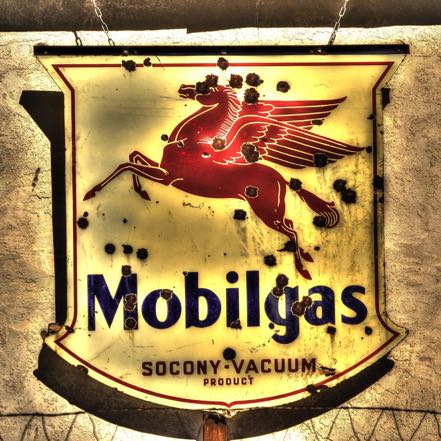 Old Trucks
Here are five old trucks.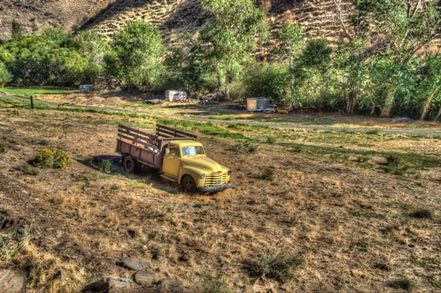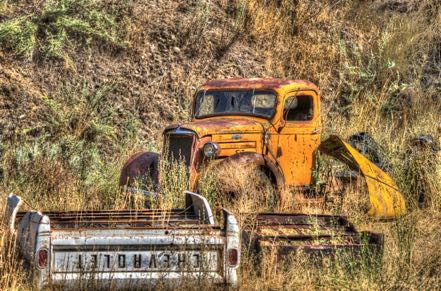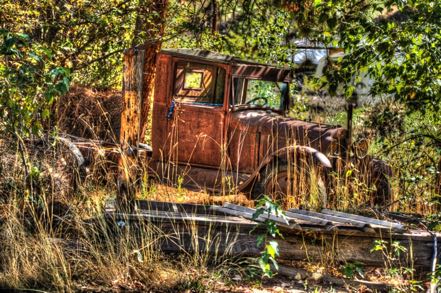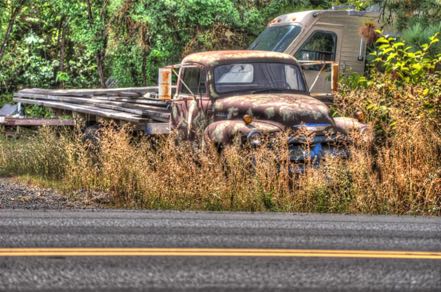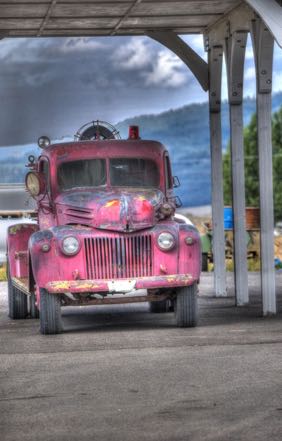 See you next time!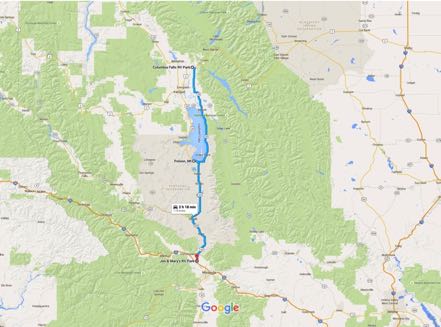 After a great month in the Glacier area, we headed south trying to project regions where there might be little or no smoke from the surrounding fires. We took 206 South, connected to 35 South, which took us around big Flathead Lake. At Polson we jumped on 93 South, which took us all the way down to Missoula, MT. Pleasant and pretty journey.
Bitterroot Road Trip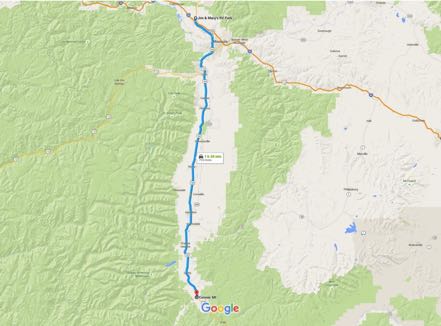 With the Bitterroot Mountains on the west paralleling our journey, we headed south avoiding Highway 93, taking back country roads most of the way, down past Lolo, Stevensville, Hamilton, and Darby, to the little town of Conner. Along the way we took valley roads and mountain trails to check out places like Lake Como and Lost Horse Creek.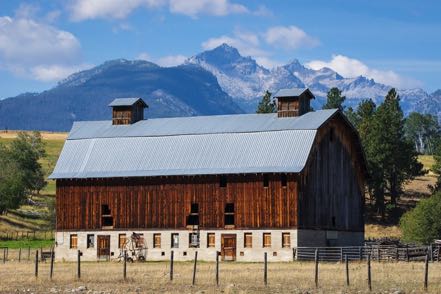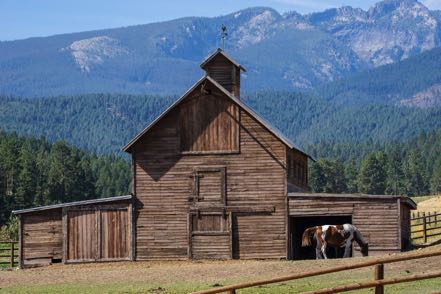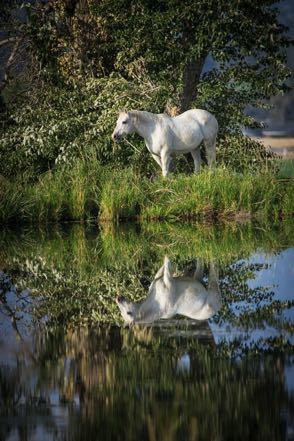 Garnet Ghost Town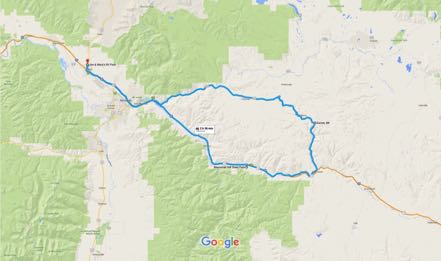 One afternoon we took a gorgeous drive heading east on Highway 200 for about 30 minutes. There we turned onto the Garnet Forest Road (also known as the Garnet Backcountry Byway) heading up and around on gravel for 11 miles. Here we viewed the well-kept Garnet ghost town before heading southish on another path. Bear Gulch Road was a one-way, seriously winding trail of sorts, composed mostly of rocks, holes, and bumps. After an hour-and-a-half or so we covered the 16 miles to civilization and returned back to camp via the Interstate.
National Bison Range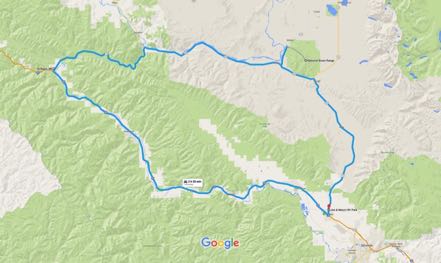 We drove north on 93, and then west on 200 to the National Bison Range. I was a little hesitant to go there, as the hard copy and online publicity about this destination was secondary or tertiary to other NW Montana "must do's" and usually verbiage was limited to one or two lines. Boy, was I happily surprised to find this awesome 19,000-acre national wildlife refuge.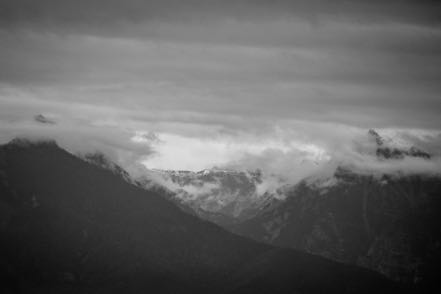 As a light rain drizzled, we drove the 21-mile loop up along the mountains and through the valleys, constantly being serenaded by meadowlarks. We saw only a half dozen cars over our two-and-a-half-hour journey, allowing ample time for photos and gawking. Along with bison of course, we saw several pronghorn, a coyote, a flock of ruffed grouse, small herds of mule deer, and a black bear devouring berries.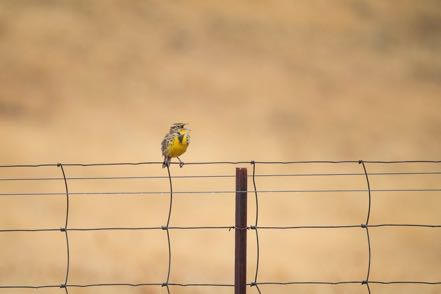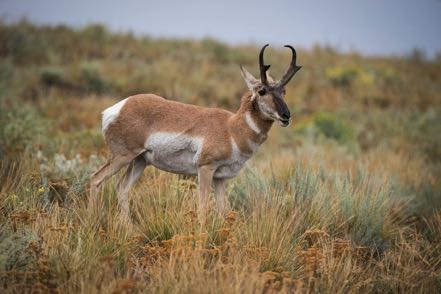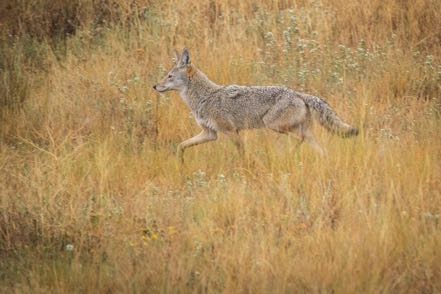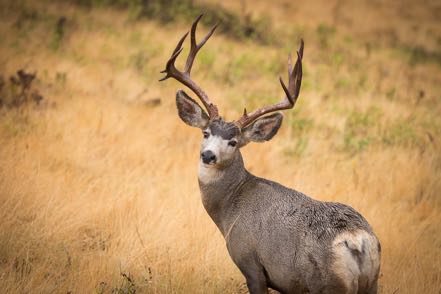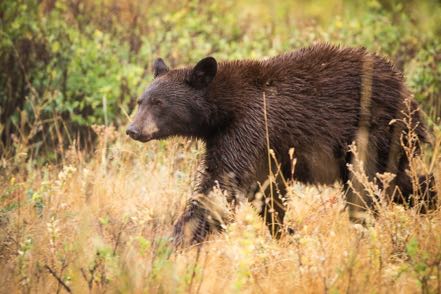 I'd highly recommend this place to all nature lovers. It made our last day in Montana a memorable one.
St. Regis Paradise Scenic Byway
After the National Bison Range we continued west on scenic 200 West, until just south of Paradise the highway turned into an "official" scenic byway, the St. Regis Paradise Scenic Byway--tall, treelined mountains, rolling rivers…you know the schtick. Hard to describe, but worth trying.
Pups
Here is a Dog Fight shot and a Happy Boston from Columbia Falls Bark Park, a brown dog from the Missoula Pup Park, and a Truck Pup from a parking lot.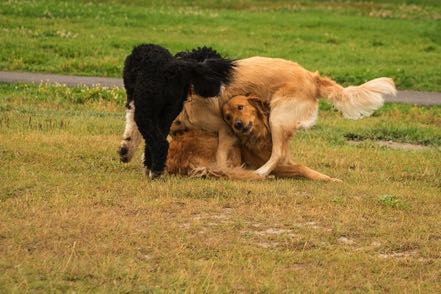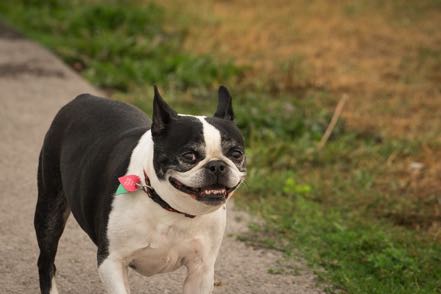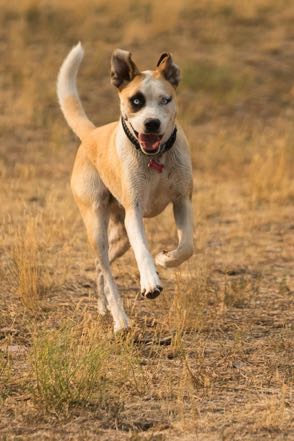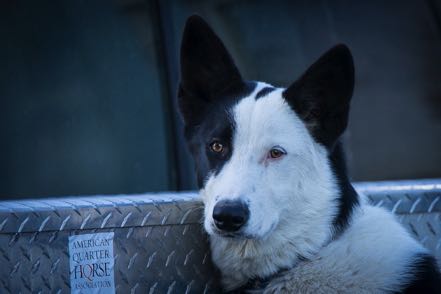 Old Sign
Here is an old sign from the Old Sign Reserve.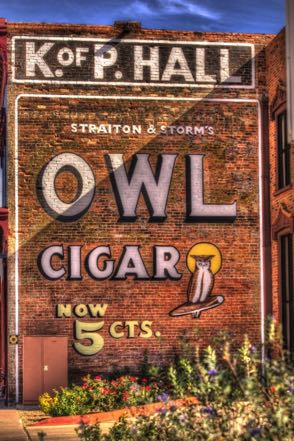 Old Trucks
Here are three old Montana trucks.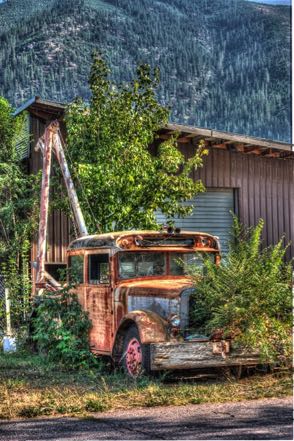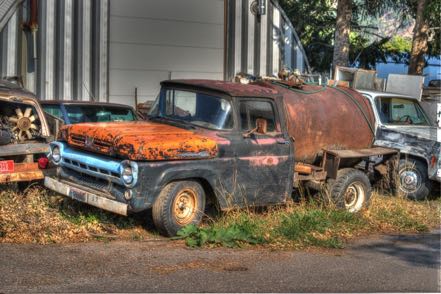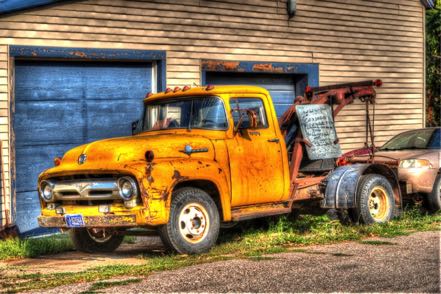 See you next time.