From Bend, Oregon, we drove 90 miles or so south and a little west on highways 97, 138, and 230 to Diamond Lake in the Cascade Range and within the Umpqua National Forest. We camped for five days in this isolated, tranquil, and inspiring wilderness. Days started out in the brisk high 30s, and then warmed through the day to low to mid 70s. Every time we took a trip we were greeted by Mt. Thielsen.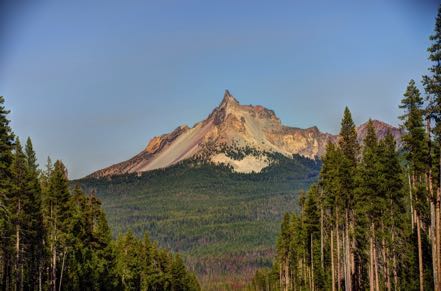 Note: If you make Diamond Lake a destination, bring plenty of provisions, as you are over 80 miles from the nearest supermarket.
Crater Lake
Crater Lake National Park is just a few minutes south of our campground, and we visited twice during our stay. Formed by volcanic implosions, its crystal-clear blue waters are the deepest of any lake in the country. Here is a pic from our morning trip and another from a later afternoon.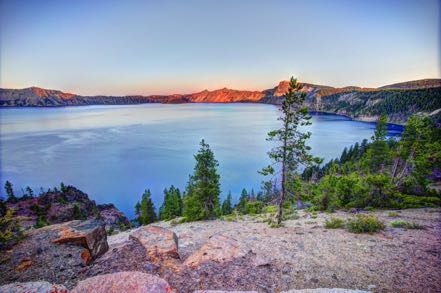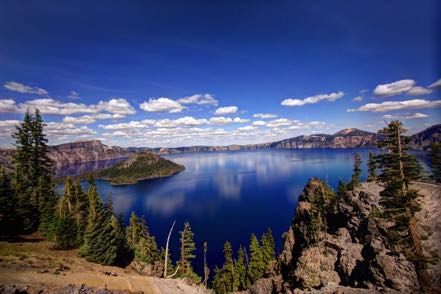 Critters
Here is a red-tailed hawk just launching on a hunting mission at Crater Lake, and three Stellar Jays that liked the peanuts we tossed them while sitting around our campfire. Here is a puffed up papa, a female that liked to dive at Jerry, and a curious youngster.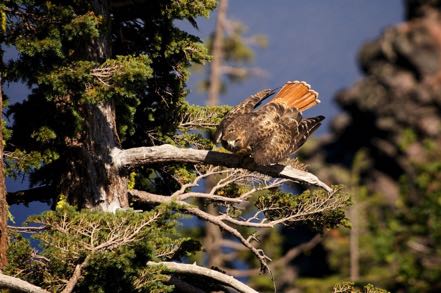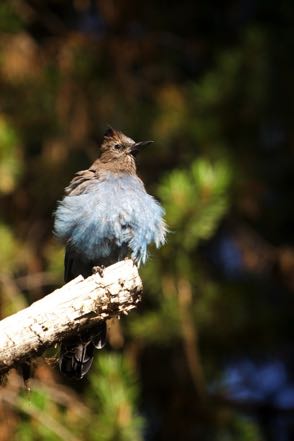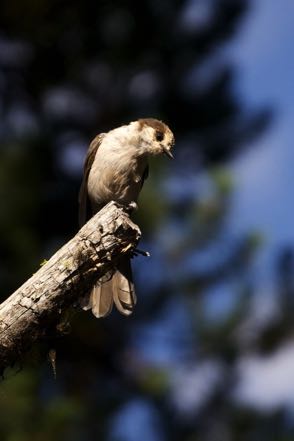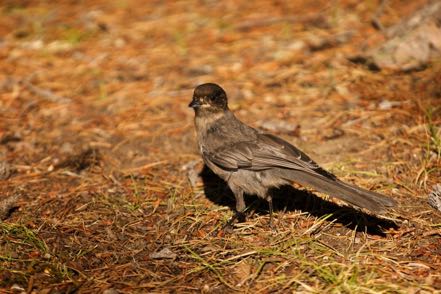 Waterfalls
Within 18 miles of our campground are six waterfalls. Short hikes of a half-mile to a mile through forests with huge trees led us to the falls. The air was so fresh and sweet with the smell of pine that it almost hurt your lungs! Here is a shot of Toketee Falls and Watson Falls.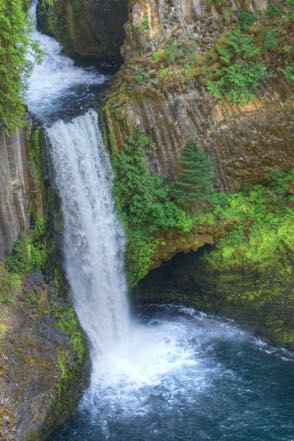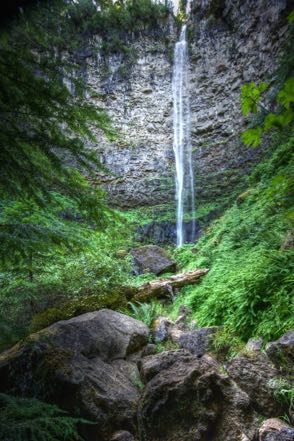 Reflection and a Slug
Along the trail to Watson Falls I shot this reflection and this very black, very slimy slug.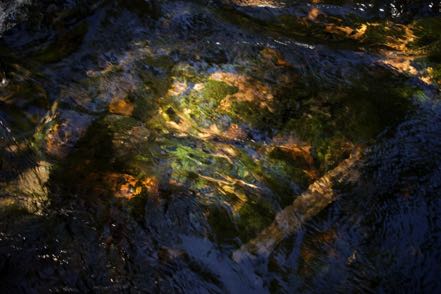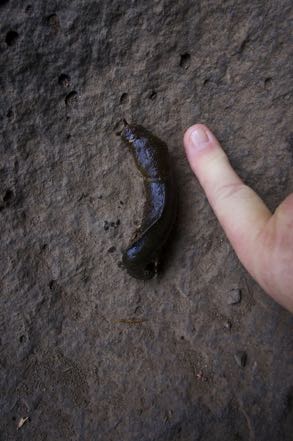 Mitzy and Jerry
Here are shots of our RVing canines-a-resting, Mitzy and a sleeping Jerry. They look quite good in the afternoon light, don't you think?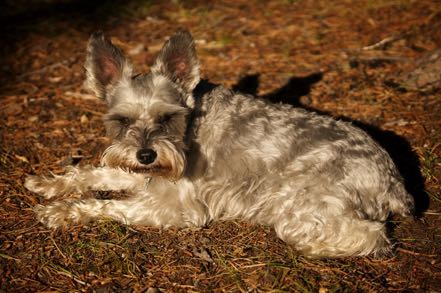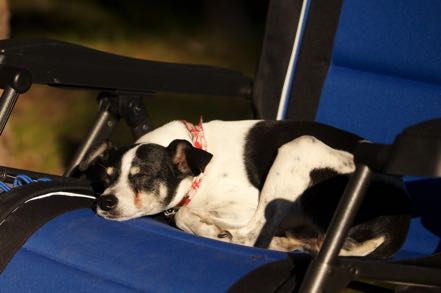 Old Trucks
Here are three good-looking old trucks.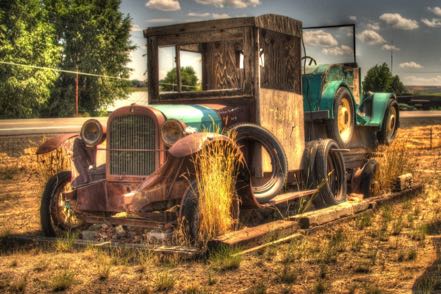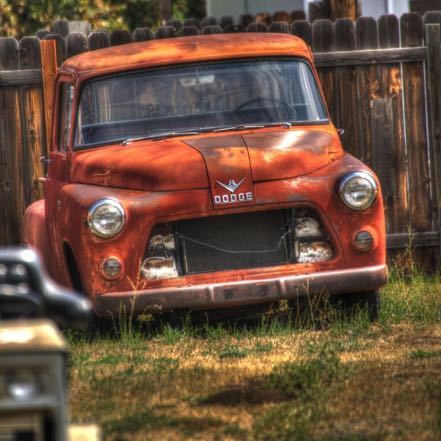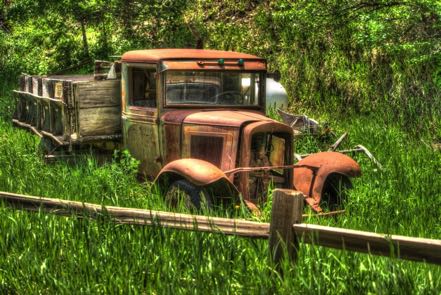 See you next week.
After our stay at Grand Teton National Park we crossed over the mountains, headed west across Idaho, and ended up in Redmond, Oregon, in the central part of the state. I had a quick three-day trip to Memphis to work with a great client, and then returned back to Redmond to participate in the FMCA rally of 1,500-plus motorhomes.
This week I skipped the landscapes, critters, and portraits and just concentrated on Old Trucks of Oregon.
Old Truck Extravaganza
Here is a selection of old Oregon trucks, including one of my new friend standing by one of his beauties.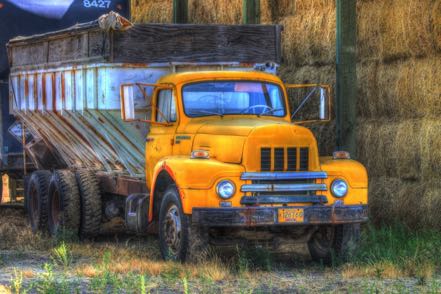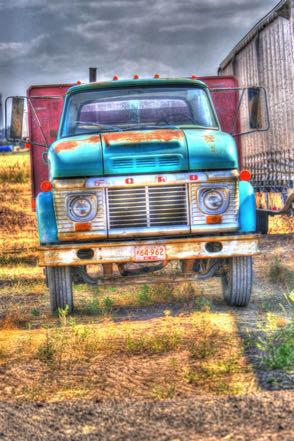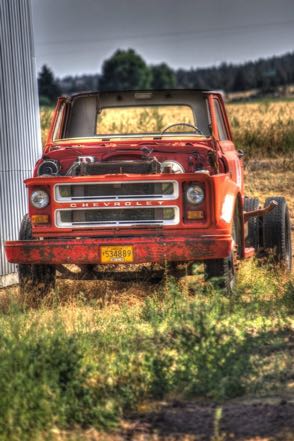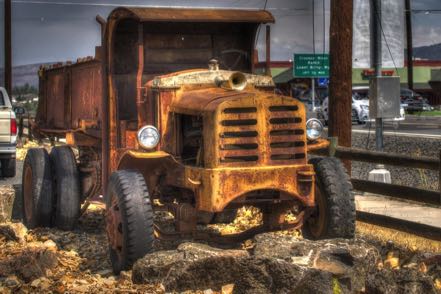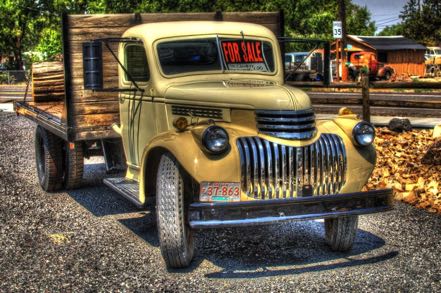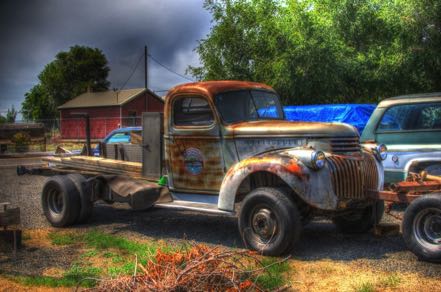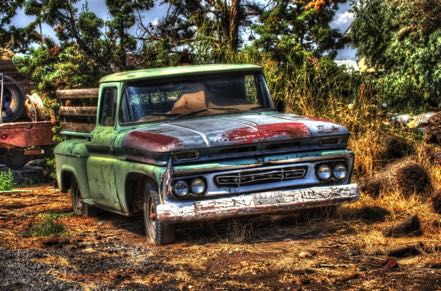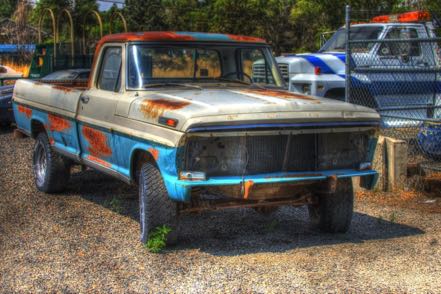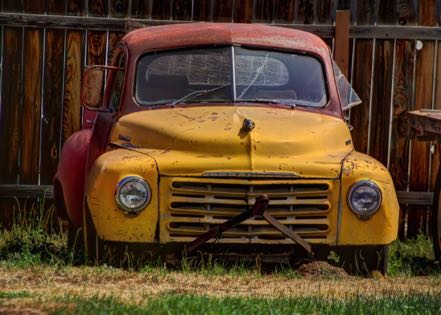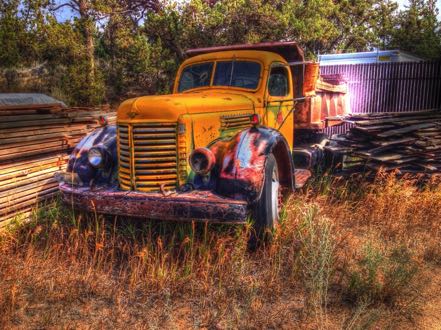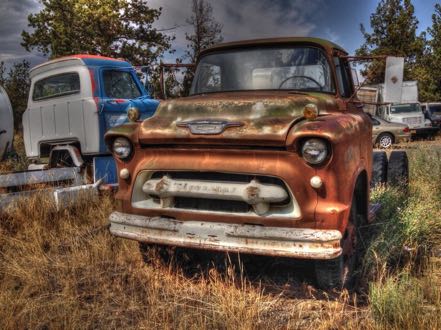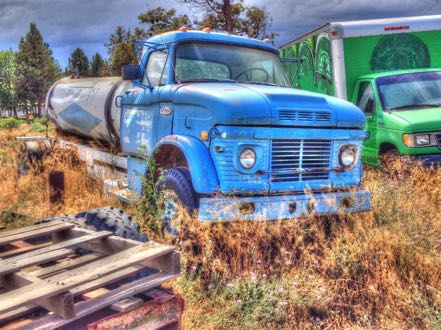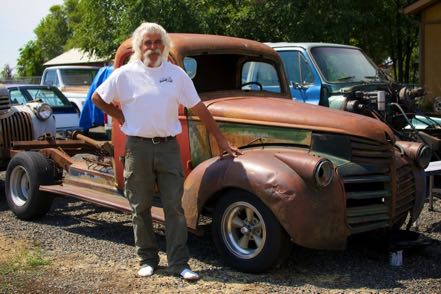 See you next week!
Quick Trip to Chicago
I started off the week flying to Chicago for a three-day engagement with a great client. Glad to have been there, but gladder to return to the West.
North from Colorado
After two-and-half months in Colorado, we packed up the bus and headed north on I-25, easing our way through the heavy Denver traffic. At Fort Collins we took Colorado 14 west, and then headed north on 287 into Wyoming, passing through Laramie, Rawlins, Riverton, and Dubois before setting up camp at the Grand Teton RV Resort, just six miles east of Moran Junction within the Grand Teton National Park.
Grand Teton is a beautiful park and one of our favorites. The Teton range appears like elite guardians, standing ramrod upright protecting Wyoming from any dangers from the west.
We spent three very full days up way before dawn sipping hot, black coffee watching sunrises with cameras atop tripods in the chilly air, and then heading out searching for critters, taking traditional routes, special photog secret headings, and off-road (are you crazy!) paths less traveled.
Many of our trips were bordered with wildflowers framing the scenes with a thousand colors. Mountains and meadows, streams and rivers, waterfalls, forests, and hills…makes my eyes sore just recounting the vistas. Just a wonderful time.
Landscapes
Here are some pics of iconic locations: a couple of sunrises at Oxbow Bend and three from Schwabacher Road. The third shot from Schwabacher is of Jan, patiently awaiting my return after I spent an hour (maybe two) following a momma moose and her baby (pics later) along the Snake River.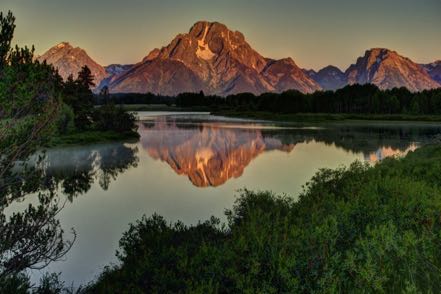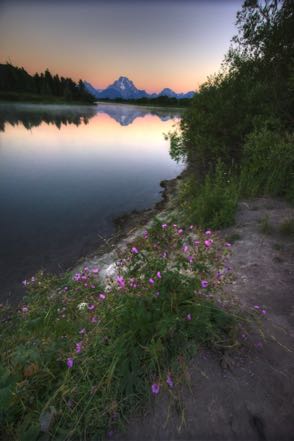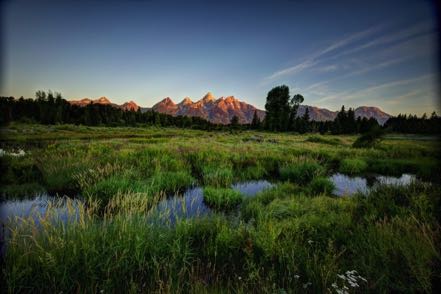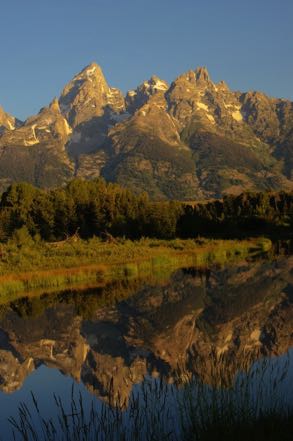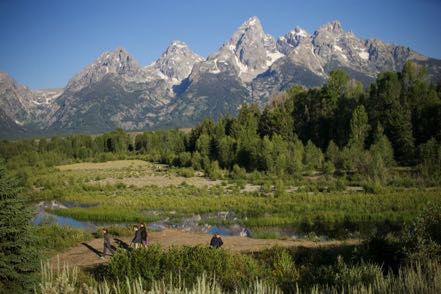 Critters
During our time in the area, we saw lots of birds, plus bison, elk, moose, pronghorns, prairie dogs, a coyote, dusty grouse, a badger, and a very handsome yellow-bellied marmot.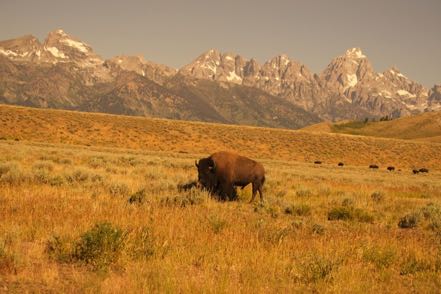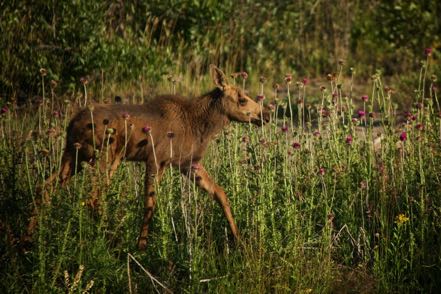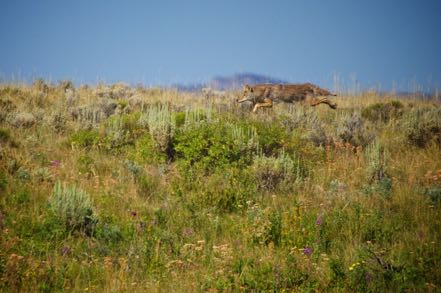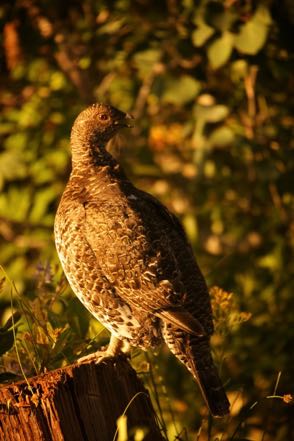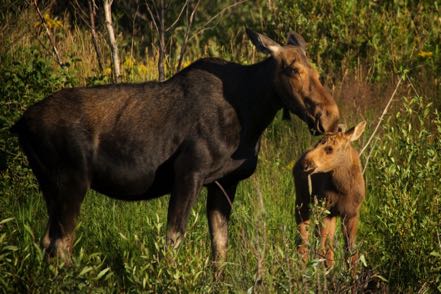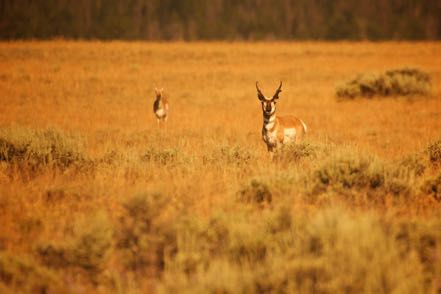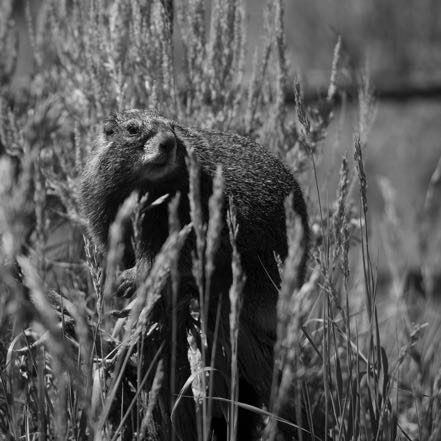 This and That
Here are a few pics from road trips, including a shot Jan took of Trapper Viewing Otter--Hint: look at the clouds.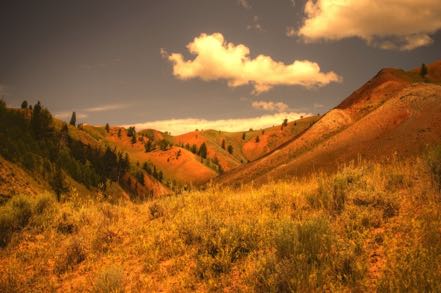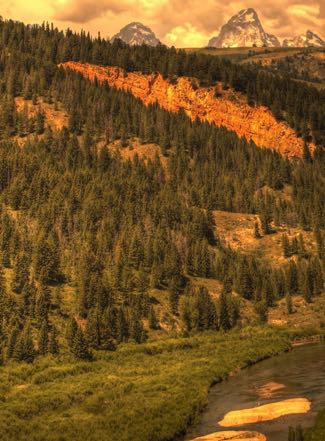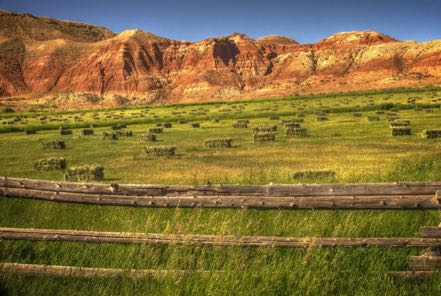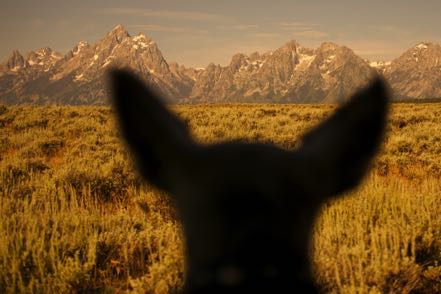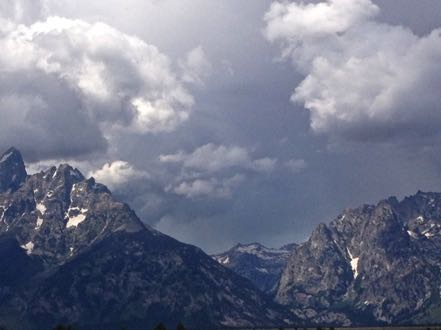 Cairns
Years ago Jan started the custom of building cairns in special places to honor special individuals that have passed on. This week we continued this tradition, building three cairns along and in the Gros Ventre Creek where it cuts across historic Morman Row within the Grand Teton National Park.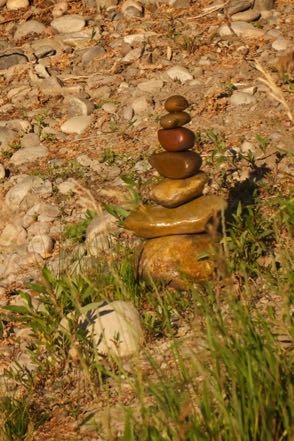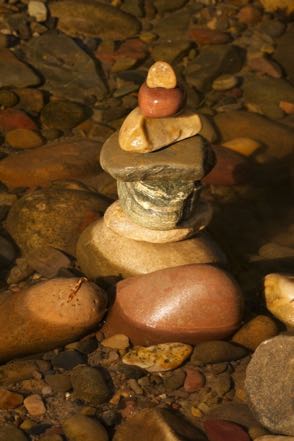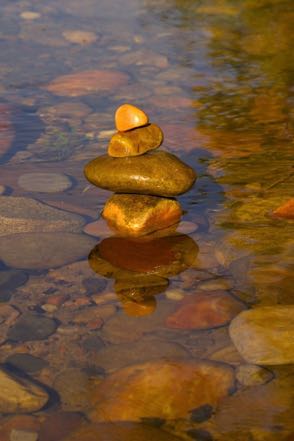 Jan's Old Signs
Here is a fish sign that Jan took a fancy to.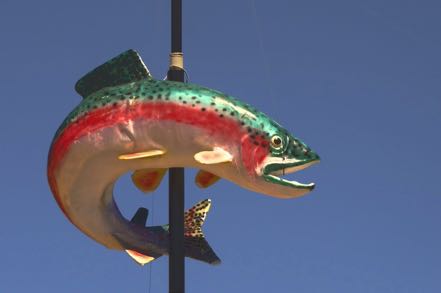 Old Trucks
Here are three old Wyoming trucks.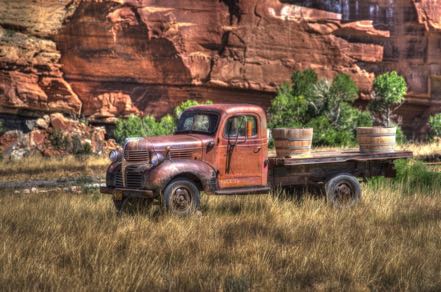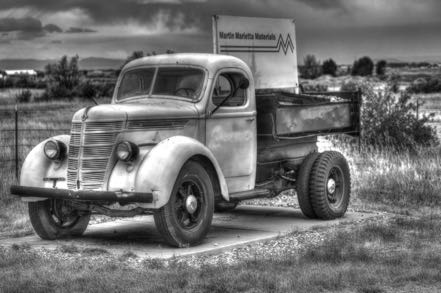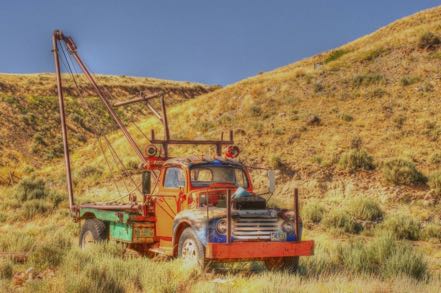 See you next week (oh, I hate to leave this place).