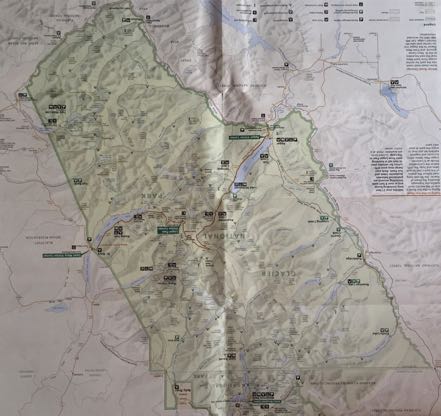 Since my last blog, we have been exploring the million-acre Glacier National Park and the surrounding northwest Montana area with friends. Small fires in the eastern part of the park initially burning 1,500 acres have expanded into larger fires burning over tens of thousands of acres. Firefighters from all over the country armed with explosives, water-dumping helicopters, and lots of guts have worked round the clock trying to control damage. With over 100 fires burning now in the west, depending on wind direction, the air quality ranges from slightly irritating to difficult to breath.
On the negative side, the fires stress the wildlife, put people and man-made structures at danger, and are a bummer for sightseeing tourists. On the positive side, the fires (at least in the park) are removing old, often diseased trees and planting the seeds (literally) for new, healthy growth. It will be a few years, but the change continues.
Going to the Sun Road
In spite of the fires and smoke, we had several nice drives on the spectacular 50-mile Going to the Sun Road that crosses the park east to west.
Right before Logan Pass, we watched a family of mountain goats forage and play.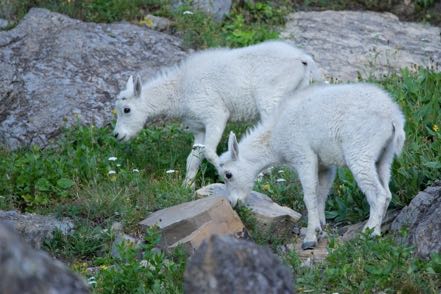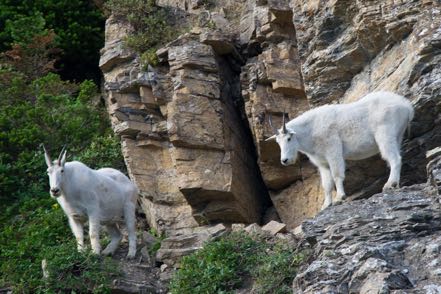 Later, in the same location, we saw a herd of Bighorn sheep troop down the slope in single file.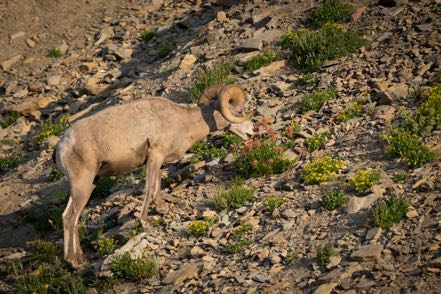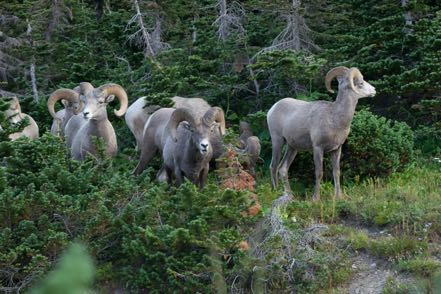 Hidden Lake Trail
Right at Logan Pass we took a gorgeous hike on Hidden Lake Trail, which coincidentally ends at Hidden Lake. With Clements Mountain imposing upward, we walked through the wildflowers of the alpine meadows (named the Hanging Gardens), stopping often for the photo opps that kept getting better.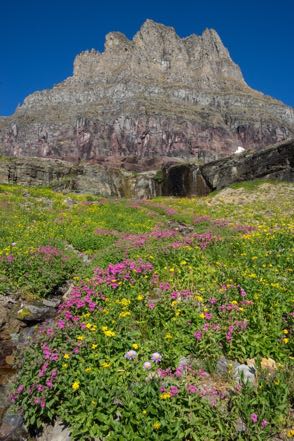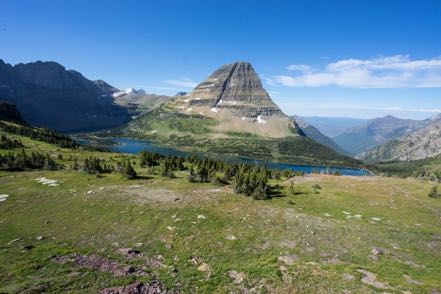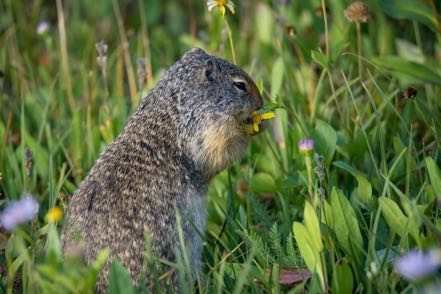 Past Logan Pass we drove through the blackened tree trunks and charred earth of recent fires on down to St. Mary's. From there we drove north and then west into Many Glacier, where we hiked the Swiftcurrent Trail around the lake and by the lodge.
Also Within the Park
Also within the park, we took drives on Camas Road up toward Polebridge, once taking a National Forest road up the mountain. On another drive, we saw this young bear outside of Fish Creek Campground.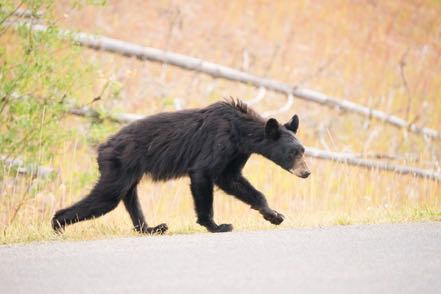 We hiked along the shore of Lake MacDonald and also took a cruise of the lake. Another time we took the Trail of the Cedars as a break from hunting for critters.
We took several short full-day trips outside the park.
Hungry Horse Dam
We drove past Hungry Horse Dam and saw this impressive cloud from the eastern fire in the park.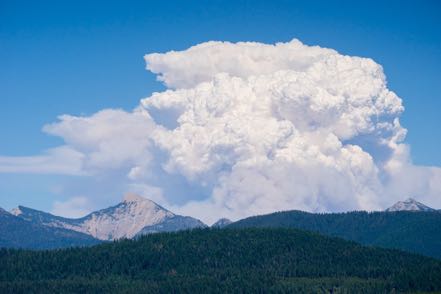 Big Loop
Another time, instead of returning to our camp from St. Mary via the Going to the Sun road, we looped around the park first on 89, then 49, and then on Highway 2, following the hairpin curves into East Glacier Park and back around through Walton into the small town of West Glacier, and then back to Columbia Falls.
Flathead Lake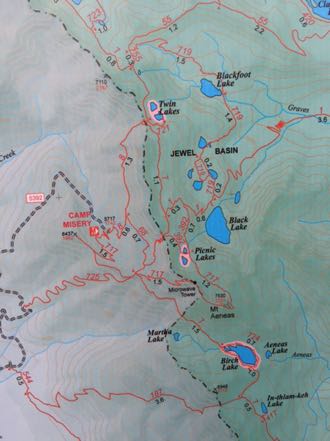 Our hike to Twin Lakes in the Jewel Basin was cut short about two-thirds of the way up the mountain by a sizable streak of lightning followed immediately by an attention-getting boom of thunder. Being fast learners, we quickly turned around eyeing the boisterous skies while we steadily moved through the rain. (Mitzy chose to make the journey in my arms instead of walking.)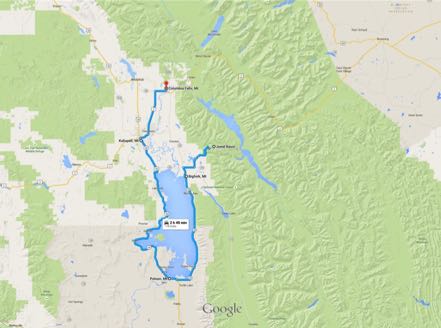 We moved to Plan B, driving to and then exploring the town of Bigfork at the northeast corner of Flathead Lake. From there we circled this very big lake, heading south to Polson, and then back up the western side.
Kootenai Falls
On yet another day, we took a big day trip, first heading west on Highway 2, taking our time enjoying the scenery of this sparsely traveled road. Right outside of Libby we stopped at a museum and wandered among the old cars, trucks, railroad equipment, etc. Stopping from their restorative work, three volunteers gave us the past history and the future plans of this old locomotive.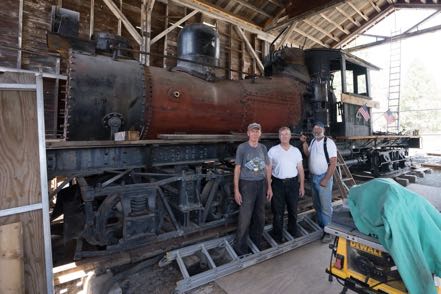 Traveling past Libby we stopped at the Kootenai Falls trailhead for a picnic in the woods. From there we took the short but pretty hike to both the Kootenai Walking Bridge and then the Kootenai Falls. We are fortunate to have visited many waterfalls in the West, but this one ranks right toward the top.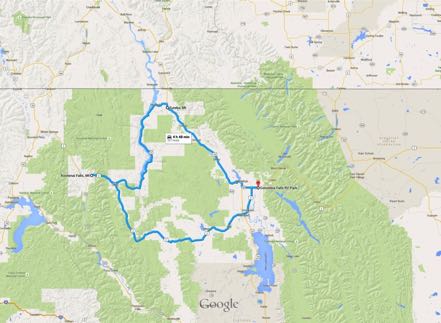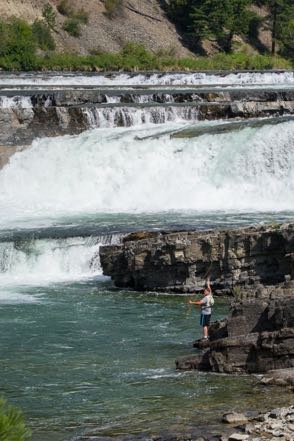 From there we backtracked to Libby, and then picked up highway 37, a scenic byway that hugged the eastern coast of the Lake Koocanusa all the way to Rexford then to Eureka. Just southeast of Eureka we spotted more fires.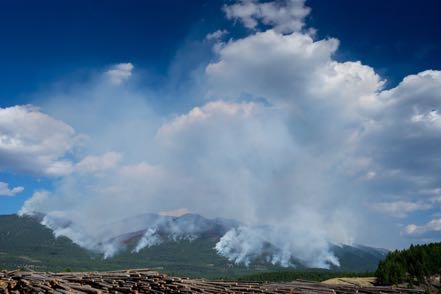 Pups
Here are two pups from the reserve.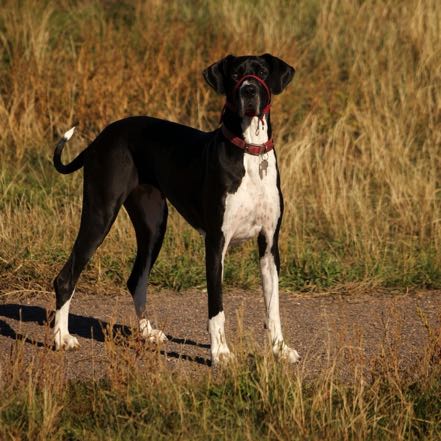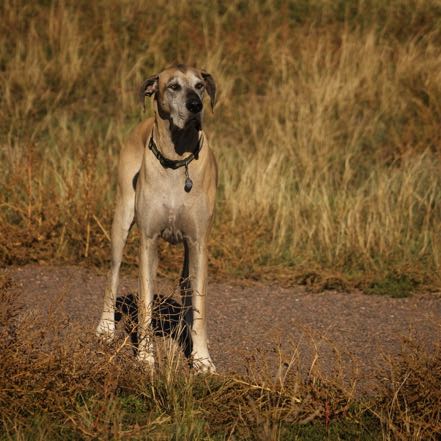 Old Sign
Here is an old sign.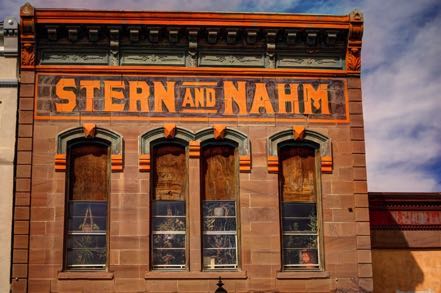 Old Trucks
Here are four old trucks.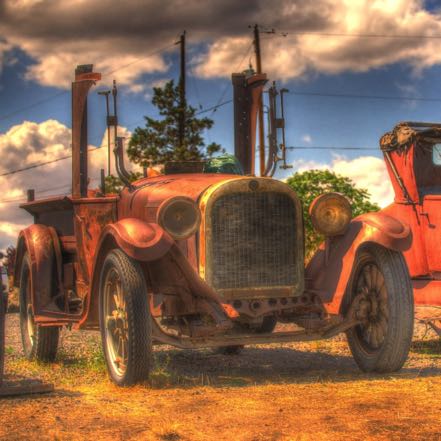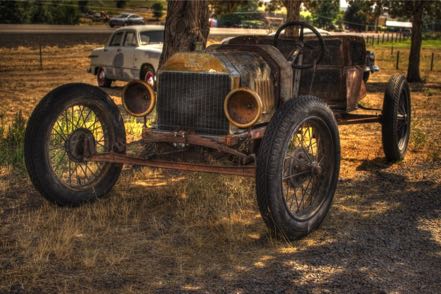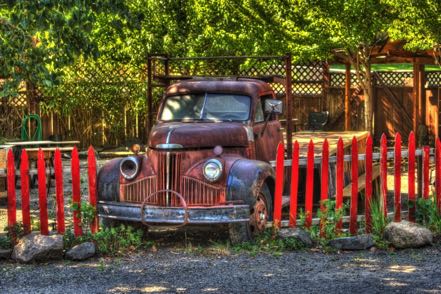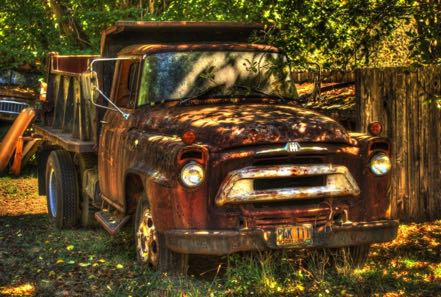 Closing Comments
Glacier National Park is an awesome hunk of the United States. If you are interested in visiting, I suggest you come soon--all the glaciers are predicted to be gone within 20 years.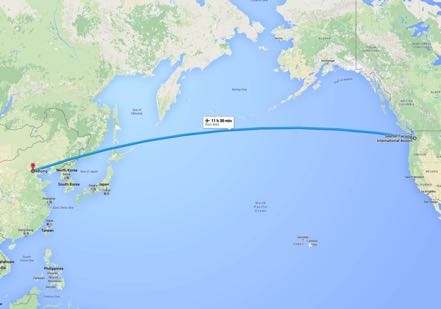 Big Bop to Beijing
After a quick hop from Kalispell to Seattle and a brief layover, I took the big bop 11-hour flight to Beijing. After passport control, immigration, and a quick change of currency, I hailed a taxi. Knowing the cabbie would probably be quite limited on English proficiency, I handed him a map to the hotel with streets labeled in Chinese. He nodded his head, pointed to the fare on a laminated sheet, and when I nodded acceptance we shot out of the taxi line like the lead Huskie in a dogsled race.
Bobbing and weaving through the heavy traffic in the rain we made the hour-long trip in 40 minutes. Thankful to have arrived safely, I checked in asking the person at the front desk if it was possible to get a room on a high floor with a view for photography. He nodded, studied his screen, and gave me my key card.
Accessing my room, I had to squint to see the far wall…my new best friend at the front desk had given me a suite the size that a high-roller in Vegas would approve of. After taking a half hour to fill a round bathtub the size of a large cattle trough, I soaked in the tub letting any stress, kinks, and jet lag float away. I was asleep before midnight. (BTW, the window view was lousy, but no complaints.)
Forbidden Tour
On my day of rest before work, I took an all-day tour. We started at Tiananmen Square, the world's largest public square and the historic and culturally significant location of important Chinese events over centuries. Thousands were there (mainly Chinese) with hundreds of tour-group leaders waving colored flags and barking through bullhorns attempting to keep their herd of followers in line. From there we walked to The Forbidden City, the largest imperial palace in the world.
Leaving the city, we drove an hour and a half north for lunch in a small café in a small village. The food was great, but don't ask me to pronounce what we ate. Twenty more minutes and we were at the Mutianyu location on the Great Wall. Foggy, smoggy, and rainy in the morning gradually transformed into sunny, hot, and steamy as the day progressed…kind of a summer-in-Florida day.
We took a ski lift up to the Wall, and then walked along the stones of a mile-long section of the 6,000-kilometer fortification built over three dynasties and several centuries. Scanning to the north, I visualized the Chinese sentries patrolling their section, forever watching for an army of fierce Mongols to come riding upon their war ponies ready to attack.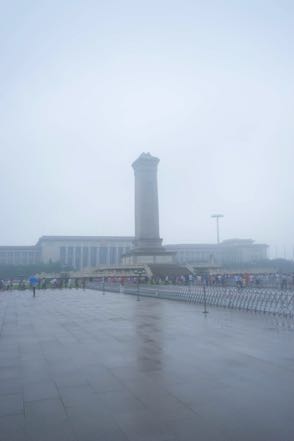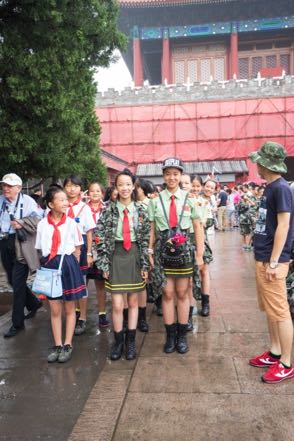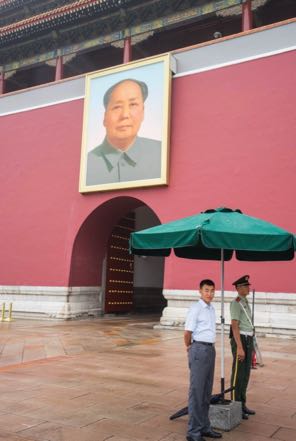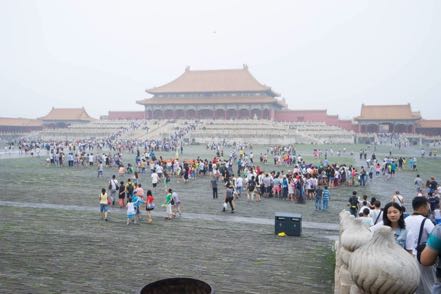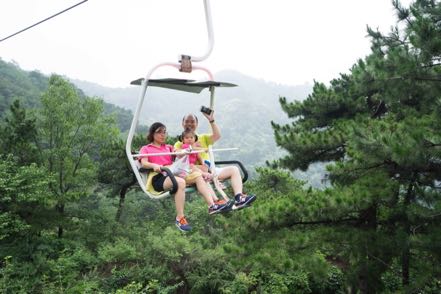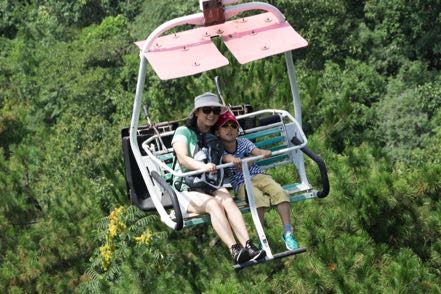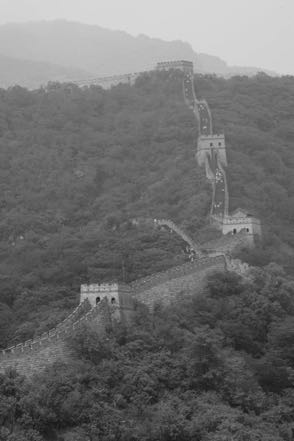 Work, Work, Work
For most of the week I worked with the China teams of a long-term U.S.-based client. Great young professionals eager to learn--a pleasure to work with.
Big Bop Back
By Friday I was ready to head home. After an uneventful taxi ride, I showed my passport, put my bags through the detector (all bags must be scanned, except backpacks of any size [some large enough to contain a small nuclear device], walked over to the Delta check-in, scanned my passport, and printed out my boarding passes at the kiosk. A long walk down the hall and I entered passport control, getting my passport and boarding pass stamped and my departure card taken. In fifteen feet I was at the security station, passport and boarding pass reviewed, once again, and back into the queue. Through their scanner I placed a ziplock bag containing liquids, my laptop, iPad, camera, extra lens, electrical connectors, and, of course, my dangerous travel umbrella.
After a fast frisking by a frenzied female security agent, I felt a tinge of relief--almost done. Another long walk and I was at the "VIP" lounge for a stale beer and stale peanuts, and then on to the boarding area for another line, a review of passport and boarding pass, and another quick frisk as I walked through the line of about 15 young security folks--some trying to look tough, a few smiling, and most paying no attention at all.
Sitting in my seat I finally started to relax and scanned the movie selection as I settled in (I usually select action shoot-'em-ups because Jan doesn't like them). Soon, our captain announced a two-and-a-half-hour delay due to major congestion and troubling weather. Resigned to the situation, I watched one of the Avenger movies as the skies darkened and the crew talked to each other in low voices. By now you know how this goes: At four hours of delay they cancelled the flight due to flight crew work limits.
It took 40 minutes for the gate crew to come out to unload the full plane (later we found out it was not because of lack of manpower, but passport control didn't know what to do. One by one, we "re-entered" China, and then were told to wait in a group. Finally, we went back to the check-in area where we individually had to go up and get a stamp indicating the hotel they were putting us up in. From there we waited in more groups, and then waited outside. Then we walked about a quarter mile in the rain among traffic, through puddles, and the smell of diesel exhaust. Loading buses, everyone had to wait until all three busses were full before we trekked to the Crowne Plaza about five miles away.
At the hotel, the tired group moved en masse to the front desk, with many raised voices. Soon, we were told that all of us "orphans" were to head to another area dominated by an ancient Xerox copier. It was translated that they would photocopy each passport and then give out room keys. However, the power outlet did not work, so after several minutes of frenzied problem solving, the copier was moved to another area and people started to queue up, with people jostling for spots up front.
I thought I might witness a murder or at least an act of physical harm as someone, who must have been a tour guide, held up his hands with at least 50 passports. He was booed and pushed out of the line where he sulked back and developed a subversive strategy of having members of his group hold on to four or five passports. Four hours after de-boarding the plane, I was on my way to my hotel room and in bed by midnight.
The next morning after Skyping Delta and having breakfast, I was back on a bus to the airport to repeat the process of the day before. The Delta gate agents were 20 minutes late manning their posts as their big boss huddled them together explaining what to do and apparently encouraging them to do their best.
Reflections on Beijing
In many ways it is not fair to share reactions about a location one has had only a snapshot of time viewing, but here are a few personal reflections anyway:
The drivers of the eight million cars in this city of 25 million drive like they walk--pulling alongside to overtake each other, zipping in front of other vehicles for any advantage. They honk, not accompanied with a middle-finger gesture out of rage, but they honk as a warning that they are coming through, so get over, speed up, or back down. Buckle up, grab your bag, and close your eyes is solid advice when riding.
Put your head down, don't look around, and move with determination is my advice when advancing through a line or moving ahead in pedestrian traffic…be polite and you'll arrive for lunch at dinner time. Another aside is that most of the automobiles are full-size and many are SUVs. Gasoline is a little over the equivalent of $4 per gallon.
Pups
Here are a couple of pup pics.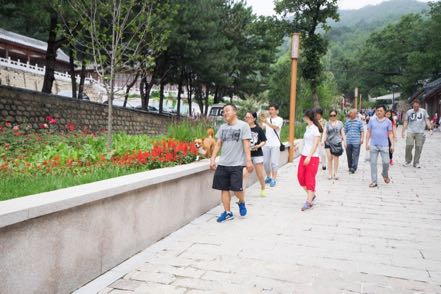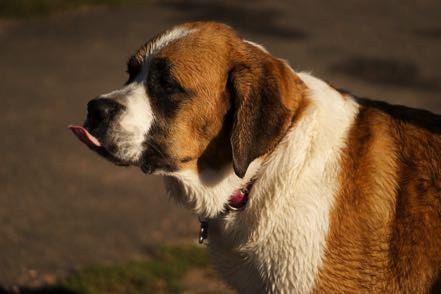 Old Signs
Here are two old signs.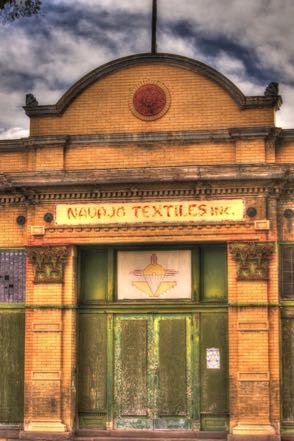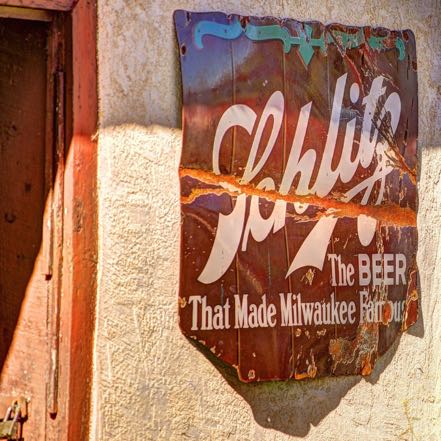 Old Trucks
Here are four old trucks.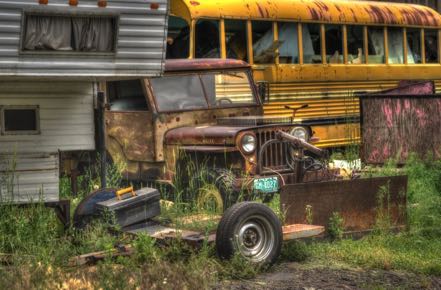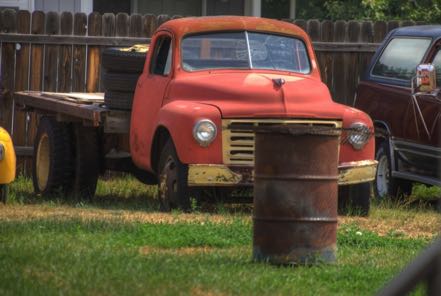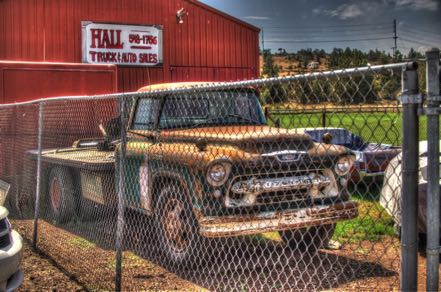 See you soon.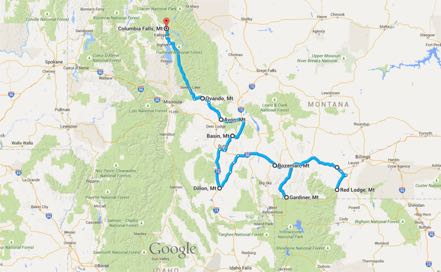 With very wide eyes we have been awed by the big skies of Montana. From Red Lodge we journeyed to the northwest entrance village of Gardiner. Searching for bears up Jardine Mountain we found bull elks playing in the tall grasses surrounding a lily pond.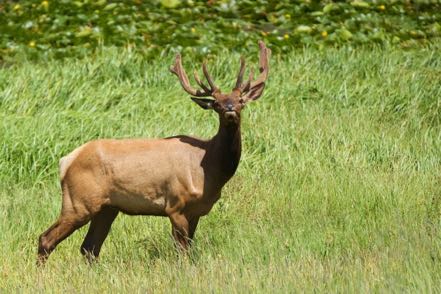 Toward the peak of the mountain on a very narrow trail amidst thousands of wildflowers, but not much else, our journey came to an abrupt end as we heard the unmistakable sound of a sidewall blow out. Out of cell-phone range and the AAA's of the world, I cautiously unloaded the back of the Jeep with fingers crossed, raised the spare tire compartment lid and was pleased (no delighted) to find a full-size spare full of air, along with what looked like adequate tire-changing gear. Relieved not to be trekking eight miles or so down the mountain, Jan and I took our time and changed the tire successfully.
We had several more off-road excursions and day trips, e.g., a hike to Palisade Falls and a drive on the Bridger Range scenic tour as we moseyed on to Bozeman, visited Dillon and its ghost towns, meandered over to Basin, the home of the radon-oozing old mines, promoted as cures for whatever ails one. We viewed the silver and gold and copper mines of Butte and Anaconda, and ventured up to Columbia Falls, the gateway to Glacier National Park. Everywhere were mountains and valleys and lakes and rivers and wildflowers and critters…what more could you ask for?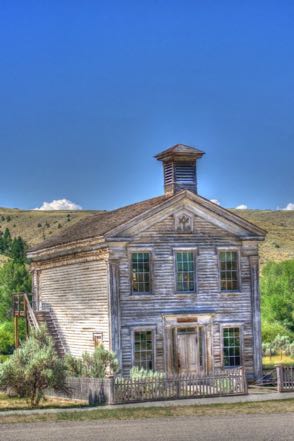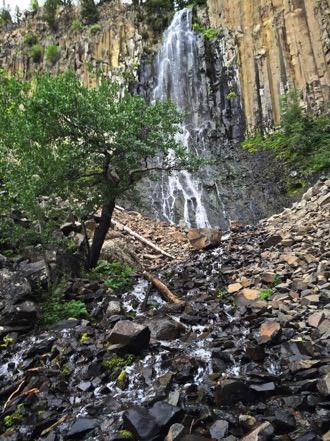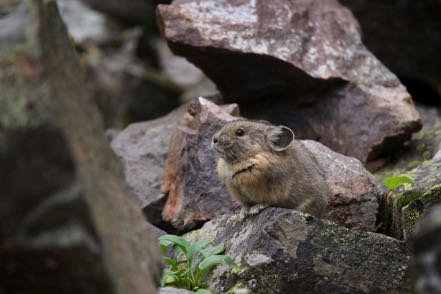 Pups
Here are a couple of pup picks.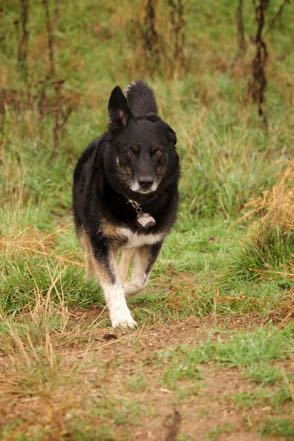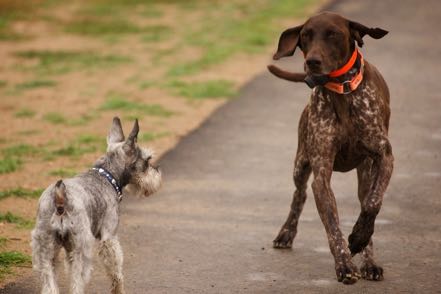 Old Signs
Here are two old signs.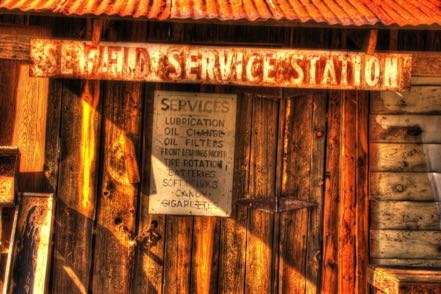 Old Trucks
Here are six old trucks.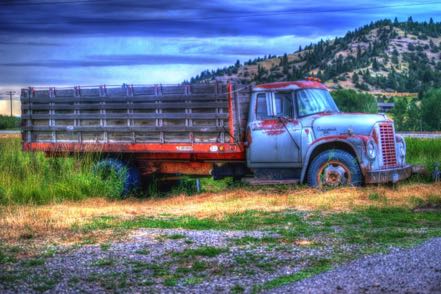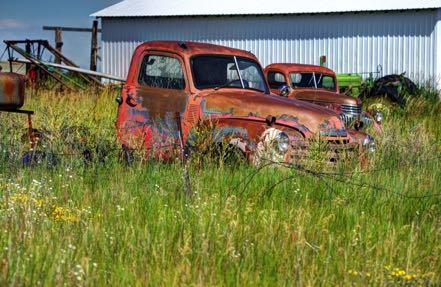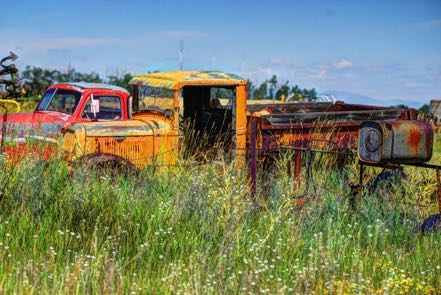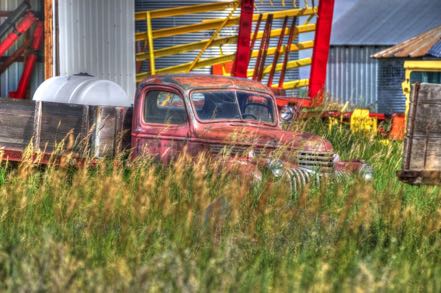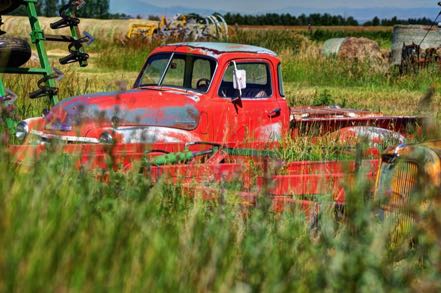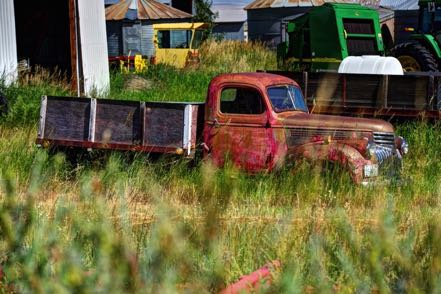 See you soon.