From Cheyenne Mountain State Park we took the short drive up to Cherry Creek State Park on the eastern side of Denver. Bigger than Central Park in NYC, it shares the status of being right in the city of Denver, so one is close to just about everything. Nice, spacious campsites, trails everywhere, water to swim in or fish—just a wonderful place to stay.
Dog Park
Regular readers know how impressed I am with the quality (and size) of the off-leash dog parks in Colorado, and the Cherry Creek State Park dog park is right at the top of the list. Below are a few pics taken over several visits.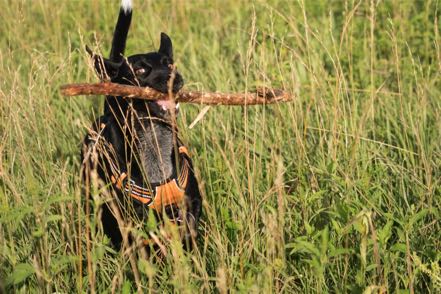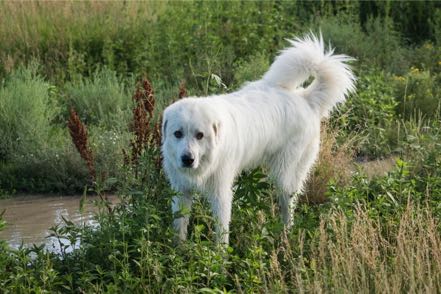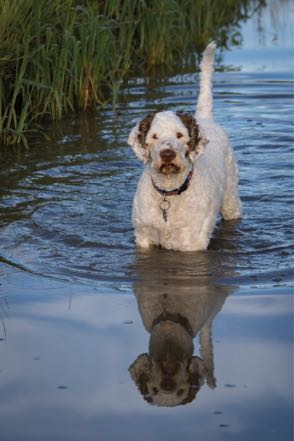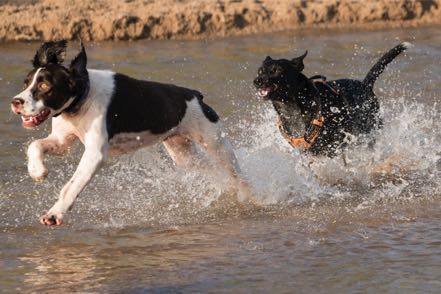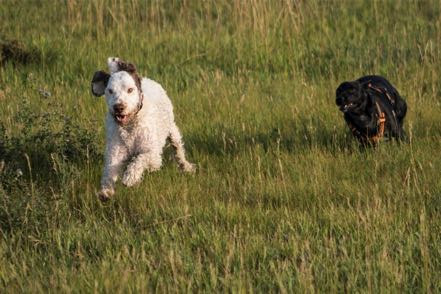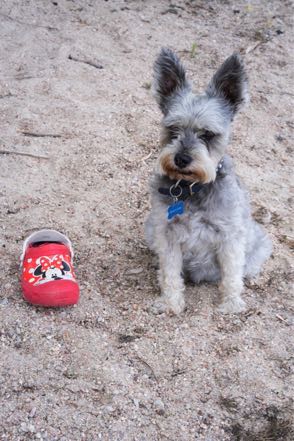 Football
Austie's flag football team was undefeated for the season, and we got the chance to see the championship game.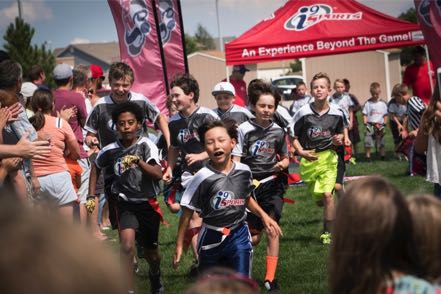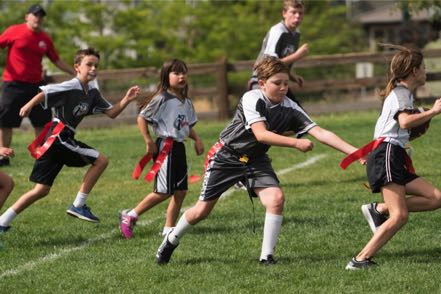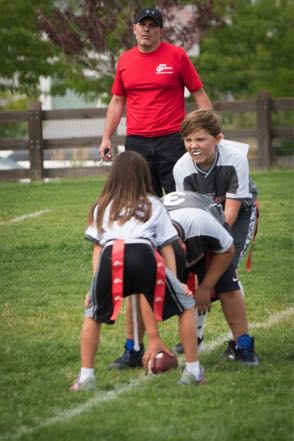 Fishing
Jan and I (mostly Jan) watched the G-kids a few times over our stay in Denver. During an overnight stay at our campground, we took Austie and Nattie out fishing. Everybody had a great time.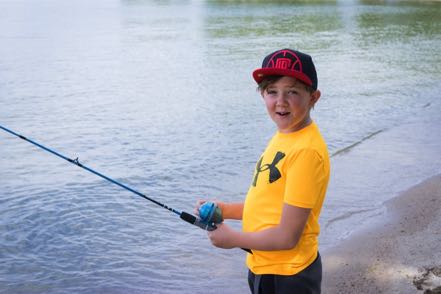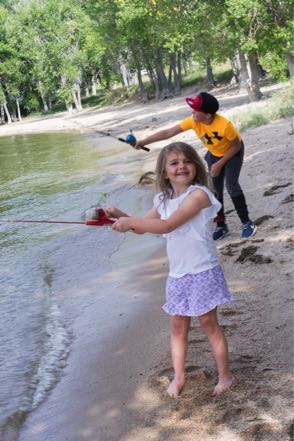 Total Solar Eclipse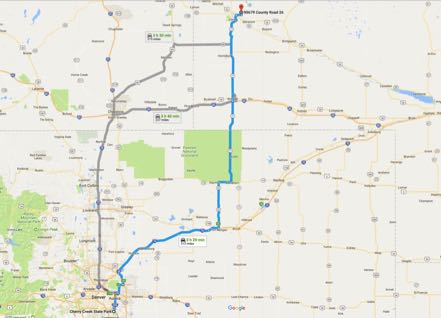 Early Preparation
I knew total solar eclipses were cool, but I hadn't considered them at a "bucket list" level. Then over lunch one day (about three weeks before the eclipse), I saw a TED video of a scientist who made the case that viewing a total eclipse should be one of life's top priorities. As he described the visual treats he saw, the totally unexpected sounds, and the intense feeling he experienced, I changed my mind. Doing a little research, I found that Denver was not far from the path of totality (200+ miles or so), so I vowed to make the journey, if at all possible. There were three main challenges:
1. Total Eclipse Glasses: Now this seemed easy, at first. Should be able to pick up a couple pair for a couple of bucks each…not! These special glasses were sold out everywhere. However, getting close to giving up (down to eight days), I found that the Grease Monkey chain (quick oil changes) was giving them away as a special promotion. I called and found that the last two pair within Colorado were at a location 20 minutes away. We jumped in the Jeep, and when we arrived I put Mitzy in my arms (hey, she is quite persuasive) and went in. The person I met hemmed and hawed a little (he said people were lined up before store opening to get their glasses), and I just kept saying how much we appreciated it and petting Mitzy. Finally, after smiling at the cute pup in my arms, he miraculously found two pair tucked away in the back of a cabinet. I thought about hugging him, but a grease joint is a macho place. Challenge Number 1 handled.
2. Lodging: As you probably guessed, hotels, motels, B&Bs, RV parks, and campgrounds were all jacking up prices (e.g., they were asking $1,200 for one night at a Motel 6!) and most all were sold out. We had decided upon going to Scottsbluff, Nebraska (all the people I had talked to said they were going to Wyoming), and I called the tourism center, the visitor bureau, the Scottsbluff National Monument, the Chamber of Commerce, and even with local knowledge could find nothing available that cost less than a first-class ticket to London. However, checking back three days before the event, a private rancher was advertising dry camping spots for $75—sold! Challenge Number 2 handled.
3. Photographing the Eclipse. Ideally you use a special solar eclipse filter, or the poor man's version is solar eclipse film that you use to cobble together a homemade filter. I did not anticipate an issue until going to the B&H website and finding all options were out of stock, and all were backordered and not anticipated to arrive soon. Well, of course, I checked out Adorama, Amazon, and a dozen other places. Next, I called camera stores. Finally, I decided, "Oh, well, I can document the spectacle. Furthermore, I could shoot filterless during the one-minute-and-forty-two seconds of the total eclipse—good enough. Challenge Number 3 partially mediated.
Getting There
There were lots of horror stories about 600,000 people leaving Colorado and heading north to Wyoming or northeast to Nebraska for the total solar eclipse. So, we had some mixed emotions and a little angst and prepared ourselves mentally for possible traffic gridlock. In an attempt to at least minimize the potential pain, on Sunday we got the coach ready, and by 6:40 a.m. we were heading out of the park on our 214-mile trek to Scottsbluff, Nebraska. Traffic on I-225 was light, modest on 70 East, and almost nothing on East I-76. Highway 52 was wide open, and although a little rough at times, we kept a good pace as we passed through the gentle fields of the Pawnee National Grassland. 71 East was quiet and smooth—almost lonely! We stopped at the Kimball Diner for breakfast (50% locals after church with the remainder Eclipse Hunters). 71 north of Kimball was a just-paved, four-lane road, smooth…easy-peasy.
We kept seeing signs along the road saying, "Expect Heavy Traffic," but even stopping off at the diner, our journey was only four hours.
Once set up in our grassy field, we decided to check out the Scottsbluff National Monument, where Jan got her passport stamped, and then went on to adjoining Legacy of the Plains. We then drove around looking for the best place to view the eclipse and decided that where we were staying was just fine.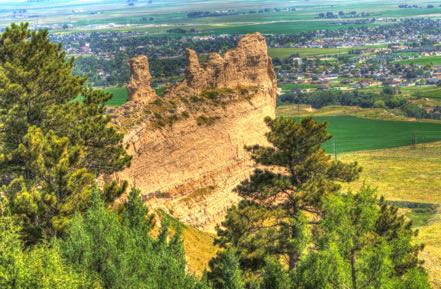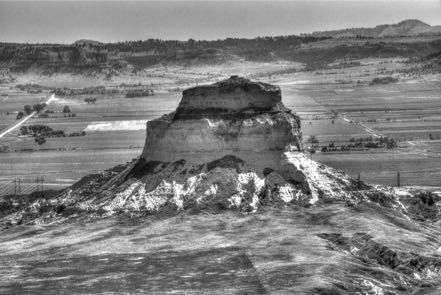 Preparation
I decided I would set up two cameras and attempt to get photos and video footage during the one-minute-and-forty-two seconds of the total eclipse. I was a little nervous, as it didn't seem wise, as I had only seconds to adjust the tripod, frame the sun, manually focus, and shoot the eclipse.
At 10:25 the partial eclipse started, and Jan and I watched the changing shadows every few minutes for over an hour—very cool. Our only regret was that our Grease Monkey shades weren't very sexy, and there were very few people that were envious.
At about 11:47, I started the video. At 11:48, the full eclipse started, and with both cameras I quickly took off the lens caps, adjusted the tripods to frame the sun, and then manually focused for the one-minute-and-forty-two-second duration.
At least I wasn't skunked! Here are two photos I took of the total eclipse.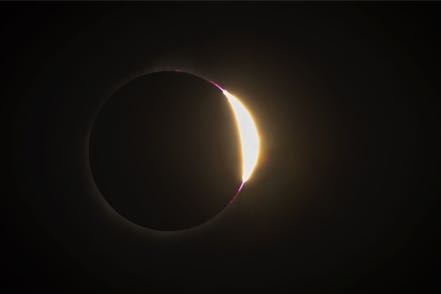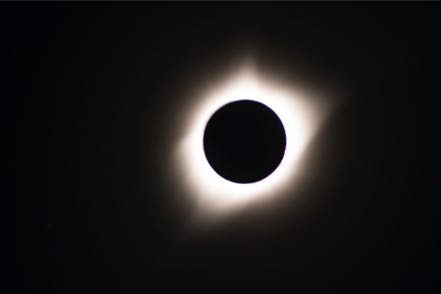 If you'd like to see the 3:22 second video featuring Janny's play-by-play commentary,
click here
. Note that there is only audio for the first one minute or so.
The Trip Back
After lunch (our host kindly fed us hot dogs, hamburgers, and the trimmings), and then we were off. Yes, there was some going-so-slow-you-could-shine-your-shoes moments, but we still made it home in slightly over five hours.
Unbelievable experience! We are ready for Total Eclipse 2024. How about you?
See you next time.