Gulf Islands National Seashore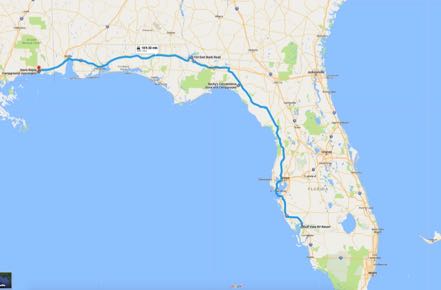 Adios, South Florida
As South Florida temperatures kept nudging upward and starting to set new highs, we departed Punta Gorda a couple of days earlier than originally planned.
After fueling up at the nearby Pilot, we headed north on I-75N, took I-275 around St. Pete, and crossed over the Skybridge, taking in the great Gulf views that tall structure provides. From there we took FL589 north until it merged into FL98N. Although the weather was in the mid-90s, cloud cover much of the trip helped keep the edge off the heat. Traffic was light (for Florida) and most of the roads were in decent to good condition—great traveling conditions.
We ended our travels four miles east of Perry, Florida, at Rocky's Convenience Store and Campground…right off the highway, large sites, nice setting—good overnighter.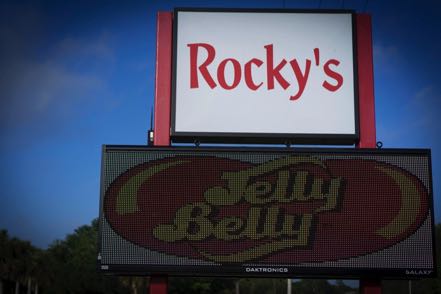 While walking Jack on a backroad the next morning, I came across a sign designating the site of a past hotel. We walked back to camp, got Mitzy and Jan, and came back to explore.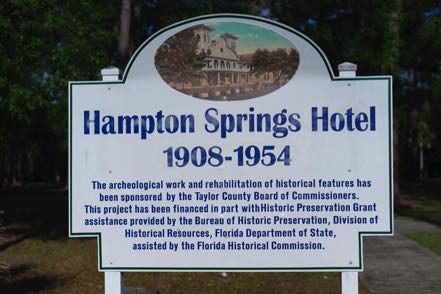 The Hampton Springs Hotel was the "must go to" Florida Panhandle destination of the rich and infamous. The hotel was visited by Theodore Roosevelt, and even royalty from the Far East. The sulphur springs and baths at the resort became known for their healing powers. The luxury hotel resort eventually included elaborate fountains and gardens, a covered pool, golf and tennis courts, stables, a casino, ballroom, an outdoor dance pavilion, and a railroad depot. The hotel also had a bottling plant, which bottled and shipped water from the springs to customers around the nation, and a private hunting and fishing lodge. The hotel burned down in 1954 and the area was largely abandoned.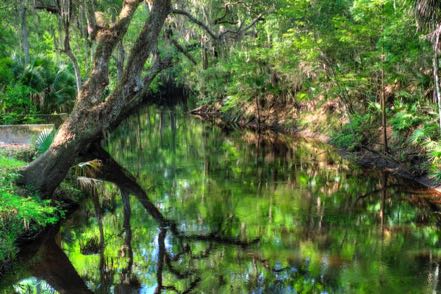 Johnny Weissmuller
While exploring the ruins of the hotel grounds, we came across a local walking his good-looking dog.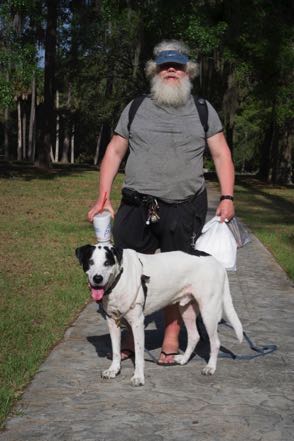 He was kind enough to share some insights about the hotel and the grounds, along with some information not readily found in the historical files. Much of the underwater filming of several Tarzan movies took place at Wakulla Springs, located about 14 miles south of Tallahassee, and some of the filming took place on the grounds of the hotel. According to the local word-of-mouth journal, Johnny Weissmuller stayed at the hotel several times, always accompanied by an entourage of several young ladies, all known for their bold and bawdy ways. Interesting stop.
Georgia on My Mind
We headed west on US98 with almost zero traffic. Five miles past Newport we headed north on FL363, then at the outskirts of Tallahassee we took the Capital Circle bypass that connected us to I-10 West. After heading northwest for close to 30 miles, we went north on 269 to the town of Chattahoochee. We then continued north three mile into Georgia to our next destination along the shores of Lake Seminole.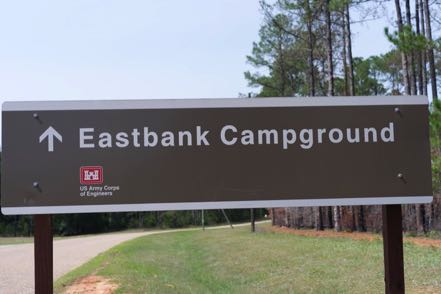 We stayed five nights at the East Bank Campground, a Corps of Engineers campground on Lake Seminole, bordering Georgia and Florida. Great big campsites, grounds as neat as a pin, and all sites with views of the water.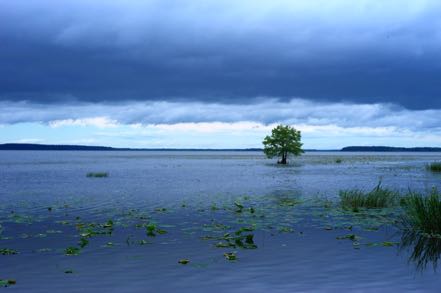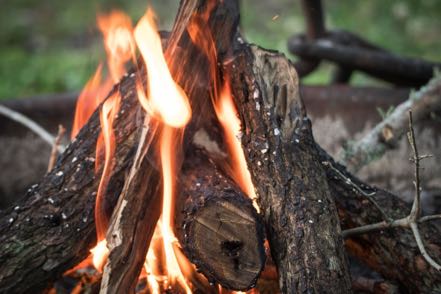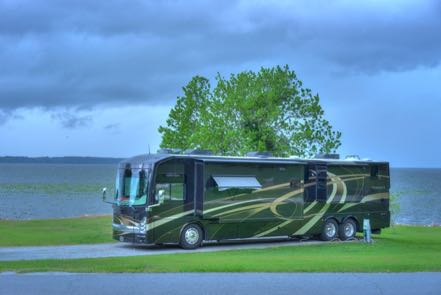 Mississippi Meet Up
We got an early start leaving the campground, headed west on 90, south on FL286, then west on I-10 across the Florida panhandle, a stretch of Alabama, then into SE Mississippi, where we took MS 57 south to Ocean Springs Road. That took us to our Davis Bayou COE campground, just east of Ocean Springs. After several warm days, the light-jacket weather was welcomed like an old friend you haven't seen in ages.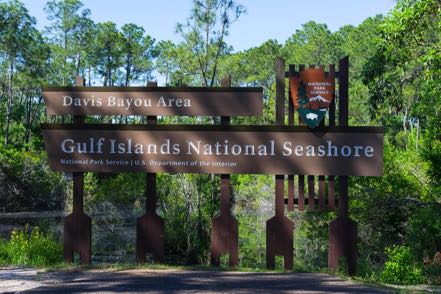 Davis Bayou Campground is another COE campground and part of the Gulf Islands National Seashore. The campground is on the east edge of Ocean Springs, Mississippi, and Ocean Springs is just a few miles east of Biloxi. Our campground was home to hoards of squirrels and vast numbers of birds. We spent a lot of time sitting outside watching the action, and Jack had the Squirrel Channel on from dawn to dusk.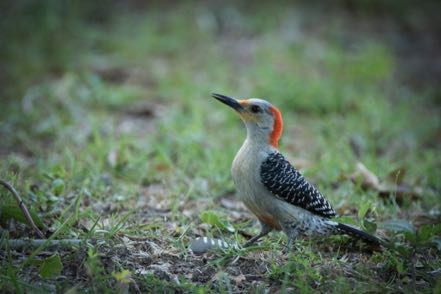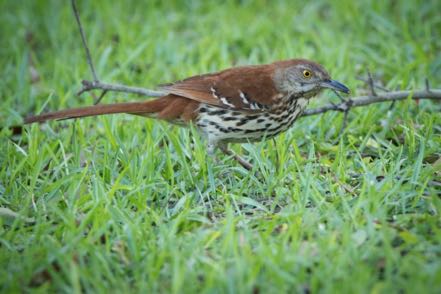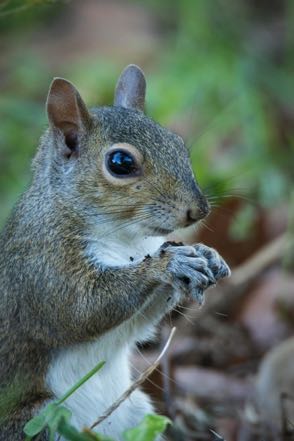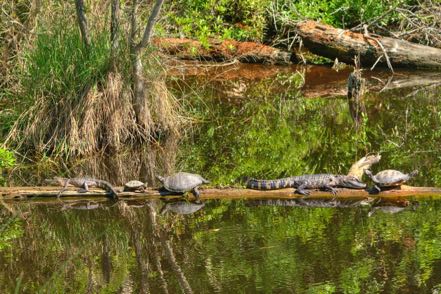 One of the campers towed a travel trailer with his classic car. Here is a shot of his rig and one of him standing proudly by his car with his chauffeur smiling at the camera.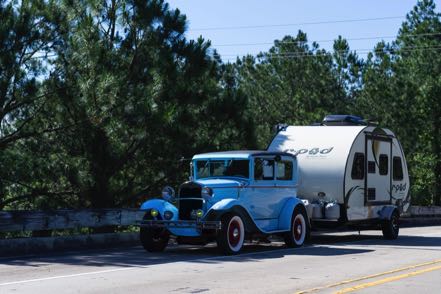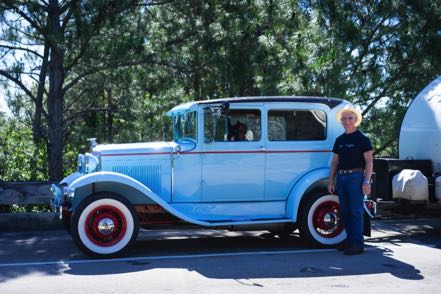 Beach Walks
Another great benefit of our campground location was the short time it took to get to the beach. Most mornings we took the Pups for early morning walks alongside the Gulf.
Shrimp Boil Buddies
The campground was awash with friendly people from Alabama and Mississippi. Within a few hours of our stay we had a squadron of new friends. Before long we were all telling stories and passing life histories like we'd known each other for years. Jimmy, our neighbor, is a talented fellow and one of his capabilities is making moonshine. Not wanting to offend, Jan agreed to sample his surprisingly excellent wares (of course I was polite as well :'). The kind soul gave us a sample to go to stave off the stress of traveling!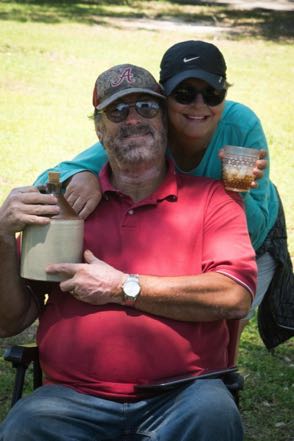 Later in our stay, Jimmy and several of his lifelong friends invited us over to a shrimp boil. Jimmy cooked and everyone ate the traditional boiled shrimp with sides of sausage, sweet corn, bread, deep fried gator, and blueberry cobbler. Just wonderful. Here is a pic of that interesting crew.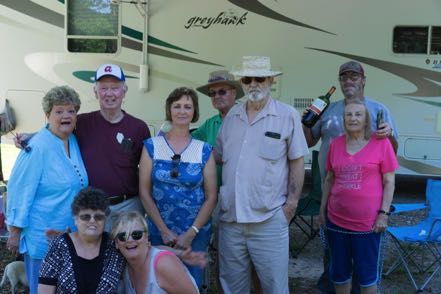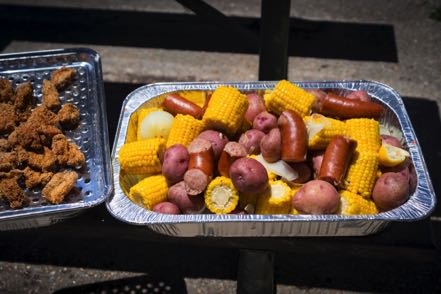 Old Trucks
Here are two old fire trucks taken in Biloxi.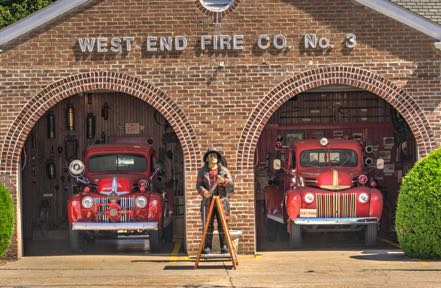 A really fun few days! See you next time.