Sunday, May 31, 2015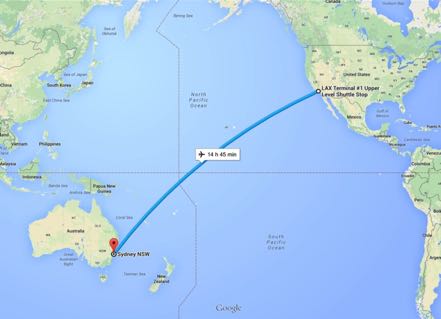 Sunday: Trip to Sydney
After a four-and-a-half-hour flight from Detroit to LA and a three-hour layover, I voyaged across the Pacific on a 15-hour flight to Sydney on the long-haul standard, the Boeing 747. The food and drink were good, the movie selection robust, and sleeping arrangements tolerable. Arriving in Sydney relatively rested and on time at 6:30 a.m., I breezed through passport control and customs, flagged a cab, and was in my hotel room by 7:35. After a hot shower and a short nap, I headed to Hyde Park for a three-hour walking tour. Always best to take advantage at the opportunity at hand, as they say.
Our Russian-born guide was knowledgeable and passionate about Sydney and made the tour both educational and fun. We visited the Botanical Gardens, Circular Quay, the Rocks with views of the iconic Opera House, and the Sydney Harbour Bridge. The Rocks were full of musicians and entertainers vying for tips from the scores of tourists. Here is a pic of one young visitor taking a break.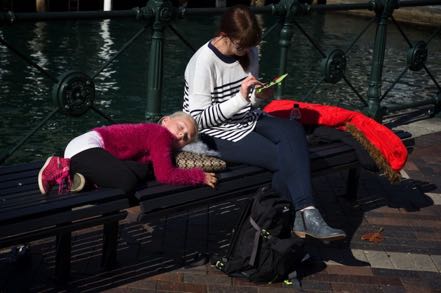 After a pub lunch, I walked across the bridge and up the hill to my North Sydney hotel where I rested for a couple hours before walking back to the harbour to take photos. By luck my stay in Sydney corresponded with the annual 10-day "Vivid Sydney," a marvelous light show of the harbor and the city it encircles. Here are a few pics. Here is a photo of the view from my hotel plus three taken from Milson's Point looking south in the direction of the Opera House and other structures along the harbor.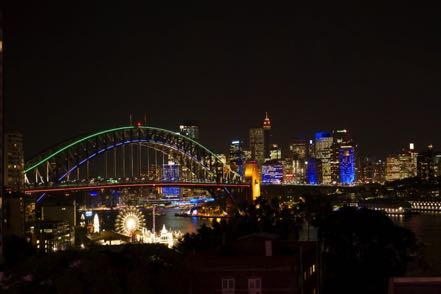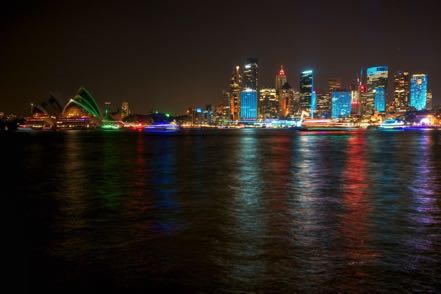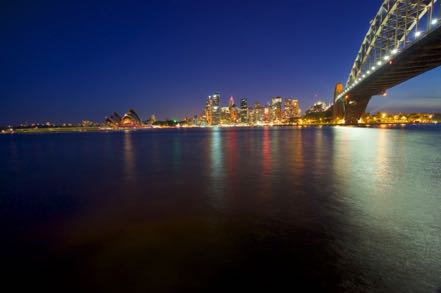 Monday: Harbour Sunrise
Before sunrise I walked a half mile or so and set up mid-way on the Harbour Bridge to take a few pics.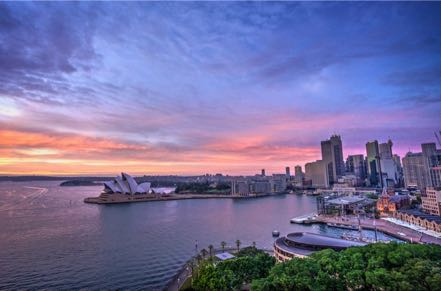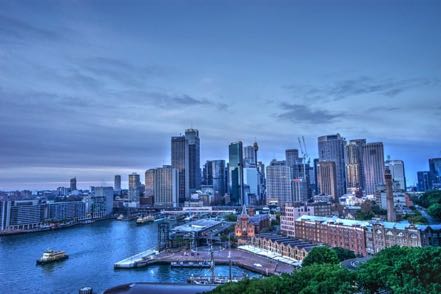 The rest of the day was spent working with the Australian-New Zealand team of a long-time US client. After work they hosted a nice dinner at a waterside hotel in Darling Harbour where we were entertained by the constant light shows.
Tuesday: Luna Park
Another work day, but when the sun went down I walked down to Luna Park by the ferry launch to take more Vivid photos. What a show!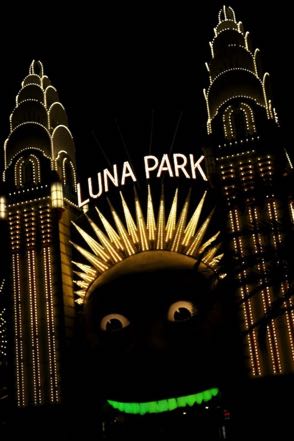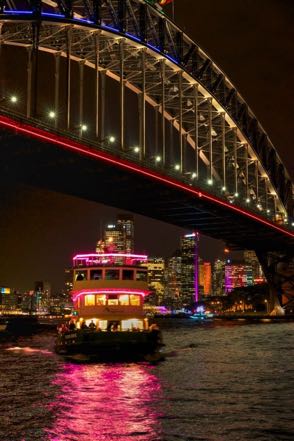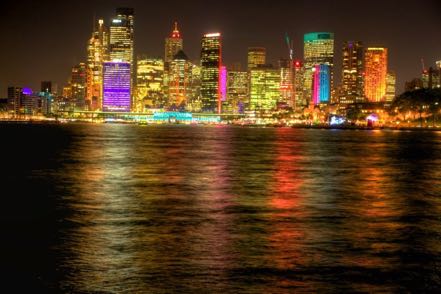 Before heading back I stopped at a local cafe for a dinner of pork cutlet, French fries, and applesauce accompanied by Australian Shiraz-Cabernet. Nice ending of a nice day.
Wednesday: On to KL
This was a travel day, as I left Sydney on an eight-and-a-half-hour flight to Kuala Lumpur. An uneventful flight, and I was in my hotel room by 10:30 p.m.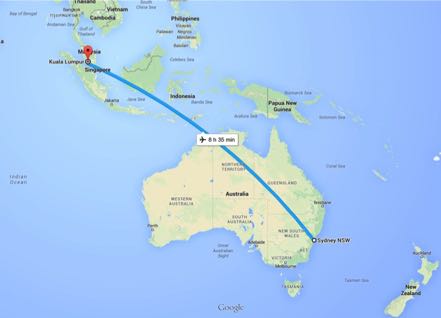 Thursday: Mountain Hike
Waiting on my Wednesday flight, I browsed TripAdvisor, researching something to do in KL on my day off. A jungle/mountain nature hike caught my attention as I was tiring of walking city streets, so I signed up online for Thursday morning. If I would have studied the description (below) in more detail I might have been more cautious before committing.
DragonBack Scenic Trek: 3 to 4 Hours

The trek starts off with a relatively steep section through dense jungle for about 30 minutes, and then follows by a short section where we need to scramble up steeper terrain using all four limbs. The trek then levels off to flatter terrain as you will be on top of the ridge and you will get a panoramic view of pristine virgin jungle on one side, and KL city on the other. Towards the last part of the trek, there is a longer steep section where scrambling with all four limbs are required. Please do not eat a heavy breakfast in the morning before the trek as it might make you feel uncomfortable during the trek. Please bring a spare t-shirt to change at the end of the trek, as you will be drench in sweat.

Everything stated was true. Our guide, Amos, was a native Malaysian who was an avid hiker, rock scaler, and mountain climber. My colleagues were a young guy from Egypt, a younger guy from Saudi, and a youngster from Louisiana. It was already warm when we hit the trailhead at 7:15 a.m. and it continued to heat up as the morning progressed. The jungle was thick, the mountain was rugged, the rocks and roots were slick from a heavy rain the night before, the sand and soil were loose, and the trail was steep and narrow…perfect for a hike! Challenging at times (many times) but a really great experience. Survival can be invigorating!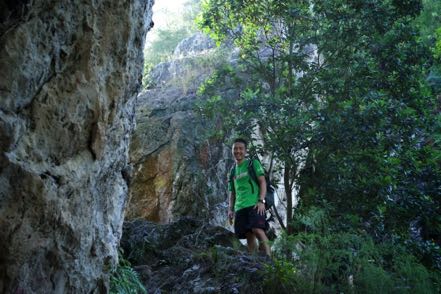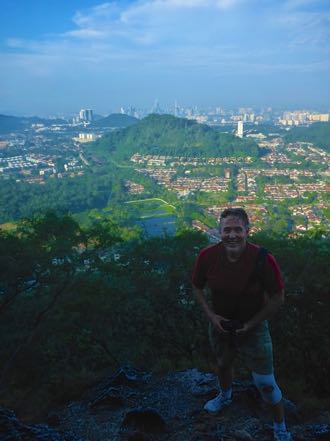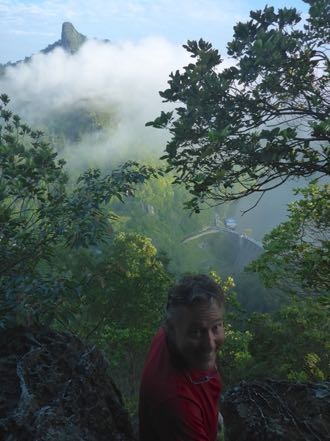 Back at the trailhead, we stomped the jungle out of our shoes, swizzled the last of our water supply, peeled off our shirts (yes, they were drenched), toweled off the promised sweat, and put on clean shirts.
Our guide then treated us to a late lunch at a neighborhood restaurant where we sampled a variety of great food that I don't remember the name of. Here are a couple photos of the help.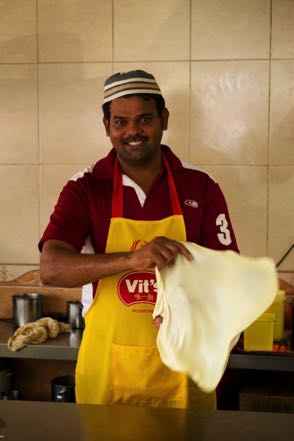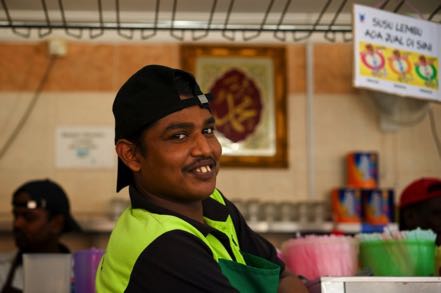 Friday: Work Day
Here I worked with the Malaysian team of my client. Very nice group of smart, motivated people.
Saturday was another work day.
Sunday: A Walk in the Park

By Sunday I was ready to again trade steel and concrete for grass and trees. My plan was to taxi over to the botanical gardens, stroll for a few hours taking pictures, and then walk back to the hotel, stopping by a few other sites along the way.
However, when I got to the botanical gardens (more like a really big park with some flowers) I was in for a surprise. The peace I had expected was replaced by the sound of a carnival-trained MC shouting into a really loud sound system. When he was not making announcements, disco-like music stomped through the grounds like a nervous herd of cattle (I kept looking up for a big silver ball). The Chicken Rice Shop was having a Chick-A-Thon in honor of their 50th anniversary of doing business in Malaysia.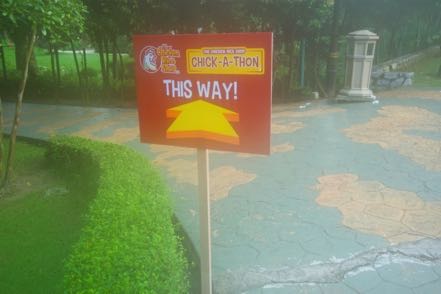 Hundreds of red and yellow signs of chickens were put up everywhere, with scores of red and yellow clad persons manning booths playing chicken games. I altered my plans and headed back to the hotel to work, blog, and rest up for my return home.
See you soon.