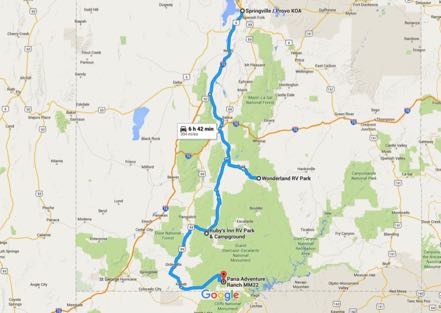 On to Torrey
From Springville we ventured off south to Torrey, Utah, staying at Wonderland RV Park. After settling in, we took an afternoon scenic drive into Capital Reef National Monument.
Capital Reef Country Scenic Byway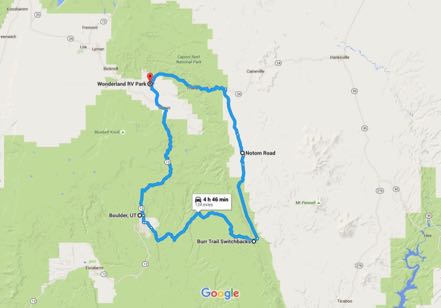 We took a 155-mile loop of a day trip that was one of the best I've ever taken. We headed east on the Capital Reef Country Scenic Byway, past the entrance to Capital Reef National Park to our first stop to visit the petroglyphs.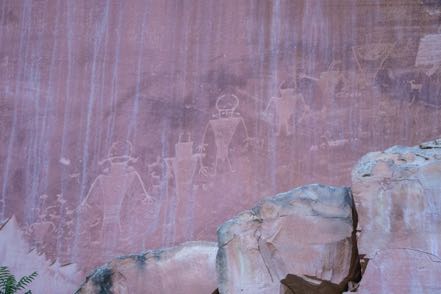 After a few miles east, we turned south on the Notom Road Scenic Backway which followed the once underwater reef. We passed ranches and washes, creeks and mesas as we wandered through this dynamic, rugged, magnificent landscape full of reds, yellows, creams, whites, oranges, and greens. Amazing.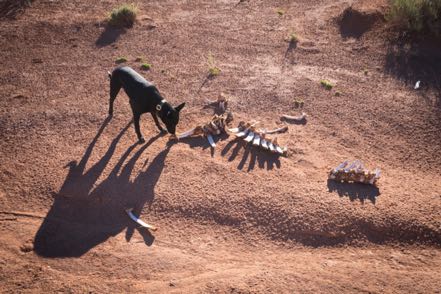 The paved road quickly turned to dirt which in many ways was good--we only saw six vehicles the first four hours of our jaunt. We moved along the Oyster Shelf Reef, named after all the oyster shells left there from several thousand years ago. At the Burr Trail Switchbacks, we headed west on the Burr Trail Scenic Backway, once again through fascinating scenery. Pictures don't do it justice, but here is my attempt to capture some of the grandeur.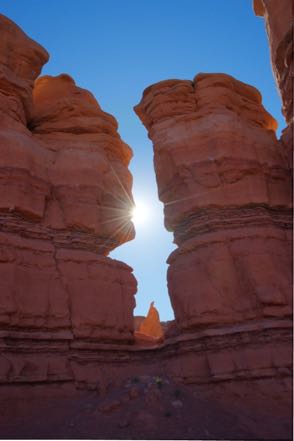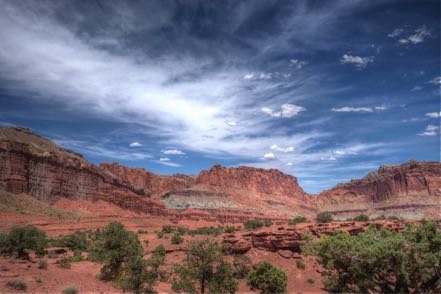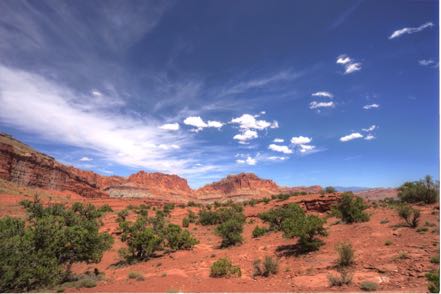 We stopped for lunch at a marvelous restaurant in Boulder, and then headed home on the Journey through Time Scenic Byway, complete with more glorious vistas and several climbs on 10% grades.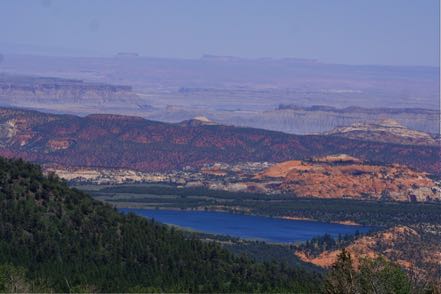 Capital Reef National Monument and the surrounding area are not household names and the lack of traffic proves this. However, in terms of impressiveness, they are right up there with all the big-name parks.
Fish Lake
The next afternoon we drove around Fish Lake, north and east of Torrey. After the bold, rugged trip of the day before, we enjoyed the soft browns and greens of the hills and blue of the lake. Looks like a wonderful place to hang for a few weeks or a few months. Here is a shot from Torrey of an old cabin.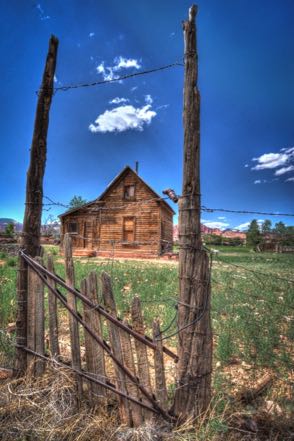 Bryce Canyon
We drove the 122-mile journey to Ruby's Inn and Campground at Bryce Canyon City via 24 West, 62 West, and 22 South. Again, pleasant scenery, and except for some narrow stretches of road, an easy trip.
Bryce Canyon National Park
Leaving early morning to avoid the traffic we took the roughly 20-mile road that is the only driveable portion of this special place. Starting at the very end at the last stop, we took in all the main lookouts. The hoodoos are something, with great vistas everywhere.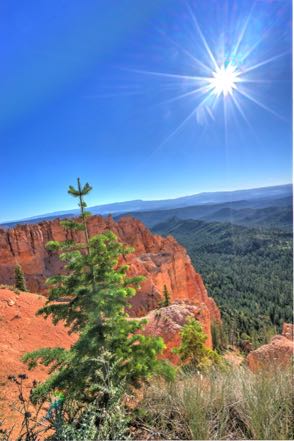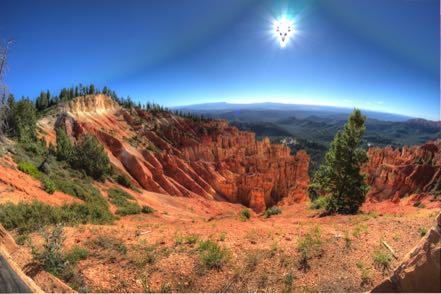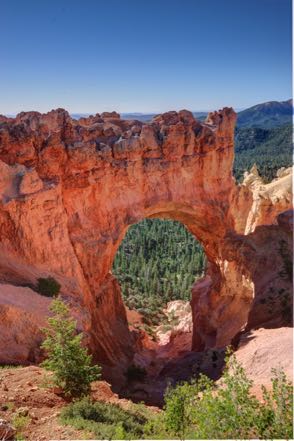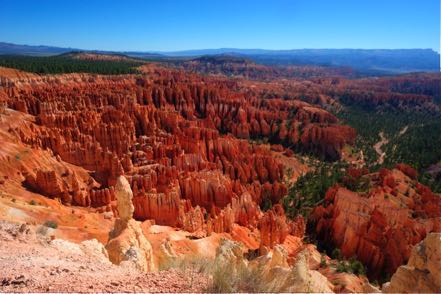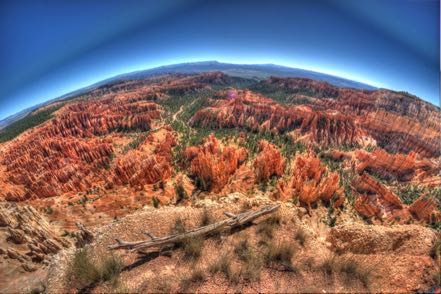 However, the special place for me was Inspiration Point…I found it, well, inspirational. Staring down on the landscape your imagination takes off…sunlight glinting off a castle guarded by a giant, the broken walls of a city under siege, a majestic cathedral overlooking a valley, legions of warriors in battle formation, and so on and so on. I had a wonderful time taking photos and a few turned out decent.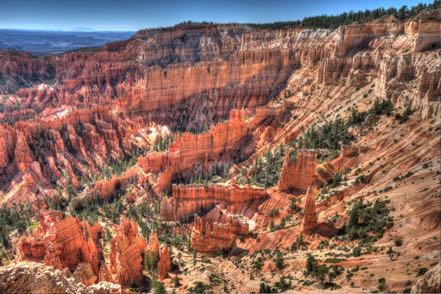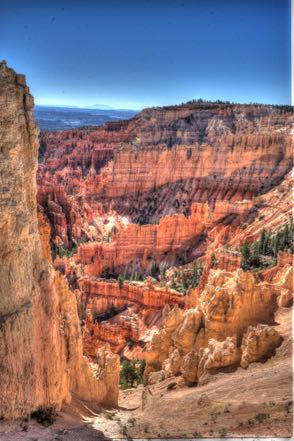 Escalante Grand Staircase National Monument
We journeyed east on Highway 12, that splendid scenic byway, through the town of Tropic, stopping a few times at overlooks to enjoy the views. My original plan was to travel the Devil's Backbone (great name, don't you think), however, talking to rangers at the visitor center just outside Escalante, they recommended another option. Heeding their advice, we took Highway 12 east again, traveling the highway to Boulder. Our first stop was the Anastazi Musuem at Anastazi State Park where they had an interesting display of ancient Indians. Right outside the museum was a food truck parked by a grassy area complete with picnic tables. On the advice of locals, we dined with them, splitting a burrito and a cup of coffee…delicious.
From there we backtracked to Escalante and took a 50-mile gravel/dirt road through the Dixie National Forest, ending up close to our campground.
Paria Guest Ranch
We packed up at our campground in Bryce Canyon City and headed 12 miles west on Highway 12. In bits and pieces, we have now traveled the entire length of the scenic byway that the Utah tourism department calls the most beautiful highway in Utah. Now that is saying something! Fourteen percent grades on skinny summits at 11,000 feet, gorgeous rock formations of every shape and color, just magnificent. At the end of Highway 12 we turned left on Highway 89 that took us south and a little west, then northeast, and then southeast to out next destination, Paria Guest Ranch, roughly midway between Kanab and Page, about a quarter mile from the edge of nowhere. Every morning I took Jack off leash to run and explore among the sage, rocks, and red soil.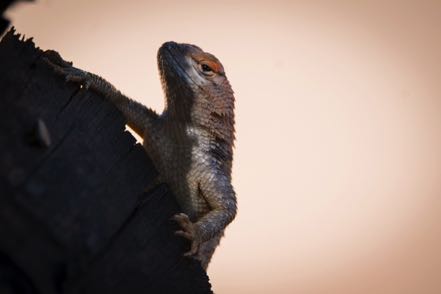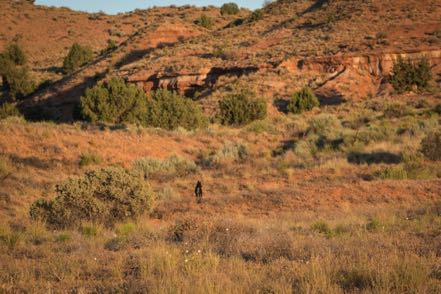 Escalante Grand Staircase National Monument
Just a few miles north and a tad west of the Ranch was yet another national monument. Again, magnificent scenery.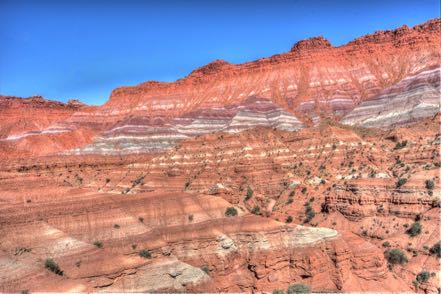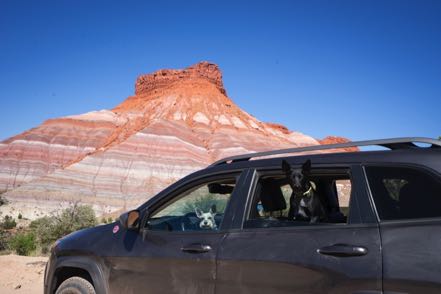 Vermilion Cliffs National Monument
As you go south from the ranch on unpaved roads you head into Arizona, into the Vermilion Cliffs National Monument, ho, hum…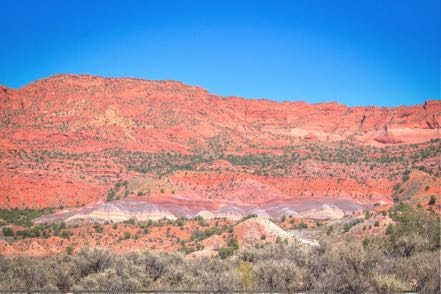 Old Signs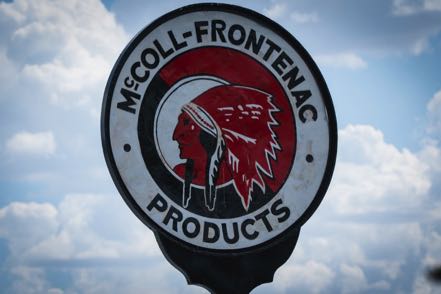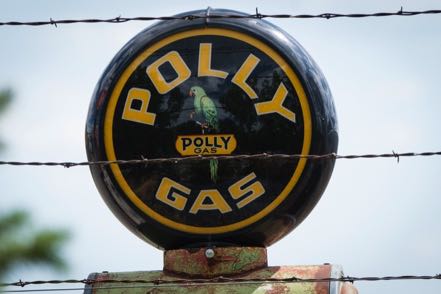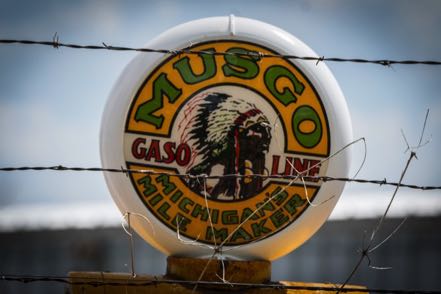 Old Trucks
Hey! I am finally back shooting old trucks! Here are three beauties.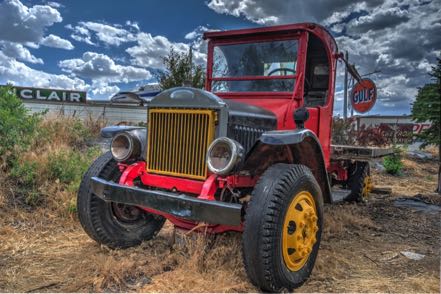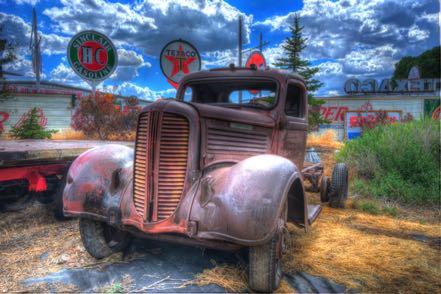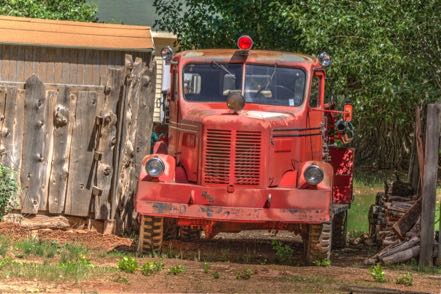 Hot and dusty, but a wonderful journey. See you next time.